Fourth Global L&D Knowledge Forum Wrap-Up
Didn't have time to attend? We have the key take-aways summed up for you.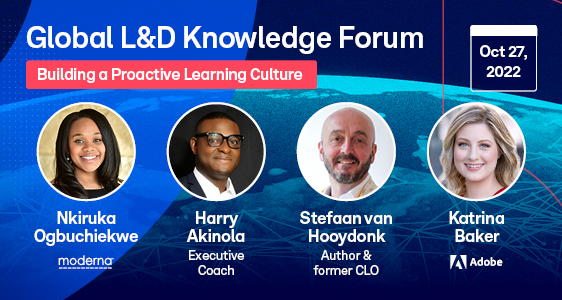 getAbstract's fourth Global L&D Knowledge Forum on October 27, 2022, brought together international experts and L&D practitioners to discuss best practices for enabling a proactive learning culture.
Keynote speakers included Stefaan van Hooydonk, author of The Workplace Curiosity Manifesto and former CLO; Harry Akinola, Executive Coach and Head of Talent Development; Nkiruka Ogbuchiekwe, Senior Director of Programs at Moderna University; and Katrina Baker, Manager of Digital Learning at Adobe.
Download the conference summary here.
Here are the top take-aways from the conference:
1. Tap into the Power of Curiosity
Knowledge and best practices from the past often won't get you to where you want to be in an unpredictable and rapidly shifting business environment. The ability to ask new questions and explore options that have never been tried before is what companies will want to foster in their employees.
The driver of this "new" (and age-old) way of thinking and behaving is our inborn capacity to be curious. In his keynote, curiosity expert Stefaan van Hooydonk offered examples of workplace environments where curiosity can flourish. Some best practices include:
Ensure psychological safety.
Enable universal access to learning resources and knowledge.
Teach people about neuroplasticity and their life-long ability to learn.
Have managers set the example by investing in their own continuous development.
Teach people strategies for breaking out of their comfort zone.
Make curiosity part of your corporate values.
Related Summaries in getAbstract's Library
Learning is driven by curiosity.

Stefaan van Hooydonk
More on curiosity in the getAbstract Journal:
2. Learning Must Be Available, Accessible and Aligned
Do you want to know how your employees learn best? Don't make assumptions – observe what people are already doing. The pandemic offered a window into how people interact with content they are intrinsically interested in. People derived knowledge from different platforms and shared their expertise with the world across multiple social media channels – in what may well be described as self-driven learning in action!
According to Harry Akinola, learning programs that fit with people's natural learning preferences have three attributes:
Availability: Create avenues for people to access and share knowledge easily.
Accessibility: Accommodate different learning styles by offering content in multiple formats.
Alignment: Tailor training programs and learning resources to the needs of individual learners and their career paths
No single solution addresses the needs of everyone.

Harry Akinola
Related Summaries in getAbstract's Library
Download our guide, Build a Learning Culture in 5 Steps.
3. Make Learning A Natural Extension of Your Company's Mission
When a mysterious new virus entered the world stage in early 2020, there was so much to learn – and especially so for the researchers at Moderna eager to leverage their mRNA technology to develop a life-saving vaccine. Indeed, Moderna's mission to serve the world became synonymous with learning.
According to Nkiruka Ogbuchiekwe, Moderna's learning culture revolves around the combination of the company's mission and senior leadership's commitment to learning. Moderna has thereby successfully captured and codified the qualities that have made the company successful and created a culture around it. Moderna's example illustrates that rather than being an add-on or employee perk, organizational learning must be an organic part of a company's DNA to have real impact.
Related Summaries in getAbstract's Library
Article Summary
The Practices That Set Learning Organizations Apart
MIT Sloan Management Review
Read Summary
Article Summary
Building a Culture of Learning at Work
Strategy+business
Read Summary
Article Summary
"Corporate Learning Is More Important than Ever"
E-Learn Magazine
Read Summary
Download the conference summary here.
Learn about getAbstract's first, second and third Global L&D Knowledge Forum.
Stay tuned for future L&D forums!
4. Promoting Learner Engagement Doesn't Require a Big Budget
If you are a small company and can't afford a big learning platform, there are lots of low-key ways in which you can spark learner engagement. Katrina Baker shared Adobe's example of launching weekly opt-in newsletters to get people excited about trending areas of knowledge. Last quarter, opt-in newsletters at Adobe encouraged over 7,000 hours of learner engagement. Other grassroots learning efforts that almost any company can implement include:
Incorporate self-paced content as pre- and post-work for virtual sessions.
Create blog posts and chat room messages featuring self-paced resources.
Ask colleagues to do quick roadshow presentations with other teams.
Offer "curation as a service" to any training teams revamping their curricula.
Offer resource recommendations to every employee and team.
When designing new training, conduct interviews before and after, and iterate.
Read about our previous Global L&D Knowledge Forums. Stay tuned for future events!
How the Journal Saves You Time
Reading time for this article is about 4 minutes.
This article saves you up to 33 hours of research and reading time.
13
We have curated the most actionable insights from 13 summaries for this feature.
6
We read and summarized 6 books with 1635 pages for this article.