HOW THE JOURNAL SAVES YOU TIME
A new algorithm lets you track exactly how much time you save with our help
TIME SPENT

From now on, we tell you how long it takes to read a Journal article before even opening it – whether it's a mini reading list or an in-depth expert discussion.
But to help you assess what you actually get out of reading it, we put it in relation to the…
TIME SAVED

We can now accurately track the time saved when reading all the summaries mentioned in our Journal articles. Whether it's a long book whose core content you wanted to capture or a podcast, or both and even more: We calculate for you how much time you can therefore spend more productively.
The only thing we can't accurately figure out is how long it took our Journal team to research your made-to-measure article. But you know what? You're welcome!
HOW IT WORKS
Our algorithm adds the precise consuming time for all media underlying the summaries mentioned in a Journal article. No matter whether it's a 700-page book, a 30-minute podcast, or a 15-minute video: You always know how much time you save when you get an overview with the getAbstract Journal.
For books, we calculate the reading time based on the actual book pages at an average reading speed. For videos and podcasts, we know the original's exact runtime. Did you know: The length of an average video chosen for compression is 24 minutes. Our selected Podcasts are even longer with 56 minutes on average. And when it comes to articles, our selected pieces are mostly four-pagers.
Getting a package with links to all their relevant insights in a seven-minute Journal article frees up a lot of time!
SUMMARIES IN ACTION
We do the research for you, and put our summaries in topic-relevant order.
Our editorial team sifts through over 10,000 new book releases a year, as well as new podcasts, videos, and magazine articles – and selects the best titles to summarize for you.
In getAbstract's library, you will find over 22,000 abstracts that revolve around the most relevant and diverse topics related to business and society.
Our Journal team maintains close contact with the getAbstract editorial team and our Customer Success Managers to stay on top of what is new and needed.
In the getAbstract Journal, you learn what you need to know in the right context, so you can get to the solution to a problem in minutes instead of dozens of hours of reading.
getAbstract condenses the content of books into a few pages – including the most relevant take-aways and best examples.
Our publisher network includes over 800 international publishing houses that grant us rights to summaries.
Because specialized magazines can often pick up on current topics more quickly than book publishers, their articles are time-relevant and highly informative.
Our editorial team sifts through all the major magazines and especially business media outlets, and selects the best new articles to summarize.
Videos have become a key medium for imparting knowledge: Whether online courses or educational films – getAbstract screens the relevant new releases.
But videos have one major drawback: jumping back and forth to the relevant insights is much more tedious than in text. That makes a summary all the more valuable.
Podcasts are also rapidly growing in popularity for delivering important knowledge. And the number of our selected summaries is growing just as fast.
What was true for videos is even more true for the usually longer podcasts: Once you lose the thread, you can't find your way back in.
IN OUR JOURNAL…
.. WE WEAVE ALL VALUABLE INSIGHTS FROM THE SOURCES ABOVE INTO ONE THEMATIC THREAD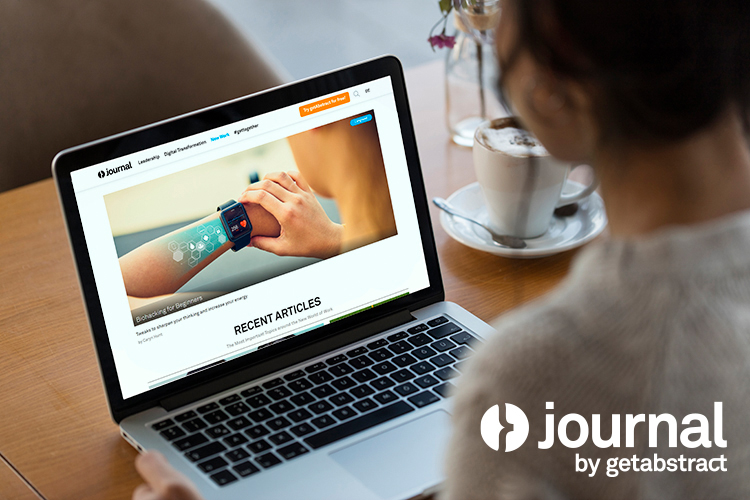 YOUR KNOWLEDGE ADVANTAGE
Take advantage of the knowledge edge that our Journal articles offer you. They are freely accessible and social media optimized.
But only getAbstract subscribers with access to the relevant summaries can unleash the full power of the assembled knowledge.