Angela Duckworth
On grit and how best to make long-lasting, positive behavioral changes.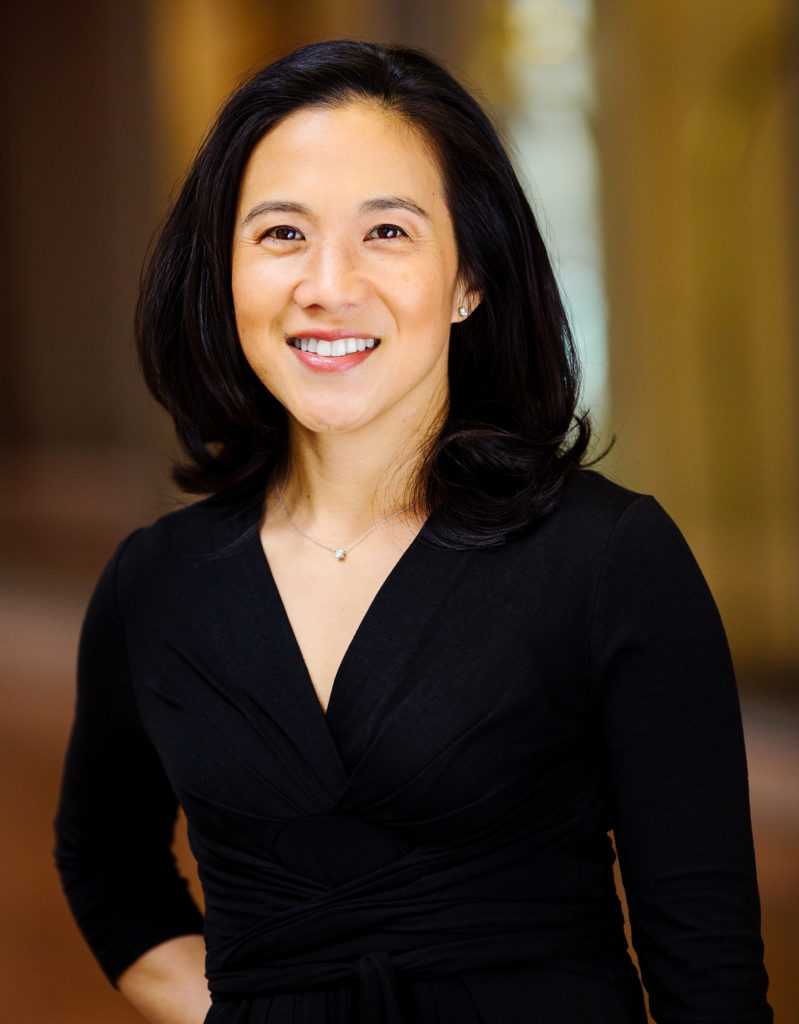 Angela Duckworth is a professor of psychology at the University of Pennsylvania.
Duckworth is known for her work on grit. In a list of the most influential educators of the past decade, Education Week ranked her No. 1 in 2021.
1. Angela Duckworth's Key Findings and Messages
Grit, the combination of perseverance and passion, is the most important factor for achieving excellence.
Grit matters more than talent, intelligence or educational background.
Everyone can improve their grit.
2. Why Do They Matter?
Angela Duckworth is a paragon of success by any measure, writes our author David Meyer: "A MacArthur Genius and University of Pennsylvania professor of psychology, she founded an award-winning summer school for low-income children. She created and serves as scientific director of The Character Lab, and has advised the World Bank and NBA and NFL teams. She holds a Harvard BA in neurology, an Oxford degree in neuroscience and a University of Pennsylvania PhD in psychology." In a nutshell: She is a widely recognized mastermind.
In the long run…grit matters more than talent.

Angela Duckworth
3. To Understand Duckworth's Work, Start Here
With her New York Times bestseller Grit from 2016, Duckworth clearly and succinctly explores how talent relates to skills and how both relate to effort. She describes "talent" as a measure of how fast your "skill" advances when you apply yourself to your chosen task, be it playing the viola or shoveling the driveway.
Her formula posits that "talent x effort = skill." When you "take your acquired skills and use them," you follow her second formula, "skill x effort = achievement." Under this paradigm, native ability and even genius don't count a lot unless you work hard to improve and use your natural or acquired gifts. What matters most, she says, is continual effort.
Highlights:
Grit is the combination of perseverance and passion.
Grit is the most important factor for achieving excellence.
Grit is about having an "ultimate concern," your highest goal that gives meaning to almost everything you do.
To cultivate grit, there are four success habits that anyone can imitate:
Identify your interest.
Commit yourself to deliberate practice, focusing on the areas that are difficult for you.
Find meaning in what you do.
Cultivate a growth mind-set by approaching obstacles and setbacks as lessons, not reasons to quit.
Practice never makes perfect, but deliberate practice helps you improve (see right column under 4.).
If I had to choose between my daughters growing up honest or gritty, I'd choose honest. If I had to choose between kindness and grit, I'd choose kindness. Grit is only one aspect of character, and for me, personally, it's not the most important aspect.

Angela Duckworth
4. Practical and Quick Insight: Duckworth's Talks
Despite her pronounced statement in the above quote, Duckworth's talks are all about grit and closely related topics like practicing, learning, resilience and turning "setbacks into advantages." Since our review of her standard work already provides the theory, we've prepared a few highlights from two talks that address the most frequently asked questions around the concept – and its proper implementation in your professional life:
Grit is not grinding all the time.
When you think of disengaging on a goal, that's because you found out that you're giving more than you receive for a longer period of time. That's a sign for a wrong goal setup – and grit won't help you with that.
Burnout, as a worst case example, results from an understanding in your head that you've been giving everything but don't get much in return over a long time. Then it's time to change what you're giving or find a way to get more back.
It's time to quit on a goal, too, if you find out there is a higher level goal that is better served in other means.
Goals are desired future states. All human beings have goals, and they are nested in hierarchies.
Gritty individuals have a very "aerodynamic" hierarchy of goals: The many low-level everyday goals match up nicely with some mid-level goals – and the latter arrange neatly with very few ultimate-level goals. Think of this as a pyramid.
Grit does not build up by following up on all goals. You have the permission to disengage with what does not suit your higher level goals – and should do so.
When you focus on what "really matters" you're implicitly talking of at least one of your higher level goals.
When you experience an adversity, a challenge that is threatening, you feel stressed. That is part of building resilience, which is one side of the grit-coin.
You can manage these feelings, and even achieve meaning in life by responding to adversity.
One possibility to do so is the fiery, fist-clinched "I'll show you!" response. Whenever someone tells you that you are not able to do something, and you deeply feel that's wrong – respond with "I'll show you" in your head to reach your goal.
Repetition is not the key factor when it comes to cultivating grit.
Deliberate Practice is what sets world class experts apart from all other experts.
Deliberate Practice is different from all other things we do in four different ways:
It's extremely intentional and directed towards a very specific goal.
It's 100% focused, and practiced with great effort.
You get feedback right away and information rich.
You conduct a special kind of refinement based on feedback that you reflect on – and then you try the whole thing over again.
A good way to find out what to be gritty about is looking at two very different sources of motivation.
Intrinsic motivation is the sort that has never changed throughout your life. To find it, ask yourself:
What were the kind of things that you wanted to do spontaneously when you were a child?
Determine your purpose in your life today. To identify it, ask yourself: What is the greater mission that your work serves?
Then look at where the two motivations might overlap and you have your clue on what to be gritty about.
Don't be too stubborn about mid-level and low-level goals.
Grit may not be sufficient for success, but it sure is necessary.

Angela Duckworth
Angela Duckworth realized that her science not only lays the theoretical groundwork of grit – but also works to improve the lives of countless people by preventing them from constantly suffering from misguided goals and decisions. Together with her colleague Katy Milkman, she launched an initiative that collects and crunches the data of millions of people to determine how to achieve long-lasting behavior change. In 2017, they partnered with big businesses such as Bank of America and CVS to search for behavioral solutions to the types of challenges most people face, such as maintaining a healthy diet, exercising regularly or putting money away in savings.
Highlights:
The extensive, ambitious Behavior Change for Good research project aims to discover how best to achieve lasting changes in behavior.
A group of elite academics, researchers, and behavioral and computer scientists assembled to develop the initiative.
When attempting to change people's behavior, consider what is stopping them and reduce the restraining force.
Belief in a project shouldn't prevent you from taking input from the doubters.
The problem with human beings is that they're human beings and that they repeatedly make decisions that undermine their own long-term well-being.

Angela Duckworth
6. Additional Resources by Topic
Wonder how you rank on the "Grit Scale?" – Find out with Duckworth's Grit Scale Quiz! (If you're really gritty, take it twice!)
Grit matters most in challenging and personally meaningful contexts – Getting started on your taxes before the deadline takes self-control (the capacity to regulate attention, emotion, and behavior in the presence of temptation) more than grit, for instance.
Grit is influenced by your genes – But grit is also influenced by your experience. That means you have one less excuse to not put your foot down!
"Follow your passion" is awful advice, Duckworth says – This is because hardly anyone knows what their passion worth following is. That's why you have to discover it, and then develop it. Here, she explains how it works.
Critics have called Grit simply a "pop-psych smash" – They pointed out that "grit is only moderately correlated with performance and retention, and that grit is very strongly correlated with conscientiousness." The results of a 2017 scientific study "suggest that interventions designed to enhance grit may only have weak effects on performance and success, that the construct validity of grit is in question." Overall, the theory and data on the subject do not appear to be quite as robust as Duckworth and her large fan base among L&D professionals believe to date.
Authors who have similar ideas and represent the same values:
7. Deep Dive: Grit in the Workplace
Find out more about Angela Duckworth's main topics in our related Journal articles:
About Our Thought Leader Profiles
Biographies can be found on Wikipedia. What you find here are instant practical insights into the thinking of important contemporaries – with handy references to the summaries of their works at getAbstract, of course.
How the Journal Saves You Time
Reading time for this article is about 8 minutes.
This article saves you up to 7 hours of research and reading time.
3
We have curated the most actionable insights from 3 summaries for this feature.
1
We read and summarized one book with 352 pages for this article.