What to Say?
A reading list about all kinds of conversations: light, naked, difficult and otherwise.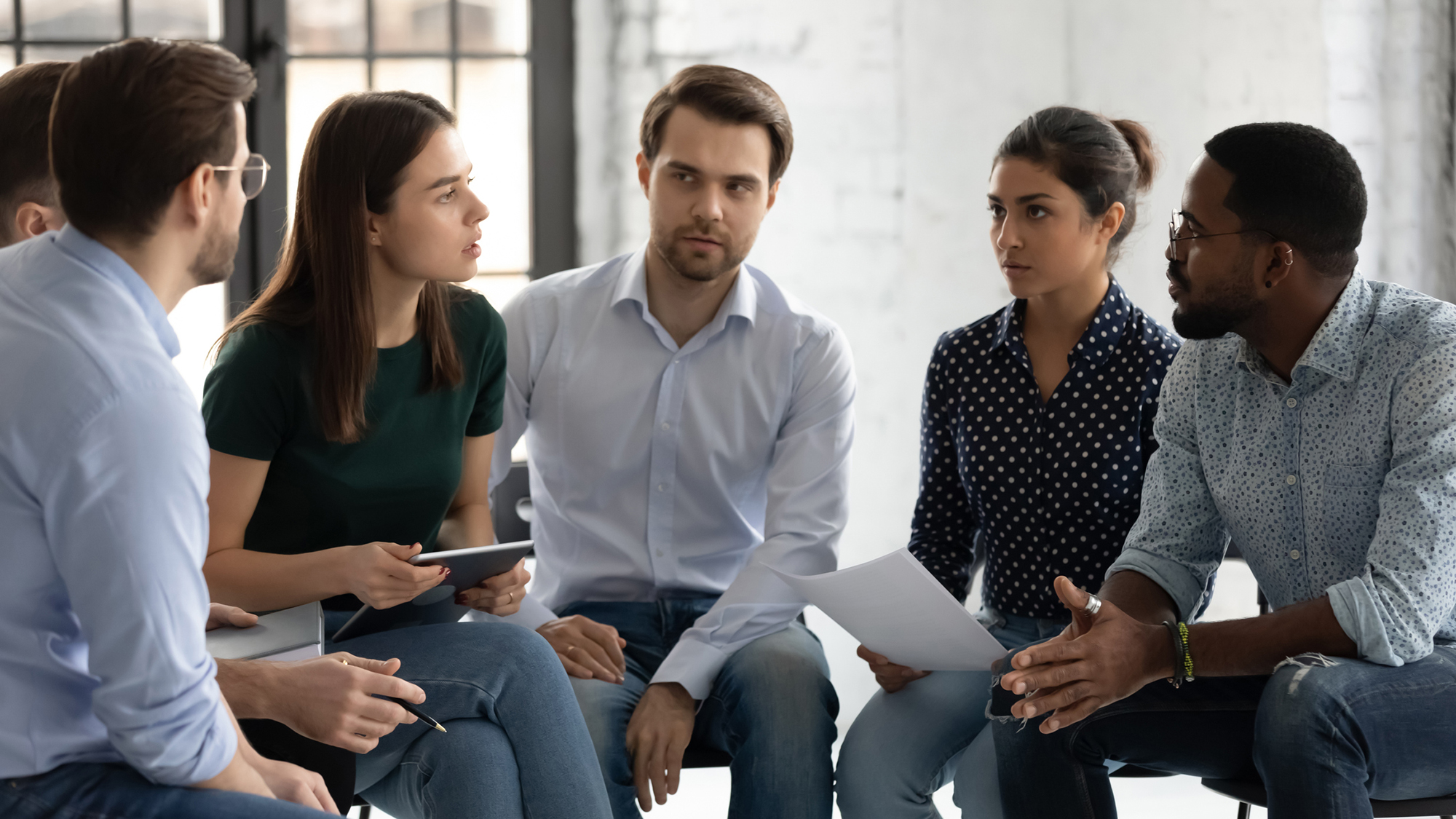 Conversations are the building blocks of business, because all business starts with relationships. Most common is small talk, but at the highest levels, companies seek to engage with their customers, employees and shareholders in large, purposeful conversations.
Small Talk Is a Big Deal
Networking is an essential skill, which means talking to people you don't already know. In How to Start a Conversation and Make Friends, author Don Gabor suggests you check your body language. Whether you realize it or not, your body is communicating to others even if you're not talking. When you introduce yourself to others, make eye contact, smile and maintain an open and receptive posture. You want to invite conversation to continue.
Debra Fine points out in The Fine Art of Small Talk that little polite conversations in the hands of people who have practiced the art put other people at ease and generate a feeling of warmth.
Small talk is no small thing. It's a valuable personal and professional thread that connects people.

Debra Fine
Author John R. DiJulius III recommends in The Relationship Economy falling back on "FORD" – "Family, Occupation, Recreation or Dreams" – when searching for a topic to start a conversation.
Here are some other books that offer tips on breaking the ice:
Emotional Intelligence is the bedrock of conversational success. Mark Manson, author of "5 Skills to Help You Develop Emotional Intelligence" says with practice, you can improve your emotional IQ (EQ). It starts with developing empathy for others. The best way to do this is to listen deeply.
The Naked Truth
Author Judith E. Glaser in Conversational Intelligence, digs deeper into the nuts and bolts of meaningful conversations. Level I conversations are simple back and forth exchanges or transactions. Level II conversations occur when people present their views and try to persuade others. Level III is the highest level of conversation, where the parties trust each other and can listen to divergent views without feeling threatened. For these conversations:
Think about the outcome you're looking for.
Be sensitive about how you frame problems to be sure not to offend anyone; this creates a comfortable environment.
"Reframing, Refocusing and Redirecting" unhealthy conversations helps remove fear.
Uncertainty is the fulcrum between distrust and trust. Uncertainty is a clue that tells us we need to pay attention to building a deeper understanding of one another.

Judith E. Glaser
The key to honest conversations is participants willing to be vulnerable, Patrick Lencioni says in Getting Naked. This creates trust. It's harder than it sounds, because it means mastering your fears. Lencioni says the only way to do this is to put your clients' needs first, above your desire to maintain revenues.
Think of yourself as a consultant, not a salesperson. Your main goal is to help your clients improve their bottom lines.
Don't be afraid to give free advice. This builds trust in the beginning.
Be willing to tell your clients the truth, but be kind.
Don't avoid thorny issues; it's better to be proactive and bring them up.
Once a client trusts you and really understands that you care more about them than about yourself, they usually stop worrying about micromanaging the cost or seeing if they can take advantage of you.

Patrick Lencioni
Authors Robert Scoble and Shel Israel move meaningful conversations with customers online in Naked Conversations. They show that blogging can be a good way for companies to engage with customers in an open, transparent way to build trust.
Blogging lets you listen to what people are saying about your product, company or category, and gives them the opportunity to respond.

Robert Scoble and Shel Israel
In The Naked Corporation, authors Don Tapscott and David Ticoll point out that in the age of instant information exchange, customers expect this level of transparency from companies. Organizations should embrace transparency and honesty as a corporate value.
In a crisis, listening and responding can prove infinitely more effective than any attempts to command and control the discussion about the situation.

Robert Scoble and Shel Israel
In other eras, these kinds of open conversations were referred to as "authentic" or "fierce." More recently, business leaders talk about "radical candor," a mind-set organizations can foster for their leaders, managers and employees to engender 360 degrees of honest feedback to improve communication and agility, and eliminate backstabbing.
Read more:
Challenging Conversations
Talking can get people into trouble but it can also clear the way for better relationships. Scholar Mortimer J. Adler reminds readers in How to Speak, How to Listen that it's important to pick not only the right time for important conversations, but also the right participants to ensure they're productive. Authors Douglas Stone, Bruce Patton and Sheila Heen wrote the original guidebook for navigating Difficult Conversations. Conversations don't have to be onerous just because people disagree.
Disagreement is not a bad thing, nor does it necessarily lead to a difficult conversation. We disagree with people all the time, and often no one cares very much.

Douglas Stone, Bruce Patton and Sheila Heen
In this episode of her Dare to Lead podcast, author Brene Brown and coach Aiko Bethea talk about how organizations can increase diversity as well as their sensitivity to inclusion by facilitating conversations where everyone feels heard. These workplaces find a way to talk about difficult issues without shaming or blaming. They take the opportunity to listen and learn from other's diverse experiences, without judgment. For difficult conversations to succeed, leaders must be willing to listen, even through discomfort.
For deep transformational change around diversity equity, inclusion, belonging, it can't just be transactional. It has to be relational. It has to be about people's stories and narratives.

Brené Brown
In Breaking the Silence Habit, author Sarah Beaulieu tackles organization-wide conversations about sexual harassment and violence. She offers a five-point "Uncomfortable Conversation Framework":
Understand the facts.
Recognize that discomfort will be part of the conversation.
"Pause Your Reaction" – ask questions and dig deeper rather than responding to statements.
Gather other perspectives.
Practice having fictional uncomfortable conversations so you have experience whenever you need to deal with a real-life situation.
When we practice with a broad group of colleagues…we begin to see the organization through the eyes of people who have more or less power than we do, which allows us to intervene more effectively.

Sarah Beaulieu
In It's Time to Talk (and Listen), authors Anatasia S. Kim and Alicia del Prado say start with sincerity and clarity about why you want to have a difficult conversation. When discussing a point of contention with a colleague, first ask for the conversation. Share your experience; be willing to be open. Seek to collaborate on solutions. Most importantly, follow words with deeds.
For other ideas and frameworks:
Leadership Conversations That Inspire
John C. Maxwell's advice to leaders in Everyone Communicates, Few Connect is "Keep it simple. Say it slowly. Have a smile." In Powerful Conversations, author Phil Harkins talks about the kinds of conversations that preface change. High-impact leaders leverage conversations to find shared ground, build consensus and develop actionable strategies. In addition to speaking with candor and establishing trust, these leaders generate conversations about what it's possible to achieve.
Powerful conversations lead to action, accomplishment, commitment and understanding.

Phil Harkins
Learn more:
What's next:
Build those empathy muscles:
How the Journal Saves You Time
Reading time for this article is about 7 minutes.
This article saves you up to 254 hours of research and reading time.
58
We have curated the most actionable insights from 58 summaries for this feature.
51
We read and summarized 51 books with 12659 pages for this article.