The Reality Metaverse
Virtual and augmented reality technologies increasingly blur the lines between the physical and digital realms.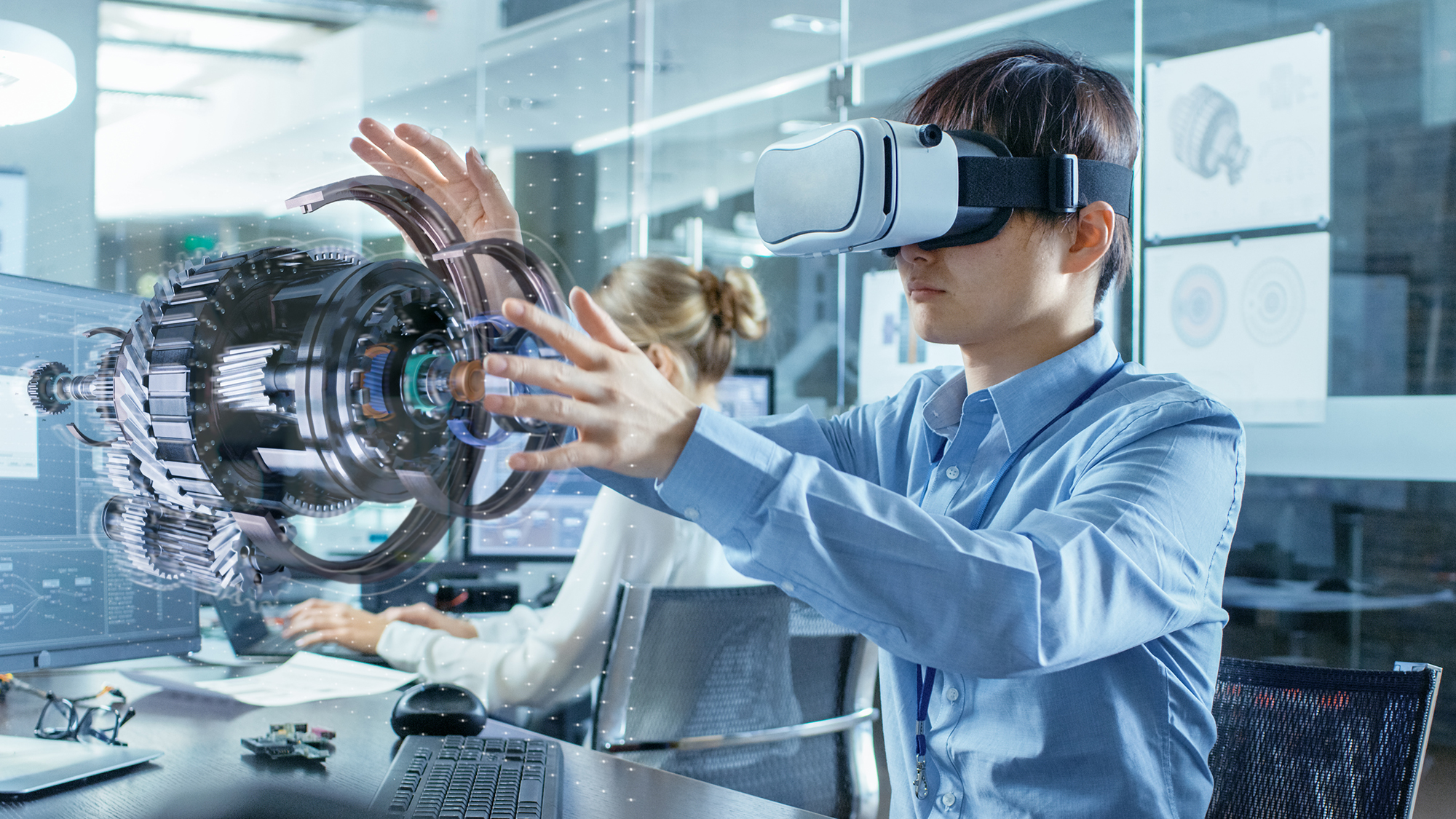 Facebook rebranded last month as Meta. It was an opportune moment for the beleaguered company to do something to change its public profile, but the mission behind Meta to transform the internet to a virtual reality space has long been Facebook's North Star. Indeed, some companies are already living in Mark Zuckerberg's version of the "infinite office."
The "metaverse" is the virtual 3D world made possible by the internet plus specialized glasses and other gear designed to communicate the touch and feel of physical space within a virtual world. Basically, the world created and explored by video games is now moving into the office space.
Virtual Reality's "Killer App"
Futurist Charlie Fink described this "meta" milestone in Charlie Fink's Metaverse. Business is just now catching on to the immense market potential of virtual and augmented realities, but Fink predicted a "killer app" would open the floodgates. If Facebook can successfully replicate its immensely popular AI-enabled platform in 3D virtual space, causing its nearly three billion users to make the transition, that pretty much fits the bill.
"XR" covers all the different mixes of "reality" spaces, including fully immersive virtual reality (VR), augmented reality (AR), where users see a digital overlay atop the physical world one views, perhaps through specialized glasses or via smartphone, and mixed reality (MR), which combines these approaches.
Presence and agency in a photorealistic simulated world is the holy grail of immersion.

Charlie Fink
Facebook (now Meta) CEO Mark Zuckerberg fully embraces this quest. He acquired virtual reality (VR) company Oculus in 2014 and has been building out his vision of what virtual space could mean for social encounters and for business ever since, writes Bloomberg Businessweek journalists Bryant Urstadt and Sarah Frier in "Welcome to Zuckerworld."
He sees 3D virtual space as the successor to mobile, the next logical iteration of the web – what he calls "the embodied internet." People can gather together to socialize, work, play or make things in a fully immersive world. He foresees a virtual space made richer than the digital worlds most people experience now because of the advances in video technologies and the mapping of 3D space via sensors using 5G wireless networks.
Raconteur writes in its "Future of Work" report that adding virtual reality to office spaces will make them much more dynamic and engaging. Imagine interacting with colleagues and shared projects as avatars within holographic space no matter where your team members are physically located.
Working remotely can feel isolating, but by teleporting the office space to someone's house, for example, via a 3D holographic feed, the remote worker can hear and see everything that is happening.

Spatial co-founder Jinha Lee
As Urstadt and Frier point out, the dream is not quite yet the reality. One obstacle to the full success of virtual includes the danger of motion sickness with too much use, but it's an obstacle Zuckerberg and others in the field are overcoming with each new technological iteration. A bigger obstacle may be how much people actually want to experience virtual presence. Nonetheless, experts predict by 2030 23.5 million jobs will take place in virtual or augmented space.
The "Phygital" Space
As the physical and digital world merges into the "phygital," marketing consultant Wided Batat notes in Digital Luxury that every surface becomes a potential point of purchase with augmented technology. While it's harder to replicate the experience of luxury in the virtual world, customers expect to be able to access their favorite brands seamlessly through multiple channels. However, compelling storytelling will still be fundamental to the customer journey.
While retailers can capture customer attention via virtual and augmented spaces – Japanese designer Kenzo drew customers to his pop-up store with a virtual aquarium – what will differentiate brands is how they creatively deploy the technology within their customer stories and integrate the virtual, physical and customer service experience.
Author Doug Stephens in Reengineering Retail imagines enhanced physical and enhanced digital spaces as well, and the augmented space in between. He notes IKEA already uses augmented reality to help customers visualize what their furniture will look like in their homes. Internet of Things–enabled Augmented Paper allows Montblanc pen owners to have the experience of writing longhand with the option to use the pen to wirelessly transfer and digitize what they write. Or imagine being able to browse the virtual space of a celebrity's closet and then purchase what you like.
Imagine a future where Amazon ceases to be a digital catalog and instead becomes an expansive virtual world that you can step into.

Doug Stephens
Magic Leap is at the cutting edge of immersive virtual experiences. Tech journalist Kevin Kelly describes in "Hyper Vision" the company's view of virtual reality by analogy: At its inception the promise of the internet was the ability to create and share information, but now the promise of virtual reality is to create and share experiences.
Virtual Learning & Development
For learning, fundamentals will still apply in terms of structuring material in the chunks that make for easier retention, and so will strategic thinking about reskilling your workforce and integrating a continuous L&D mind-set, but learning in an immersive space makes new skills easier to pick up says organizational consultant Koreen Olbrish Pagano in Immersive Learning. Virtual reality systems will make learning to drive less risky, for instance, and immerse students in a visceral experience of history.
Author Robin Petterd writing for Sprouts Lab agrees, and shows how adopting a "digital mind-set" when designing L&D programs unleashes new possibilities. Designers need to rethink the possibilities taking into account the convergence of artificial intelligence (AI), the Internet of Things (IoT) and virtual reality (VR).
The challenge of immersive-design implementation is to create an environment where learners feel safe practicing, see the value in the experience and embrace the experience as an opportunity to improve their performance.

Koreen Olbrish Pagano
Adding in a layer of "gamification," simulating in some ways a video game, also increases engagement in the virtual learning space and contributes to building better learning habits, say authors Naomi Baily and Iulia Istrate in their discussion of "Online Education Platforms."
They recommend a combination of nudges and friendly competition to keep employees engaged in training programs. Chatbots along the way provide a way to "nudge" employees in the moment and integrate well with a continuous learning culture.
Working Within Virtual Systems
The ultimate virtual space is the digital twin, an exact replica of a whole system, whether mechanical or biological, according to MIT Sloan Management Review in its article "Digital Twins are Reinventing Innovation." Tesla uses this technology to remotely diagnose troubles customers may have with their engines by running tests on their digital twin. Engineers consult the digital twin of Notre Dame Cathedral as they rebuild it following the devastating 2019 fire.
City planners use digital twin models of cities to test different combinations of traffic patterns and services deployment to inform construction plans.
A digital twin with all the complexity and detail of a physical city provides a larger and more valuable platform for experiments that has ever been created.

MIT Sloan Management Review
Digital twins of bodies help doctors and researchers evaluate the effects of proposed treatments without risking a patient's actual health. In the not-too-distant future, these models combined with robotics may enable surgeons to remotely conduct operations.
Author Jo Marchant writes in "How VR Could Break America's Opioid Addiction" about how medical professionals are also turning to virtual reality to help patients manage their real-world pain. The US military found immersion in its VR program SnowWorld reduces the pain of wound-care for burn victims by up to 50%.
Virtual reality systems have been "just around the corner" for a long time, but true innovation is already changing business and industry. With the commitment of Facebook (Meta) and other companies to heavily invest in the space, along with the build-out of 5G wireless networks, this next iteration of the internet might finally be ready to take off.
Read more about this exciting field:
How the Journal Saves You Time
Reading time for this article is about 7 minutes.
This article saves you up to 22 hours of research and reading time.
11
We have curated the most actionable insights from 11 summaries for this feature.
4
We read and summarized 4 books with 1103 pages for this article.