José Andrés
On rebuilding community after disaster.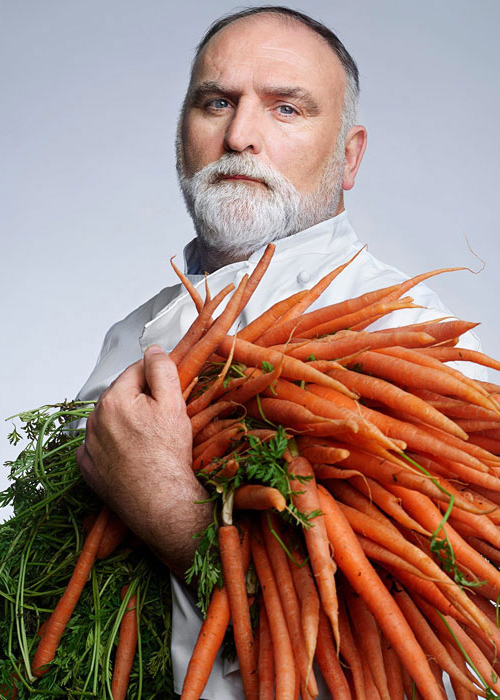 José Andrés is a Spanish-American chef and world-renowned restauranteur, author, television show and podcast host. He won the "James Beard Foundation Award" for Outstanding Chef four years in a row, and received its "Humanitarian of the Year Award" for providing food relief through his nonprofit World Central Kitchen, which provides chef-prepared food to communities suffering from disaster. He won a 2015 National Humanities Medal. Andrés is a founder of the Global Food Institute at George Washington University, where he also teaches.
1. José Andrés' Key Findings and Messages
José Andrés' mission is to use the power of food to change the world.
To him, food remains a lifelong adventure.
Instead of feeding the few, Andrés wanted to feed the many.
Access to food is a human right.
José Andrés considers his status as an immigrant as important as his status as a chef.
2. Why Do They Matter?
Chef José Andrés, already an acclaimed restauranteur, brought worldwide attention to the problem of food insecurity, especially in the wake of disasters. He founded World Central Kitchen in response to the 2010 Haitian earthquake, to organize ways to get nutritious food to survivors while at the same time revitalizing local businesses to begin the process of rebuilding local communities. Since 2010, Andrés and his organization have acted as "first responders" after earthquakes, hurricanes, wildfires and warfare in many different countries including the US, Ukraine, Turkey and Syria, serving more than 300 million chef-prepared meals to victims of humanitarian disasters. The World Central Kitchen models a way of relief response that empowers local actors over foreign support.
3. To Understand Andrés' Work, Start Here
José Andrés was already a chef when he first came to the US with the Spanish Navy. He later became a citizen. In 1993, he opened his first restaurant, Jaleo, in Washington D.C., and has gone on to open more than 30 restaurants. As he published cookbooks and hosted cooking shows, his celebrity status grew.
After the 2010 earthquake, Andrés arrived in Haiti with only the thought that he wanted to feed people.
He worked alongside refugees to provide emergency relief and learned to cook what local people considered comfort foods. He activated local chefs, restauranteurs and farmers. His experience galvanized his desire to feed the hungry, and he founded World Central Kitchen (WCK), inspired by the nonprofit shelter kitchen he donated many volunteer hours to, DC Central Kitchen. Today, World Central Kitchen has served more than 300 million chef-prepared meals to people suffering in disaster zones. He insists that WCK doesn't arrive at disasters to manage the problem. In fact, when they first arrive to help they have no plan since every emergency is different.
His philosophy is to take stock of obstacles and local assets and adapt, and to invest relief efforts into the solutions that get hard-hit communities once again back to self-sufficiency. Nobody knows better than local people how to rebuild a community.
Andrés came to international prominence with his leadership in Puerto Rico following the devastating Hurricane Maria, experiences and insights he recounts in We Fed An Island.
Read the summary:
Highlights:
José Andrés, who owned a restaurant in Puerto Rico, joined with other chefs to form Chefs for Puerto Rico and immediately started cooking meals for victims of the hurricane.
Working with FEMA, Chefs for Puerto Rico set a goal to serve 10,000 meals daily.
Before they left, Chefs for Puerto Rico and its 20,000 volunteers had served 3 million meals.
There's something fundamental about food; about preparing, cooking and eating together. It's what binds us; it's how we build community.

José Andrés
---
In The David Rubinstein Show for Bloomberg, Andrés talks about his humble beginnings as a Spanish immigrant to the United States, and the path that led him to combat hunger around the world and in the US. In it, Andrés notes it's been more than 50 years since the US government considered food and hunger policies.
Highlights:
Andrés sees himself as a storyteller through cooking.
His work with the nonprofit DC Central Kitchen showed him the power of food to transform a community.
After the Haitian earthquake, Andrés saw an opportunity to spread that model of employing people while also feeding a community.
The first goal of World Central Kitchen is to remove the worry about how people will eat during a crisis.
In a moment of real need, a simple sandwich looks like heaven. And if you feed the people, you are creating an army of first responders.

José Andrés
4. Practical and Quick Insight
Andrés gave a 2011 TED Talk, "Creativity in cooking can solve our biggest challenges," where he first put the world on notice about his ambition to go from a chef who cooks for the few to "cooking for the world":
Highlights:
For Andrés, high-energy surroundings spark the most creativity.
Technologies have created the modern world, full of riches, yet millions still live as they did hundreds of thousands of years ago.
The world can do better to feed everyone, and creativity will "bring everyone to the table."
Andrés first learned to cook in the restaurant of famed Spanish Avant-garde chef Ferran Adria, who introduced him to exotic techniques that utilize science and technology in unexpected ways. Andrés taught culinary physics with Adria at Harvard and teaches other classes in molecular gastronomy for other universities, as well as a course in how food shapes civilization at George Washington University. Andrés wants to make eating an adventure and a wonder. He brings this same creativity to organizing food relief missions around the world.
---
Highlights:
To really help, listen, and give people what they need rather than what others think they need.
It's pragmatic to ensure that capitalism works for all.
People best learn by doing.
Don't just accept what other people tell you; find your own path forward.
"Life starts at the end of your comfort zone."
In this conversation with restauranteur Jessie Ziff Cool for Peninsula Open Space Trust (POST), José Andrés speaks about food justice and providing for those who are like "ghosts in our system," including access to markets and fresh food:
A very good question will always be smarter and more important than a good answer.

José Andrés
5. Evaluate the Details:
Andrés is a frequent guest on news shows and podcasts, and he hosts the Longer Tables podcast, where he interviews interesting people from all walks of life about the impact of food in their own lives and experience. He covers topics ranging from discussing music and table etiquette to making the perfect margarita. Here's a sampling of Andrés in conversation on a variety of subjects:
The Earth produces enough food to feed people two or three times over, yet people still struggle with hunger.
World leaders need national food security advisers to better coordinate food policies.
The school lunch program in the US began in 1946 at the request of the Department of Defense, to ensure Americans were fit to join the Army.
Rich countries sent so much surplus food to Haiti after their 2010 earthquake that it put farmers out of work.
Some humanitarian policies make poor people poorer and encourage migration since people can't feed their families.
Food stamps are an effective program that needs to be modernized to pay farmers or local restauranteurs directly for fresh prepared food or fruits and vegetables, combatting hunger and poverty at the same time.
Smarter policies and bills will solve multiple problems.
Cooks are the most prepared responders to feed people in an emergency.
---
Healthy food comes from a healthy environment.
The world has long incorporated molecular gastronomy into its food traditions – wine and cheese are just two examples; Andrés just updated it with newer technology in the kitchen.
Andrés serves on the National Geographic Pristine Seas Foundation board, which protects thousands of square miles of ocean parks.
Aquaculture has greatly improved so as not to harm wild seafood and is a growing part of the solution to food insecurity.
Like Arnold Schwarzenegger, Andrés immigrated to the US to find the American Dream of reward for hard work.
Like Schwarzenegger in the past, Andrés is co-chair of the President's Council on Physical Fitness.
As a volunteer at DC Central Kitchen, Andres learned how to turn food waste into "food opportunity" by investing in solutions.
World Central Kitchen's plan is adaptation. They don't arrive with a plan, since every emergency is different.
Providing clean kitchens so people stop cooking over fires will not only improve people's health and financial well-being but will help combat climate change.
Immigrants build bridges between cultures.
---
Sharing food across cultures is a way to emphasize the humanity we have in common rather than our differences.
The Russian invasion of Ukraine disrupted not only in-country systems but also disrupted the export of grain to over 400 million people globally.
Countries are sending Ukraine food aid and money, but also investing in programs to help dependent countries develop their own agricultural capacity.
Russia continues to weaponize food supplies to the world from Ukraine.
Food security is a national security issue not just for curbing hunger, but because of the political stability it provides.
Food scarcity fuels conflict and illegal migration, so part of smart policy is helping other countries help themselves.
I'm a big believer in working with both hands. You have to make sure the big thinking happens in places of power and you achieve this through good policy and good bills, but then you also need to make sure that all these filter down all the way to every single situation and every single community.

Jose Andres
6. Additional Resources by Topic
How to Identify Real Spanish Paella – José Andrés reviews the essential ingredients for authentic paella with his daughters on his show José Andrés and Family in Spain. Spanish restaurants around the world serve the dish and call any version served in a paella pan "paella." But for true paella, you have to travel to Valencia. True paella has no seafood, no chorizo, no peas. Authentic paella is made with rabbit, chicken, green beans, white beans, tomatoes, saffron and rice.
World Central Kitchen in Ukraine – Within days of Russia's invasion of Ukraine, World Central Kitchen mobilized to feed that country's refugees.
A country's food indicates its history – Mole is a hybrid of Spanish ingredients and native Mexican cooking techniques. José Andrés discusses the traditions of Mexican cooking with Eva Longoria in this Longer Tables podcast.
Get the most bang for your chicken buck – In this video, Andrés shows viewers how to make five meals for a family of four from one chicken:
Andrés' Peruvian restaurant in Washington D.C. serves lab-grown chicken – China Chilcano is one of only two restaurants to do so nationwide. What's the verdict on taste? It tastes like chicken. Cultured meat is not widely scalable, so the price is still quite high. However many experts hope it may be part of the solution to animal welfare challenges and emissions problems in the current livestock system.
Authors who have similar ideas and represent the same values:
We need longer tables, not higher walls.

José Andrés
7. Deep Dive: Creativity for Change
Find out more about Andrés' main topic in our related Journal articles:
Food is the heart of the universe.

José Andrés
About Our Thought Leader Profiles
Biographies can be found on Wikipedia. What you find here are instant practical insights into the thinking of important contemporaries. With the necessary references to the summaries of their works at getAbstract, of course.
How the Journal Saves You Time
Reading time for this article is about 11 minutes.
This article saves you up to 6 hours of research and reading time.
1
We have curated the most actionable insights from one summary for this feature.
1
We read and summarized one book with 288 pages for this article.