Gamify Your Training and Marketing for a Win/Win Strategy
Game mechanics in different applications engage employees and customers, leading to greater retention for both.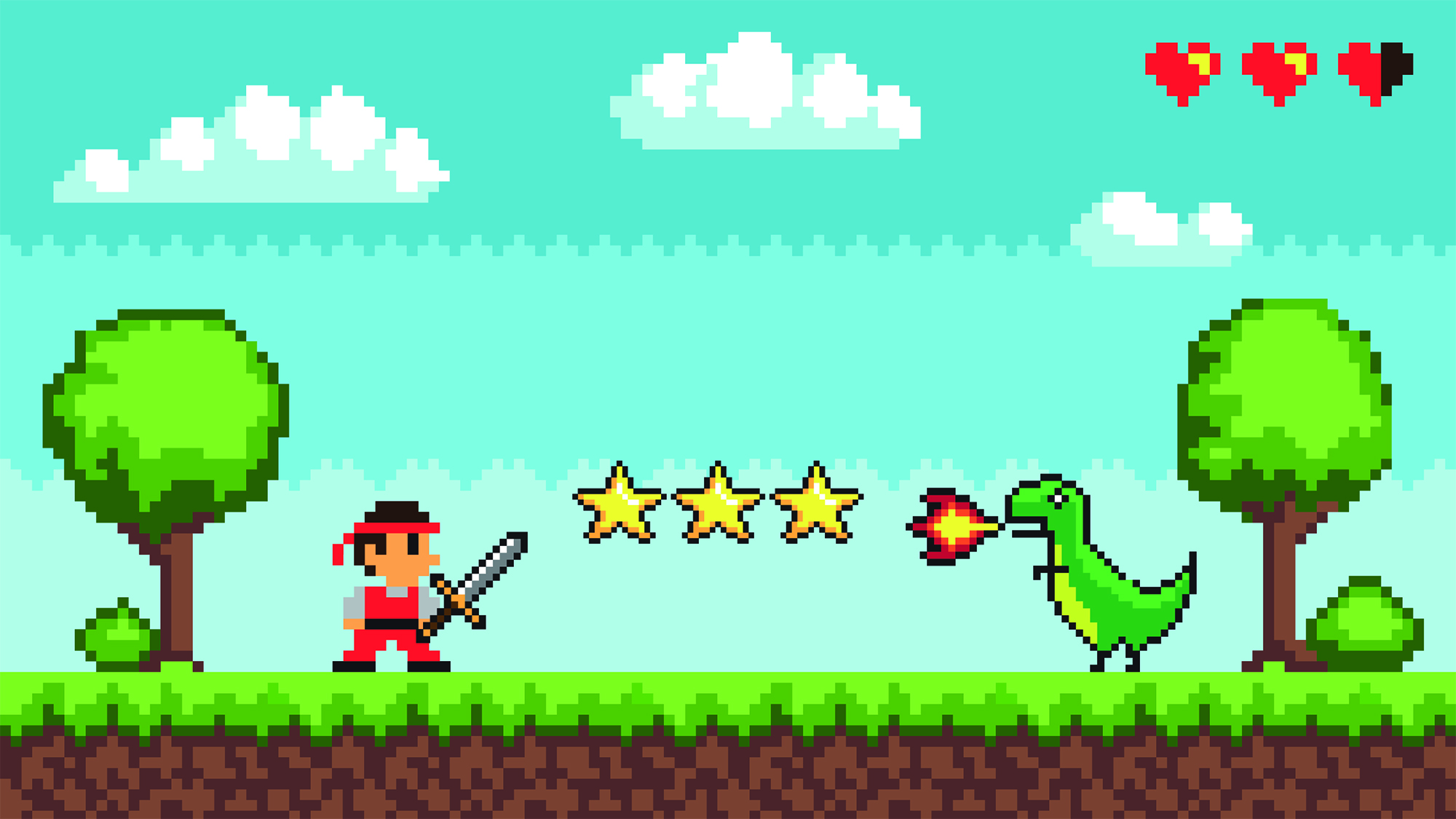 "Gamification" integrates game elements into work duties, marketing or learning, to incentivize and reinforce certain behaviors and to increase engagement. For games to be fun, people need to feel they are improving at something and interacting with other people in meaningful ways; it's not just a matter of setting up a scoreboard. The potential downside is people can become obsessed with just winning rather than benefitting from the broader positives of game-play, like developing competency or team-building.
1. Games Should Feel Like Play
As video games became more popular, work systems and web designers integrated game elements into their user interfaces and researched what motivates people to play and keep playing games, explains user experience designer Sebastian Deterding in "9.5 Theses on the Power and Efficacy of Gamification." They integrated knowledge about persuasion techniques that incorporated role-play or keeping score. Designers gamified simulations to teach specific skills.
Researchers divide human play into two types: "ludus," which is structured with rules and goals, and "paidia" which is open and improvised. Most attempts at gamification are ludus-heavy, with game features like leaderboards, rewards and simulations. But these features alone can't make an interaction feel more like playing a game. Good games have psychological, social and emotional rewards. People play games to experience important psychological needs, such as:
"competence" – where the player overcomes a challenge, though it may take several tries.
"autonomy" – a player wants to play the game; it's not mandatory.
"relatedness" – games give groups of people a sense of shared camaraderie, which is more important than winning.
2. Play Different Games, Win Different Prizes
In The Gamification Revolution, authors Gabe Zichermann and Joselin Linder parse well-known models for gamification. In the "grand challenge," a leader sets up a competition and invites others to participate in problem-solving. A "rapid feedback game" sets up ways to score as you play, which motivates people to keep playing.
In "simulation-discovery games," designers gamify knowledge in order to teach others. "Status marathon" games reward high-quality content with peer recognition; this is the model social media uses. In a "commercial/negotiation" gamified system, players aim to win virtual currency – think Monopoly money or frequent flyer points. "Expressive games" engage users by encouraging their creativity.
3. Turn Training Into Quests
Because games offer an abstracted, simplified reality, players can more easily grasp larger concepts and readily see cause and effect, says author Karl M. Kapp in The Gamification of Learning and Instruction. The best training games require systematic reasoning and planning from players and can easily teach clusters of ideas or facts in a fun way that facilitates painless memorization. Simulations give players the chance to practice their skills. Surgeons who use simulators in medical school make fewer real-world mistakes. Simulations reduce accident rates for truck drivers and improve the interpersonal skills of business people. Many layers of rules guide play through unfolding levels with evolving goals and difficulties which may integrate an overarching narrative.
"The hero's journey," with the hero acquiring skills as they accomplish tasks, is a blueprint for game structure. But mastery is the real goal. While only some people can win, many players can gain mastery. To emphasize mastery, Zichermann and Linder suggest:
set up a goal.
design milestones.
design feedback pathways to positively reinforce player improvement.
design ways for players to interact and positively reinforce each other.
add challenge and complexity as players level up.
design challenges or experiences peripheral to the main game to maintain engagement.
Think about points and rewards. Award "experience points" as players gain mastery or "redeemable points," which function like currency. Other types of point systems offer rewards for various desirable behaviors and outcomes, including assisting others. "Status," "access" to opportunities, "influence over others" (power) and "stuff" (the free kind) are the different types of rewards people seek.
Instead of isolating training and turning it into a stand-alone activity outside of work, gamification unlocks a whole new modality: training as continuous recreation.

Gabe Zichermann and Joselin Linder
Points motivate extrinsically but are more effective when they inspire players intrinsically, as motivation for mastery. Games should include both, but intrinsic motivation drives deeper learning. As the game progresses, repeat important content to ensure learning. Include a replay mechanism so if players fail they can try again.
When people are intrinsically motivated, they tend to be more aware of a wide range of phenomena, while giving careful attention to complexities, inconsistencies, novel events, and unexpected possibilities.

Karl M. Kapp
4. Recruit and Retain Employees
Gamification especially benefits recruitment and retention efforts. Adding game elements to the pursuit of corporate goals keeps workers aware of strategic objectives, gives them the opportunity to explore various future scenarios via simulation, and keeps them engaged in their projects. It can be useful for improving emotional intelligence and fluid intelligence, a person's ability to apply problem-solving to new situations. Gamification can add to an employee's sense of control over their work. Some examples:
Target uses a gamified system of instant feedback for cashiers when they move their lines quickly.
A UK government office created Idea Street to encourage workers to suggest ideas to improve the office. Employees can buy, sell or trade ideas. It's engaging for the employees, who feel their ideas are listened to, employers can implement the best ideas and above all, the customer receives the benefits.
As authors David Edery and Ethan Mollick note in Changing the Game, L'Oreal uses its online e-Strat game to winnow down the pool of job applicants. Players work in small teams to solve problems in a virtual cosmetics company. Those who make it to final consideration are invited to Paris. L'Oreal has hired 600 employees through the use of games.
Simulation may be a useful game strategy for long-term consultants with other companies as a way to maintain connection, communication and the shared values of their own company. Millennials respond well to game features and they can be a way to retain more employees in this age group. However, game features don't just appeal to millennials–people in every demographic play video games.
Learning is not 'work' in the context of a game – it is puzzle-solving, exploration and experimentation.

David Edery and Ethan Mollick
At The Next Jump, employees split into two teams and competed to see which team exercised more. This raised fitness levels while cutting down medical overhead. Just be sure no one feels pressured to exercise.
For best results, businesses need to foster a learning culture, says author Nigel Paine in Workplace Learning, and the option to learn must be continuous, personalized and easily accessible. WD-40 CEO Garry Ridge emphasizes learning in every interaction, meeting and conversation. Their learning culture is based on transparency, candor and trust. By contrast, journalist Sarah Mason writes about how ride-share company Lyft uses gamification to keep their drivers working at low wages, even when it's not in their best interest. It motivates them, but in many ways, it's a game of chance where the 'house' always wins, and a form of coercion.
5. Create Raving Fans with "Funware"
In Game-Based Marketing, Zichermann and Linder show companies how to integrate game mechanics into their marketing. "Funware" entices and intrigues new customers. Foursquare gamifies checking in at venues and keeps track of customers who venture out, awarding badges for various reasons to travelers. Frequent Flyer Programs build loyalty by offering rewards, and the chance to accumulate points, level up and overcome challenges. Chrysler built an off-road adventure game for customers which drove a 300% increase in Jeep sales over expectations. Gamified brands invite interaction and engagement and make using their systems fun. People will compete for even small or virtual rewards and they like to compete against themselves when not competing with others.
NBC News made its extensive video archive available to high schools as a teaching aid via its app iCue. Next, it created What's Your iCue? trivia game on Facebook, which clocked 100,000 new users monthly, generated substantial revenues and boosted NBC's brand along the way. One reason it was so wildly popular was its "stickiness," or the amount of time users spent engaging with its interface.
Social media paved the way for interactive marketing. It's a great opportunity to incorporate gamification. Social media platforms and multiplayer games are the models with the greatest amounts of user "stickiness," although be aware of shortcomings. Philosophy professor C. Thi Nguyen warns that the same game mechanics that encourage social media participation such as "levels, scores and simplified goals" actually inhibit the robust, open but civil dialogue that face-to-face interaction used to bring. "Leaderboards" post names and scores of players in ranked order or keep track of how the game progresses. This feature can inspire others to follow a game or play it themselves. Facebook's "friend count" is, essentially, a leaderboard mechanic. People will play to earn badges that signify achievements within a game. They then display these badges on their social media accounts.
Only games can cut through the clutter of crowded brand marketplace and socially networked environment to attract, retain and monetize consumers.

Gabe Zickermann and Joselin Linder
Competitive gaming behavior is a part of human nature. Savvy marketers incorporate these elements into their gamification strategies:
"Status and levels."
"Points" to keep track of leaders.
"Rules" – how the game is played.
"Demonstrability," which incorporates a social context.
Marketers can use game mechanics to engage customers with their brand and then reward their participation. This builds customer loyalty. Combine with personalization strategies for an irresistible offer:
6. Tap the "Wisdom of Crowds" to Problem-Solve
Use crowdsourcing to engage large numbers of people in solving a problem or creating a product. "Distributed innovation games" invite people with different perspectives to try to solve hard problems in better time than software would. The game Foldit invited players with no expertise in biology to fold a protein looking for a breakthrough structure that would cure diseases. Designers hope similar games can lead to innovations in vaccines and biofuels. In 2007's World Without Oil, players troubleshoot the aftermath of a worldwide oil shortage without government help.
Kickstarter's success handily illustrates a key point about gamification and the crowd: you can get people to do extraordinary things together – often economically irrational things – if you provide the right feedback, friends and fun.

Gabe Zichermann and Joselin Linder
Video games and social media have changed the world and how people engage with each other and with brands. Both employees and customers want more interaction and want that interaction to be fun. Gamification offers a way to level up on these goals.
Read more about incorporating games into your business objectives:
How the Journal Saves You Time
Reading time for this article is about 9 minutes.
This article saves you up to 37 hours of research and reading time.
10
We have curated the most actionable insights from 10 summaries for this feature.
7
We read and summarized 7 books with 1855 pages for this article.