Gary Vaynerchuk
On building businesses and living the life of your dreams.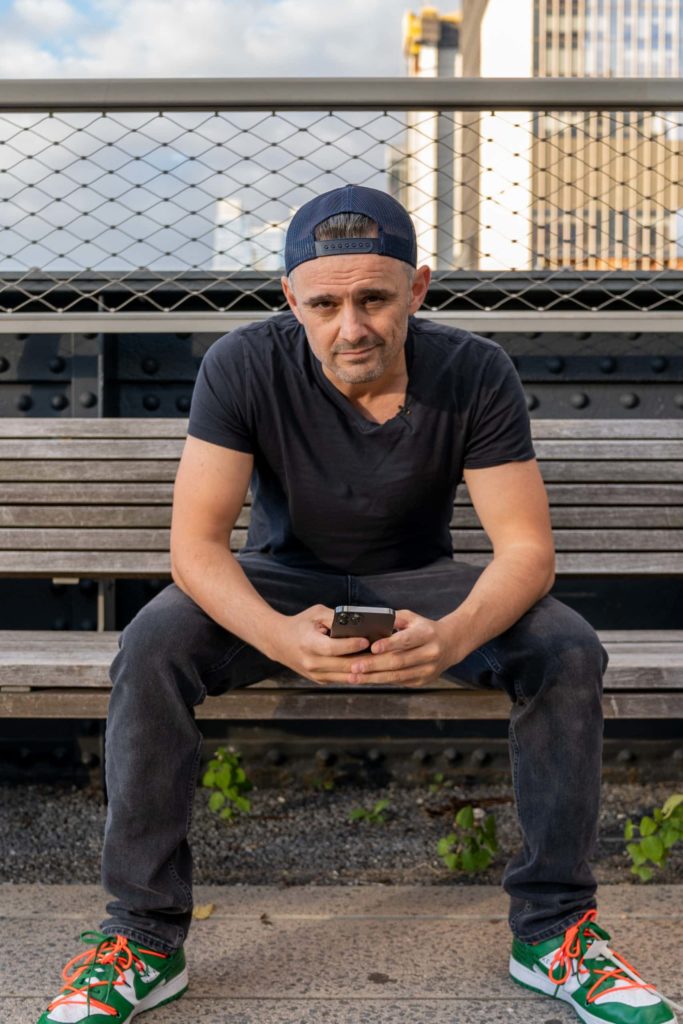 Gary Vaynerchuk is a serial entrepreneur and online branding and marketing expert. He is the founder of VaynerX and co-founder of VaynerMedia, and an investor in a host of other businesses. He's a sought-after speaker and a New York Times best-selling author five times over. His most recent book is Twelve and a Half: Leveraging the Emotional Ingredients Necessary for Business Success, published in 2021.
Vaynerchuk hosts a weekly vlog on YouTube. His latest business venture is Vee Friends, an NFT start-up. Find out more at GaryVaynerchuk.com.
1. Gary Vaynerchuk's Key Findings and Messages
You need hustle for business success, but passion will get you through tough times.
Your personal brand consists of your values – what you stand for.
Use social media to build your brand and to network.
Follow trends and don't rest on your laurels.
2. Why Do They Matter?
Gary Vaynerchuk's early online success, especially in exploiting social media for marketing, catapulted him into notoriety. Vaynerchuk started hustling early, selling baseball trading cards when he was a kid. His family owned a liquor store and he worked there as a teenager. After college, he recognized the internet as a "land-grab opportunity" and created Wine Library TV in 2006, a video blog about wine, that shot to prominence in the early days of YouTube. He built the business from $3 million to $60 million in annual sales. In 2009, he started VaynerMedia, a digital ad agency focused primarily on social media marketing, with his brother AJ. Recognizing the unlimited opportunities of the internet, he became a successful serial entrepreneur and venture capitalist. Along the way, he built a sizable community – more than 3.8 million subscribers to his GaryVee YouTube channel alone – offering business advice to other entrepreneurs seeking to find their own success. Although his areas of interest have grown and changed with time – he's currently developing non-fungible tokens (NFTs) for his newest business venture – throughout his career he's emphasized both passion and hard work.
3. To Understand Vaynerchuk's Work, Start Here
Vaynerchuk started a highly successful video blog called Wine Library TV to augment business for his family's liquor store. The blog became an instant YouTube hit and Vaynerchuk a sought-after speaker on launching online businesses. His first book Crush It! gave readers advice about turning their passion into profit online.
Highlights:
Your personal brand starts with clarity about who you are and what you stand for.
Start a blog, promote your content on social media and monetize.
Everyone – EVERYONE – needs to start thinking of themselves as a brand.

Gary Vaynerchuk
4. Practical and Quick Insight
Vaynerchuk went on to write several additional books about entrepreneurship, branding and social media marketing, including #AskGaryVee in 2016 and Crushing It! in 2018:
The number one most important principle in business is: Provide value.
Center people. Figure out your customer base and focus on serving those needs.
Pay attention to trends, or you can strand your business halfway to your goal.
Be willing to try new things and take risks.
Online success takes years to build up; don't expect a quick pay-off.
Build profiles on all the major social media platforms and experiment with new ones.
With persistence, anyone can build the influence it takes to make a good living doing what they love.
Deal with your fears of failure, vanity and wasting time. Don't care what others think.
Join every single online conversation already in play around the world about your topic.

Gary Vaynerchuk
5. Evaluate the Details:
Find out what's in Vaynerchuk's other bestsellers:
Good customer relationships are a must. Happy customers will spread the news of your value; it's their way of saying "thank you."
It's just as important to care about your employees. A "culture of caring" starts with the CEO.
Take responsibility for failures as well as successes.
Get "creative and personal" to meet customer expectations.
---
Your customers live on social media. Make sure your marketing reaches them there.
Each social media platform requires a unique approach.
Make your content entertaining or useful. "Jab" with great content, then "right hook" with your sales message.
Be prepared for non-stop marketing outreach. The internet never sleeps.
Emotional Intelligence leads to business success and a more fulfilling life.
Self-awareness leads you to identify emotional strengths and weaknesses.
Humility and gratitude keep you resilient and dissipate anger and other negative emotions.
Approach troubling situations with a mix of curiosity and empathy rather than irritation.
---
Not everyone agrees with Vaynerchuk's advice to ditch traditional media in favor of social platforms, especially Mark Ritson:
Article Summary
Gary Vaynerchuk Is Wrong, Wrong, Wrong, Wrong, Wrong About Media
Marketing Week
Advertising campaigns are more effective when you run them on both traditional media and social media, rather than just one or the other.
Contrary to Vaynerchuk's pronouncements, television is still very much alive and viable.
Social media has transformed our world into one great big small town, dominated…by the strength of relationships, the currency of caring and the power of word of mouth.

Gary Vaynerchuk
6. Additional Resources by Topic
Are entrepreneurs born or made? – In this wide-ranging conversation with Tom Bilyeu, Vaynerchuk makes the distinction between entrepreneurs and operators, who are often co-founders: "Most great COOs are people that were taught to be an operator. Many of them are considered co-founders but would not have been successful without the energy of the human that was there to eat the pressure and actually lead the company."
Gratitude – In this clip, Vaynerchuk says the biggest barrier to success is caring too much about other people's opinion of you. Yet he gets his seemingly boundless energy from his attitude of gratitude, and credits his upbringing for it: "I have so much energy because, not only am I grateful for the talent I was naturally given, the ridiculous appearance I was given, and the incredible advantage of being an immigrant, I'm grateful that my parents were so awesome they never made me feel inferior."
Lack of accountability is making people miserable – As he lays out in this GaryVee video: "When you hold yourself accountable, it leads to solutions; it helps you maintain a position of control instead of being a victim. So many of you right now – in this exact second – are unhappy because you're pointing fingers and feeling a lack of control."
NFTs – non-fungible tokens – are Vaynerchuk's newest passion – He released his first set of more than 10,000 tokens in May of 2021 under the company name Vee Friends. His purpose is to provide a platform and build a community for tokens, and to demonstrate the viability of this new blockchain technology. As Vaynerchuk put it in his press release: "When I saw this macro human trend the only way for me to help others understand it was to be a part of it. I know that NFTs will be here for the rest of my life and I will be actively consulting, investing and advising in this space and I wanted to do it from actually being on the field – doing it myself. I have always believed in being a practitioner of the craft I believe in."
Search this index to find anything Vaynerchuk has to say about a topic.
Authors who have similar ideas and represent the same values:
I think that if you make everything your fault (without beating yourself up, of course), then you are also the person with the power to change things around.

Gary Vaynerchuk
7. Deep Dive: Branding
Find out more about Vaynerchuk's main topic in our related Journal articles:
About Our Thought Leader Profiles
Biographies can be found on Wikipedia. What you find here are instant practical insights into the thinking of important contemporaries. With the necessary references to the summaries of their works at getAbstract, of course.
How the Journal Saves You Time
Reading time for this article is about 7 minutes.
This article saves you up to 32 hours of research and reading time.
7
We have curated the most actionable insights from 7 summaries for this feature.
6
We read and summarized 6 books with 1600 pages for this article.