Breaking Out of the Cinderella Tale
A Victorian lesson on how to take control of your own narrative.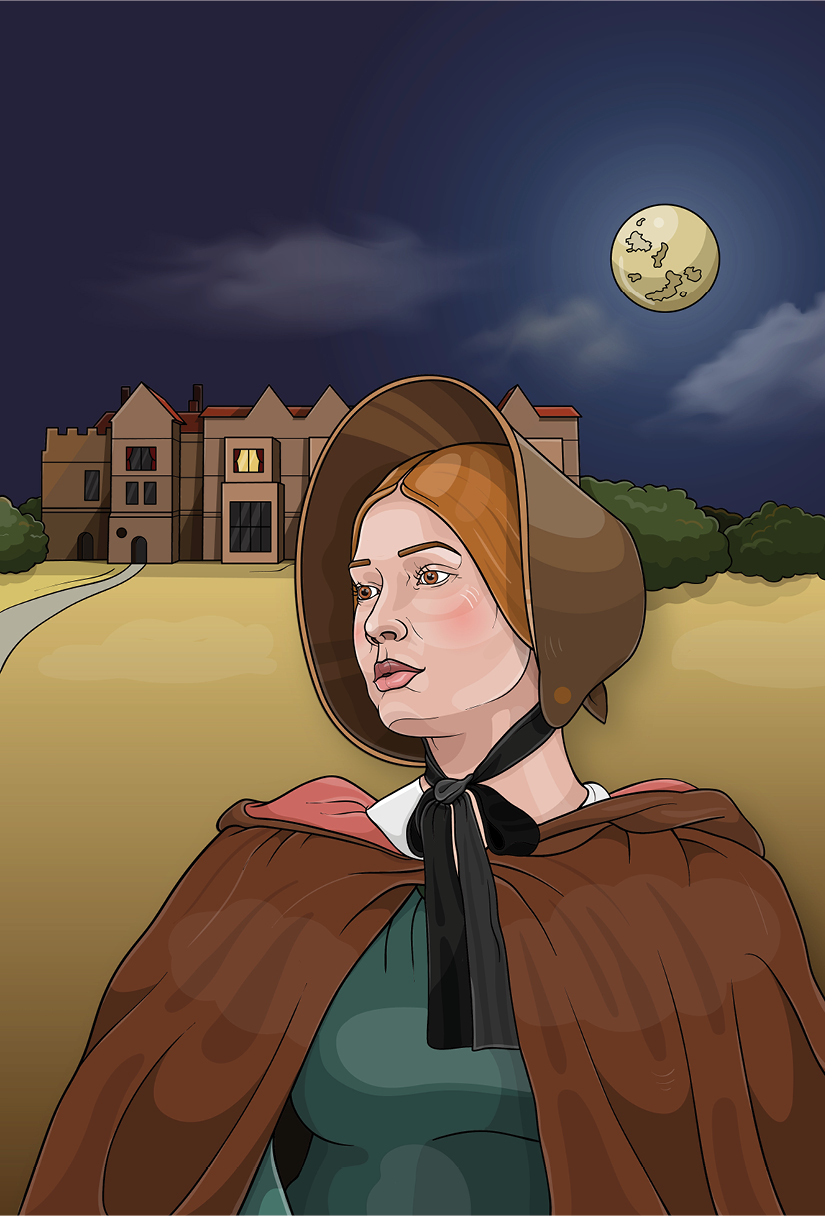 It may be tempting to read Jane Eyre as a Cinderella story, but look closer and you'll find it flips the orphan-meets-Prince-Charming narrative on its head. True, Jane grows up poor and goes on to marry a man from the upper classes, but she only does so after striking out on her own, furthering her profession, finding long lost family members and inheriting her own fortune. When her beau is maimed and beaten down, it is she who comes to his rescue.
Written in 1847, it is a shockingly feminist tale and, not surprisingly, a blockbuster success in its day. Even 170 years after it was written, Jane Eyre will inspire you to know your worth and demand respect.
What It's About
Orphaned as a baby, Jane's cruel aunt ships her off to boarding school. Despite hardships, she becomes a governess at a country estate. She accepts an offer of marriage from her employer, Mr. Rochester, only to discover at the alter that he is already married and has been keeping his mad wife in the attic.
She flees, and eventually finds family and fortune. Having become secure and independent, she returns to find Rochester crippled after a tragedy that ended in his wife's suicide. Now free to marry, they wed as equals.
Three Life Lessons
1. You Can't Lock Your Problems (or Loved Ones) Away
Now, this should go without saying, but just in case you missed the memo: Please don't ever lock your spouse in the attic, or any other family members for that matter, even if they are really getting on your nerves during lockdown. Rochester thought he could keep his "mad" wife secret forever, locked away in the attic, while he moved on and found new love. First of all, that's a tremendous act of abuse to his poor wife, and second of all, it came back to haunt him when she burned their house to the ground with him inside it, blinding and crippling him.
It may be tempting to shut away that nagging problem somewhere in your metaphorical attic, but the thing is, such problems have a way of escaping. And when they do, they are angrier and more destructive than they were in the first place. Learn to deal with strife.
2. Be the Leader of Your Own Life
For a woman like Jane in Victorian England, the shot at marriage with the wealthy Rochester may seem an easy chance to step up the social ladder. But while Jane may be poor and plain, she is fiercely intelligent, passionate and independent. She knows her own worth and refuses to lock herself into a union where she plays a subordinate role. And so, she leaves Rochester and forges her own way. It is only once she has established herself in the world that she can enjoy a happy and equal marriage. Although, I still think it's a bad idea to marry a man who locked his last wife in the attic for years. But, hey, Victorians weren't known for their great mental health facilities…
Sometimes in life, we are presented with shortcuts. These options look like a quick route to success, but they almost always come at a cost. Instead, make your own path and map out achievements that are as unique as you are.
3. The World Is Wide
We all feel trapped from time to time – in relationships, in jobs or places. But Jane reminds us that "the real world was wide, and that a varied field of hopes and fears, of sensations and excitements, awaited those who had the courage to go forth into its expanse, to seek real knowledge of life amidst its perils."
In these strange days of lockdown and restrictions, daily life can feel suffocating. You may find yourself longing for change. Traveling far and wide may be off the table for the moment but doors to new worlds remain open, be it for studying, work, hobbies or discovering things you've never noticed in your local area.
Jane says: What's that wailing I hear coming from the attic at night?
Rochester says: Pigeons, dear, just pigeons.
While few of us are likely to inherit a windfall from a long-lost relative anytime soon, we can all find ways to build independence. Jane fled Rochester's home in the dead of night after their wedding vows were abruptly halted after a lawyer arrived to inform the pair they could not marry as Rochester's wife was still alive, not to mention locked in the attic (I can't emphasize enough how bad this is). She wanders through fields, penniless, and must beg for food and water. Still, she finds people who care for her and, in return, she cares for them. She risks everything to find herself. If you are unhappy, ask yourself what you're willing to risk to change that. Will you flee across Victorian moors in the moonlight? Or maybe just a bus across town…
How the Journal Saves You Time
Reading time for this article is about 5 minutes.
This article saves you up to 5 hours of research and reading time.
2
We have curated the most actionable insights from 2 summaries for this feature.
2
We read and summarized 2 books with 240 pages for this article.