Beware of What You're Chasing!
Herman Melville's Moby Dick
Or: The Fatal Consequences of a Single-Minded Obsession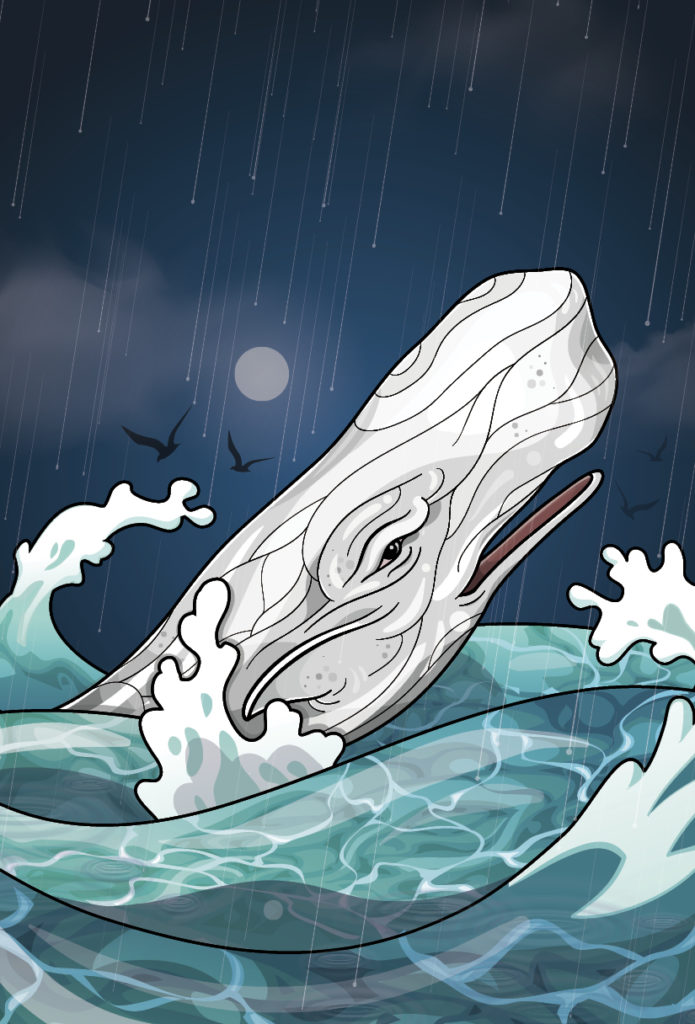 Like any good novel, Herman Melville's Moby Dick can be read on many levels. Using the story of a whaling expedition as a guiding thread, the novel touches on themes of vengeance, of man against nature, and the fatal consequences of a man's single-minded obsession. The cautionary tale of a mad commander who leads his crew to tragic death reveals the dangers of tyranny.
The legacy of this great American novel is enduring and vast, including the long-lived symbolism of the white whale and even the ubiquitous coffee chain Starbucks, named after Ahab's first mate.
What It's About
A motley whaling crew and its mad captain, Ahab, pursue a revenge mission against the white whale Moby Dick. The cunning whale severed Ahab's leg on a previous voyage, driving the captain to obsession and hatred. Despite various dark warnings and cautionary tales the crew members hear along the way, they engage in a three-day confrontation with the whale that ultimately wrecks their ship and drowns nearly everyone. Only the lone survivor, Ishmael, lives to tell the harrowing tale.
Three Life Lessons
1. Don't Be Blinded by a Single Obsession
Ahab is consumed by the white whale. He is on a single-minded mission to destroy it. But Ahab's obsession lost him his ship, most of his crew and ultimately his life. And the whale got away.
D. Christopher Kayes describes the dynamics and fatal consequences of "destructive goal pursuit" in his detailed analysis of the 1996 Everest disaster, when eight climbers caught in a blizzard died while attempting to descend from the summit. Failing to change goal-oriented routines when the situation deteriorates creates the potential for errors, Kayes explains. More than the ability to act, leaders need to learn and think. Flexible leaders know their limits!
Of course, there is nothing wrong with pursuing a vision or a goal. What sets great leaders apart, however, is that they are not rigidly fixated on their goal. They adapt, make adjustments and fine-tune their tactics as circumstances demand.
Long-time mountaineer and business consultant Patrick Hollingworth suggests that you adopt an "alpine-style ethos" when making your way toward your goal: Let go of your inborn need to control and, instead, stay responsive to changes in the environment. Jennifer Garvey Berger and Keith Johnston offer excellent advice on how to discover the right path to reach your goal by virtue of experimentation: Adopt an open, experimental mindset; gather multiple perspectives; and then run small experiments to produce controllable outcomes.
Related Summaries in getAbstract's Library
Book Summary
The Light and Fast Organisation
Wiley
Read Summary
Book Summary
Simple Habits for Complex Times
Stanford UP
Read Summary
Book Summary
Destructive Goal Pursuit
Palgrave Macmillan
Read Summary
2. Find Life's Truths in a Series of Imperfect Moments
Hubert Dreyfus and Sean Dorrance Kelly, authors of All Things Shining: Reading the Western Classics to Find Meaning in a Secular Age, describe the whale as representing the notion of a single, universal truth. According to the authors, "Ahab's pursuit of Moby Dick is, in effect, a monomaniacal pursuit of the final, ultimate truth about the way things are."
Ahab's personality lies in stark contrast to that of Ishmael, who is constantly redefined by his moods. Each of his moods reveals a different truth, suggesting that the universe has multiple meanings that are impossible to reconcile. Ishmael's character suggests that rather than searching for the one, ultimate truth, readers should try to find pockets of meaning in the daily events of life. Dreyfus and Kelly liken Ishmael's perception of truth to a rainbow: Each color of the spectrum stays separate while being beautiful and true in its own way.
You will likely lead a more satisfying and happy life if you let go of the pursuit of an ultimate truth. Buddha is alleged to have said that only a fool "thinks he is wise." He advises to look for wisdom all around you – outside, in the quiet, in wise people, inside yourself and in your reflections on the cycle of life. By practicing mindfulness, you will prime yourself to become more receptive to the meaningful moments in your life, whenever they occur.
Related Summaries in getAbstract's Library
3. Our Planet Doesn't Need Us
The hunt for the whale – and its tragic ending – symbolizes man's futile attempt to tame or conquer nature. The novel ends with Moby Dick destroying the Pequod, Captain Ahab's ship. Nature has taken revenge on human egotism.
As a modern analogy, anthropogenic climate change – the specter of large parts of the Earth becoming inhabitable due to flooding, extreme temperatures and droughts – inevitably spring to mind. In one section of the book, Melville makes it explicit that while humans depend on nature, nature does not depend on humans.
[I]f ever the world is to be again flooded…then the eternal whale will still survive, and rearing upon the topmost crest of the equatorial flood, spout his frothed defiance to the skies.

Herman Melville, Moby Dick
The tragedy of Hurricane Katrina is one of countless examples of human activity triggering nature to come back at us with a vengeance. According to environmental activist Tony Juniper, the removal of Louisiana's wetlands and other natural terrains that act as buffers for wind and water enabled the hurricane to cause the tremendous damage it did. As Juniper makes clear, the societies of the world and their economies rely entirely on the Earth's dynamic biogeochemical systems – while nature may thrive without us.
How the Journal Saves You Time
Reading time for this article is about 5 minutes.
This article saves you up to 50 hours of research and reading time.
10
We have curated the most actionable insights from 10 summaries for this feature.
10
We read and summarized 10 books with 2477 pages for this article.