Let the Sunshine In
Solar power is the workhorse renewable leading the transition to clean energy.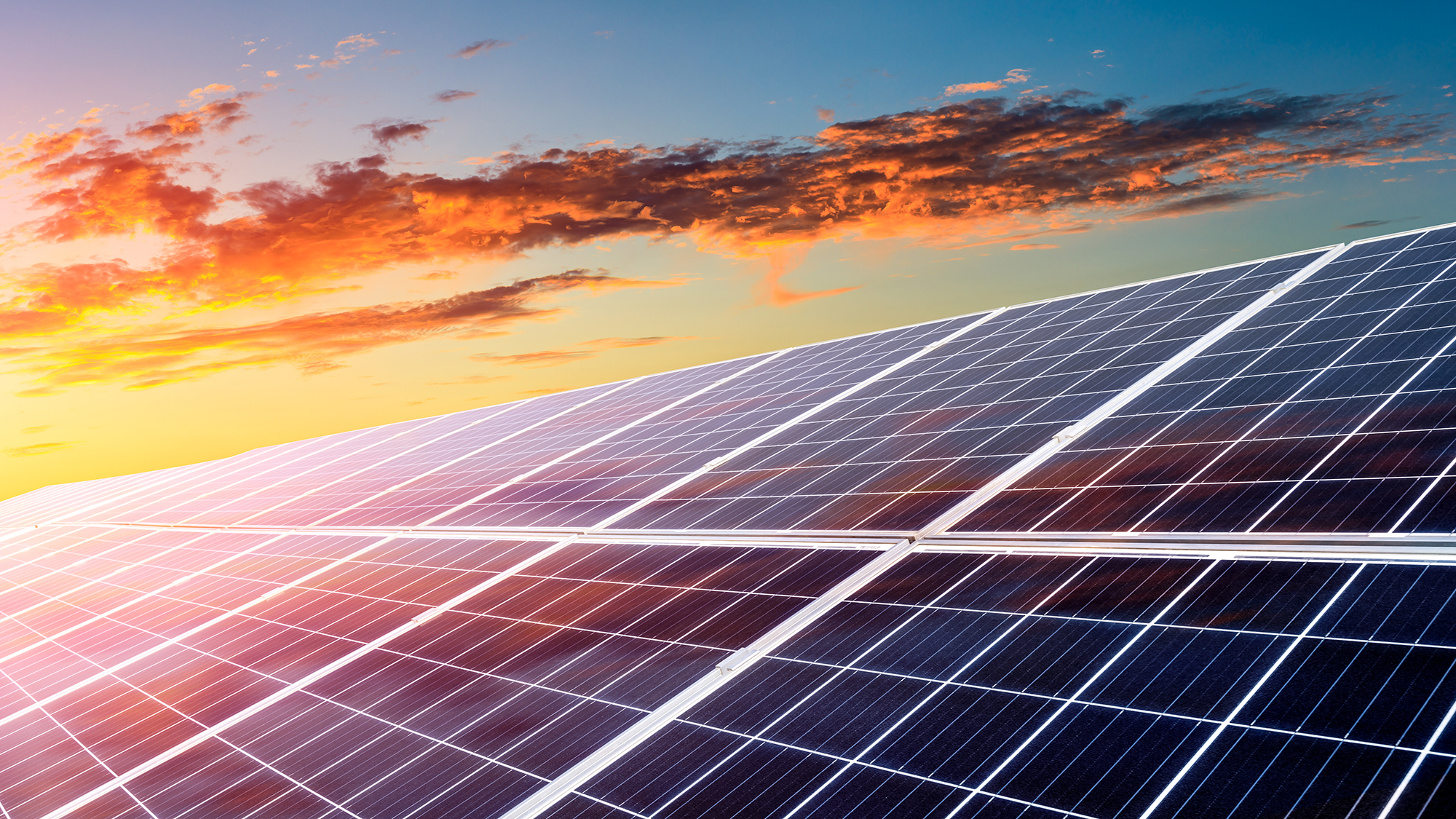 Solar appeals because the sun shines freely on all, an infinite and renewable resource for energy. Enough solar energy reaches the earth every 90 minutes to fulfill all humanity's power needs for a year. World leaders know replacing fossil fuels with renewables in the energy sector, led by solar, is the most consequential step they can take to mitigate the effects of climate change. Getting to a renewables-based economy is not free, but every year it gets cheaper.
The Price of Solar Is Competitive
In the 1970s, solar power cost $100 per watt, and converted about 1% of the sun's power into electricity. Photovoltaic (PV) solar panels were a good solution to provide minimal electrical power to position satellites but not seriously viable commercially. However, by 2016, the cost dropped to 50 cents per watt for panels able to harness 20% of the sun's energy, writes Chris Goodall in The Switch. 25% efficiency is likely the upper limit for silicon-based solar cells, although alternative materials added in layers may change that.
PV solar continues to rapidly improve while costs drop, which fuels an estimated 40% annual growth in the market. Cloudy countries like the UK will need more land devoted to solar than sunnier climes, but can still employ solar.
Solar Energy Leads the Effort to Reduce Greenhouse Gases
Transitioning to solar and other renewable energy sources is the first step to reducing greenhouse gas emissions and moving fossil fuels out of the electricity-generating sector, note the authors of "A Crash Course on Climate Change." Goodall predicts that, at the current rate of growth, solar will have the capacity to meet 100% of the world's electricity needs by 2035.
The direct power of the sun is almost 100 times as important as all other renewable sources put together."

Chris Goodall
While wind, geothermal and biomass are renewable sources, they are more costly. Nuclear energy generation is problematic in terms of costs, waste storage and general disregard by the public.
Solar Has Momentum on Its Side
Despite COVID-19 pandemic shutdowns in 2020, renewable energies contributed 80% to worldwide increase in electricity generating capacity. Cost efficiencies make it easier than ever for large energy markets to switch to renewables, notes Victoria Masterson in the World Economic Forum's report, "5 Milestones in Green Energy." Adelaide, Australia now relies entirely on renewable sources of energy, both solar and wind. This keeps more than 11,000 tons of carbon out of the atmosphere annually, equivalent to taking 3,500 cars off the streets.
Vietnam installed 101,000 rooftop solar systems on factories, offices and residences in its bid to transition away from coal-powered energy to renewables. There is growing policy support from both business and government.
There Are Still Some Kinks to Work Out
Solar and wind suffer variability problems, which make them unreliable in a pinch, which is why, with costs no longer a significant barrier, companies now work to solve the most crucial lingering issue: how best to store energy harvested from the sun for later use, during times of peak demand. Switching to LED lighting, relying on complementary energy sources for intermittent use and other strategies help to cut costs, but industry leaders are focused on building better batteries. They also seek to convert renewable energy to liquid – therefore transportable – fuels, for instance, ammonia for use in power plants or in the manufacture of hydrogen fuel cells.
Another problem is transmitting power over distances. Solar is a great energy solution if you live in the desert, but how to pump Arizona solar to Colorado in the winter is another issue. Ideally, a large enough grid minimizes the amount of storage an operator needs. In The Grid, Gretchen Bakke writes that the US electrical grid that powers the country is really three grids, one for the east coast, another for the western states and a third grid for Texas alone. This lack of redundancy proved catastrophic in Texas when their grid failed in 2021 due to an unexpectedly brutal winter storm. Because it wasn't tied into either of the two larger grids, Texas could not power back up for days. Aging infrastructure is another problem: US power plants are, on average, 34 years old.
Sustainable energy sources provide…an inconsistent, variable power that our grid is unprepared to adapt to.

Gretchen Bakke
Energy expert Varun Sivaram describes the Catch-22 that comes with the transition to renewables in Taming the Sun. Formerly, governments protected vertical monopolies for utilities, but a change in the regulatory landscape enticed new renewable start-ups. "Net metering" laws force incumbent utilities to buy power back from customers generating solar power. The idea is to incentivize building out solar, and it's worked in California and other places, but as customers become less dependent upon the existing grid, costs for operators and their customers rise. Yet those old grids are necessary to smooth over the inherent volatility of renewable-produced energy: to get energy where it needs to go, when it needs to be there. As the costs for solar go down, so does its value, which deters investment.
In the past, utilities would extend their grid to provide service to new development. Now "stand-alone solar PV systems" networked together into "microgrids" make that extension unnecessary. Sivaram notes that in East African countries energy start-ups set up a pay-as-you-go service, where they install the solar panels which customers then pay off monthly. These contracts can potentially be securitized to draw more investment. These systems have the potential to electrify poor and remote areas, bringing lights to three billion by 2030. Regional grids such as the Nordic Synchronized Area can tap Germany's abundant solar, Sweden's hydropower resources and Denmark's wind. Softbank announced a "supergrid" project that would unite China, Russia and South Korea.
[A hybrid system] would combine microgrids that efficiently use distributed energy resources to regulate supply and demand at the local level with long-distance transmission lines.

Varun Sivaram
Electric Vehicles May Solve the Storage Problem
In its report "Costs of Revving Up the Grid for Electric Vehicles," Boston Consulting Group estimates that electric vehicles (EVs) could make up more than 50% of new car sales as soon as 2030. With that tipping point in adoption, pressure will increase on utilities to improve their grids. At first, costs will keep pace with new revenues, but, over time, utilities will need to substantially upgrade substations and transmission lines, at greater costs to ratepayers. Pricing will be more volatile based on usage during peak and non-peak hours. By optimizing EVs and incentivizing charging overnight on slow chargers, when electricity demand is lowest, utilities can keep costs down. In The Future of the Automotive Industry, author Inma Martinez says manufacturers need to drive down the price of batteries, work with governments to improve "energy density" and build EV charging infrastructure.
Martinez says consumers need a new mind-set to embrace green business models where they pay a fee to charge their EV and are connected to a system that sells back extra generated energy to the grid. Enel X is a global leader in building EV charging stations. Innovations such as Volkswagen's "transportation as a service" model provide an EV plus the charging system and insurance to customers who pay between $500 and $800 monthly.
Today, when electric vehicles are making inroads into our streets, a new consciousness is emerging: What we drive can help the planet heal, save us money, and provide us with a new sensorial experience of driving, one that is subdued, silent, and open to let the sounds of the world come in.

Inma Martinez
Tesla Energy Is Pioneering an EV Ecosystem
Perhaps the best-known manufacturer of EVs, Tesla, benefits greatly from government subsidy programs to encourage EV purchases. In its video "The Electric Vehicle Charging Problem," Wendover Productions pinpoints why policies subsidizing EV purchases rather than EV infrastructure will come up short.
Charging your EV at home overnight works wonderfully but charging along your route is difficult due to few charging stations and the fact that as a battery reaches full charge, it takes longer to top off. Wendover estimates it would cost Tesla $7.8 billion to build EV charge stations at the same density as gas stations. Nonetheless, Elon Musk, Tesla's founder, is on a mission to electrify the global economy as soon as possible, as he stated in "The Secret Tesla Motors Master Plan" and "Master Plan Part Deux." He bought home solar installation company SolarCity in 2016 and folded it into Tesla Energy. According to Tom Randall writing for Bloomberg, "'Tesla Solar' Wants to Be the Apple Store for Electricity."
By integrating home solar energy production with EV charging, and providing showrooms around the country to demonstrate his products, Musk's vision is to build an integrated ecosystem to support the transition to renewables. In the process, Tesla may become a power company.
More People Will Be in the Electricity Generating Business
This tack is not far-fetched for other businesses that use a lot of power, argue Philip Hirschorn and Tom Brijs in their report, "Why Your Company Needs to Be an Electricity Trader." In the transition away from fossil fuels, energy costs and reliability will be volatile. It may be in your company's best interest to consider trading in electricity it co-generates rather than remaining a passive consumer.
Article Summary
Why Your Company Needs to Be an Electricity Trader
The Boston Consulting Group
Instead of maximizing production, companies can optimize for flexibility based on the volatility of their costs. In Germany, aluminum manufacturer TRIMET added electricity-generating capacities to their power mix in order to remain flexible during both peak and off-peak times, turning its facility into a "virtual battery." With Internet of Things (IoT) technology, companies like California's OhmConnect monitor fluctuations in energy supply and demand to offer ratepayers rebates to reduce usage during peak hours. EVs and home charging stations are an up-and-coming component of increasingly "smart" cities. 1,000 home storage battery systems provide backup in Adelaide against fluctuating supply and demand.
The Devil Is in the Materials
Solar panels rely upon silicon and EV batteries rely on lithium. Currently, supply chain problems out of China plus a global sand shortage are driving the price of PV solar back up and delaying projects. Lithium-ion batteries can potentially create more pollution than they save without comprehensive, international standards for recycling them. According to "Recycling Lithium-Ion Batteries" published in Nature, battery storage and disassembly can be hazardous.
Nonetheless, recycling lithium-ion batteries is far preferable and more environmentally friendly than just making more which creates more waste. Additionally, some earth mineral components are mined in ways that degrade both environments and human rights. One ton of lithium for a new battery requires 1,900 tons of water compared to a recycled ton requiring 256 used batteries. Re-use rather than recycling is even better. Automated processes are currently limited by robotics not yet dexterous enough to separate out parts.
There is a clear opportunity for a more sophisticated approach to battery recovery through automated disassembly, smart segregation of different batteries and the intelligent characterization, evaluation and 'triage' of used batteries into streams for remanufacture, re-use and recycling.

Nature magazine
Read more about the shortcomings of AI in our Journal series How Not to Compete with a Robot:
Read more about energy transformation:
Related Summaries in getAbstract's Library
How the Journal Saves You Time
Reading time for this article is about 10 minutes.
This article saves you up to 28 hours of research and reading time.
17
We have curated the most actionable insights from 17 summaries for this feature.
4
We read and summarized 4 books with 1389 pages for this article.