Words of Wisdom for New Grads
Advice from 10 of the most inspirational commencement speeches of all time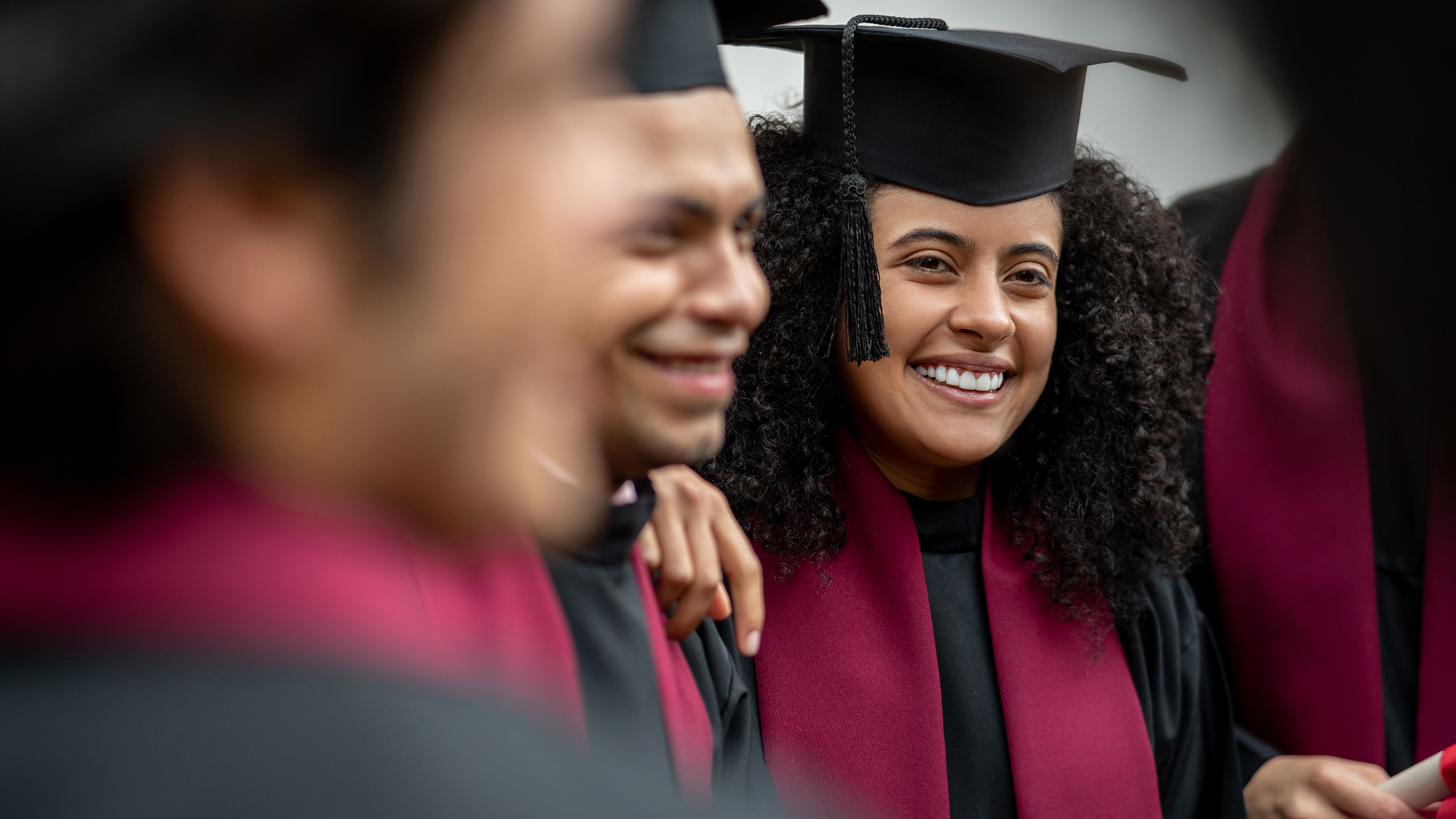 It's commencement season, a time of beginnings for young adults looking forward to building new careers. Here's a reading list of sage advice from today's enduring leaders:
1. Complete Small Tasks and Build on Them
William H. McRaven retired as a four-star Admiral in the US Navy. He credits much of his success to the grueling Navy SEALs training he went through at the beginning of his career. The hours were long, the situations were challenging, and he learned, along with the other cadets, that life can be unfair so you may as well get used to it. The University of Texas motto is: "What starts here changes the world." Riffing off of that, McRaven told the graduating class of 2014 it was okay to start small. Navy SEALs had to make their beds every morning, a habit McRaven says represents their discipline in completing tasks. Completing that one small task daily primes you to complete bigger tasks.
Another piece of advice: When confronted by a shark, don't back down. Stand your ground and punch it in the nose. In other words, don't let bullies call the shots.
Be your very best in the darkest moments.

Admiral William H. McRaven
2. Think for Yourself
Ben Horowitz is co-founder of venture capital firm Andreessen Horowitz and an alum of Columbia University. He decided in 1984 to change his major to computer science. His friends derided his decision, telling him he should study something more serious and that computer science was just a trade. This incident made Horowitz realize he shouldn't ever just listen to his friends. The most valuable ideas are original ones, the ones no one else has thought of yet.
As human beings, we want to be liked…The easiest way to be liked is to tell people what they want to hear…what they already believe to be true. The last thing they want to hear is an original idea that contradicts their belief systems.

Ben Horowitz
Following your passion is no guarantee of success, as the many people who love to sing but can't carry a tune will attest. However, most successful people are passionate about what they do. Horowitz suggests developing your talents and using them to improve the world.
3. Question Your Worldview and Keep an Open Mind
Novelist David Foster Wallace told the Kenyon College class of 2005 that the true benefit of higher education isn't developing the habit of critical thinking but becoming aware that you make decisions about how you think and what you think about, and thus you construct your worldview.
Fish don't know they swim in water. Like fish, sometimes people don't realize they choose their worldview. They uncritically accept their beliefs without recognizing that they chose them, and they contribute to the reality they experience. If you choose to believe the world revolves around you, you'll never be able to compassionately connect with others, empathize with another's struggle or truly love someone. Instead, you can make a conscious choice to keep learning, to love others, make willing sacrifices and be a fish who knows he's swimming in water.
Because we prize tolerance and diversity of belief, nowhere in our liberal arts analysis do we want to claim that one guy's interpretation is true and the other guy's is false or bad. Which is fine, except we also never end up talking about just where these individual templates and beliefs come from.

David Foster Wallace
4. Setbacks Happen. It's What You Do After Them That Makes the Difference
Failures and setbacks happen to everybody. When Facebook COO Sheryl Sandberg's husband Dave died suddenly, she irrationally blamed herself even though doctors had never diagnosed his heart condition. "Personalization" is a common response to traumatic events. Once Sandberg stopped taking this tragedy personally, she could begin to heal.
The easy days ahead of you will be easy. It is the hard days – the days that challenge you to your very core – that will determine who you are. You will be defined not just by what you achieve but by how you survive.

Sheryl Sandberg
Even in the midst of despair, look for joy. Appreciate your health, good friends and family, and financial security instead of obsessing about your setback. Remember this whenever your boss gives you a critique. It's just one comment; it doesn't mean you're no good at your job. Fall asleep remembering three things that happened in the day that made you feel joyful. Appreciation for your life helps you build resilience. Setbacks and failures are not permanent. Even the most profound sorrow fades with time.
5. Use Your Imagination
Harry Potter series author J.K. Rowling also emphasized rebounding from setbacks and learning from failure when she addressed the Harvard graduating class of 2008. Seven years after she graduated as a classics and languages major, J.K. Rowling was living her worst fears: a divorced, single parent with no job, barely making ends meet. In the midst of her poverty, she felt finally that, in her failure she had nothing left to lose, so she tried doing the thing that meant the most to her: writing.
Some failure in life is inevitable. It is impossible to live without failing at something, unless you live so cautiously that you might as well not have lived at all, in which case, you fail by default.

J.K. Rowling
After graduation, Rowling worked for Amnesty International and heard many painful and harrowing stories from refugees. She realized how powerful the human imagination is, that humans can use their imagination to understand the life experiences of others without going through them. She challenges Harvard students to "imagine better" in order to create positive change in the world. She quoted famous philosopher Seneca: "As is a tale, so is life: Not how long it is, but how good it is, is what matters."
6. Create Good Memories
Memories are a better investment than material possessions and will last longer than life's sorrows. Who offers that advice? Roman Stoic philosopher Lucius Annaeus Seneca. Okay, Seneca did not deliver a commencement speech as far as we know, but as one of the foremost thinkers of his day; no doubt he had many invitations to speak to youth. Commencement speakers often remind graduating classes that life is short, so don't waste time. Seneca in particular didn't sugar coat it:
Death creeps up on time wasters – people who assume time is cheap – because when employed correctly, time becomes an amplifier. When spent without consideration, it becomes a persistent source of regret.

Philosophies for Life/Seneca
Don't let obligations or endless to-do lists keep you from your passions. In the end, all that busyness prevents you from living the life you aspire to lead. However, it will serve you to build up resistance to distractions, for there is always plenty of them to keep you from pursuing the goals you care most about. Seneca recommends you practice "premeditatio malorum" or "negative visualization:" imagine the worst consequences of being distracted to help you refocus on the task at hand. Give yourself short-term rewards – for instance, 10 minutes of YouTube (probably not Seneca's original suggestion) – once you complete a certain portion of your work to make doing what you have to do more enticing.
7. "No Job is Beneath You"
NBC correspondent Maria Shriver, niece of US President John F. Kennedy wrote Ten Things I Wish I'd Known Before I Went Out into the Real World based on her commencement speech to Holy Cross College's class of 1998. She emphasizes the basics of working hard and taking personal responsibility for your future. Set aside your ego, "bulldog forward, grinding it out." By working hard, you will gain the respect of others as well as self-respect.
No one but you is responsible for how you conduct yourself. You are not a victim. The single most important determining factor in your life is you. And it's never too early to get your ethical act together.

Maria Shriver
8. Seek a Higher Purpose
Facebook founder and CEO Mark Zuckerberg exhorts graduates to create a "renewed sense of purpose." Start with choosing a "generation-defining problem" like confronting climate change.
Take on big, meaningful projects.

Mark Zuckerberg
Seek to extend equality to all by better supporting entrepreneurship and innovators, so more people can afford to take financial risks. Universal Basic Income, affordable child care and health care are all ways to extend the social safety net to support would-be innovators. Building a global community to come together to face global problems starts with building local community.
9. Even Seemingly Intractable Situations Can Change
German Chancellor Angela Merkel grew up in East Germany during the Cold War, behind the Iron Curtain. While she emphasizes treating others with respect and acting honorably, she also challenges the Harvard graduating class of 2019 to be willing to dare greatly.
As a young physics graduate, she passed the Berlin Wall every day for work. She yearned to climb over it to West Berlin, but it seemed impossible things would ever change. Then in 1989, in the wake of a freedom movement in Soviet-controlled countries, the Berlin Wall fell. It made Merkel realize that even the most difficult situation can change.
Anything that seems to be set in stone or inalterable can indeed change.

Angela Merkel
After World War II, instead of nurturing old disagreements, European nations decided to build a mutually beneficial community. It is this same spirit of collaboration that can pull the world together to mitigate climate change.
Take advantage of the era of digital transformation to find opportunity, but don't forget to view people from all walks of life with dignity; they aren't just data points, nor are they only consumers. Don't take your personal liberty, prosperity, peace or even democracy for granted. Respect other's traditions, but: "Do not describe lies as truth and truth as lies." Try to tear down the mental barriers in your own thinking but also when communicating with others.
10. "Follow Your Heart"
Apple co-founder and tech icon Steve Jobs delivered perhaps the most widely celebrated commencement speech of all time in 2005 at Stanford University. He famously dropped out of college over worries about his family's ability to pay for it. But then he "dropped in" and audited the classes that intrigued him; he followed his heart.
One course he took was Calligraphy, and the mind-set he picked up there informed his decision to make available a variety of fonts on the Mac. It shaped his ideas of beauty, which guided Apple product design. Only in retrospect did he realize how inspirational the course had been to him.
You have to trust that the dots will somehow connect in your future. You have to trust in something – your gut, destiny, life, karma, whatever. This approach has never let me down.

Steve Jobs
Later, when he battled cancer, he learned that, because death awaits everyone, there is no reason not to try to fulfill your dearest dreams. Like other speakers, he also exhorted students to consider the ultimate deadline when making your plans:
Remembering that you are going to die is the best way I know to avoid the trap of thinking you have something to lose. You are already naked. There is no reason not to follow your heart.

Steve Jobs
More words of wisdom for young adults:
How the Journal Saves You Time
Reading time for this article is about 10 minutes.
This article saves you up to 3 hours of research and reading time.
10
We have curated the most actionable insights from 10 summaries for this feature.
1
We read and summarized one book with 154 pages for this article.