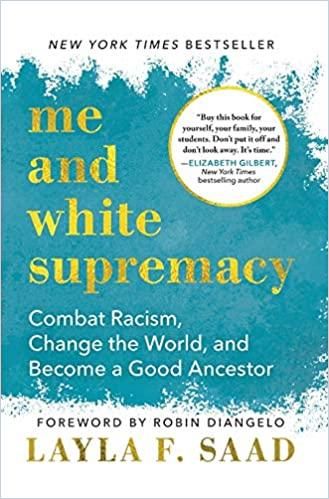 You've Done the Antiracism Reading: Now What?
Books about antiracism inform, educate, arouse outrage and break the heart. This one aims to turn readers into activists.
In a June 2020 perspective for the Washington Post, Tre Johnson, a Black Philadelphian, charged that white people "tend to take a slow route to meaningful activism." When things get real, Johnson suggested, white people read a book.
Events of 2020 – police killings of unarmed Black people, nationwide protests in response – suggested that many white people have developed an eagerness to create real change. That summer and fall, would-be allies sent an armful of antiracism books to the top of bestseller lists and brought new celebrity to thinkers such as Ibram X. Kendi and Ta-Nehisi Coates.
But reading books often doesn't translate into meaningful action. While the wheels of injustice grind on and on, many white liberals turn the pages of books, join reading circles or post on social media: steps on the way, perhaps, but far short of effective activism.
Calling out White Silence
In August 2017, in the wake of the Unite the Right rally in Charlottesville, Layla F. Saad began to call out white liberals for failing to walk their talk. Saad, a British Muslim of East African descent who now lives in Qatar, wrote for an audience mainly consisting of spiritually inclined, entrepreneurial white women. In a lengthy and frank blog post, she chastised readers for remaining silent and resting in their white privilege. In Saad's view, this behavior amounted to complicity in white supremacy.
White supremacy is an ideology, a paradigm, an institutional system and a worldview that you have been born into by virtue of your white privilege.Layla F. Saad
Saad's blog post went viral, and its popularity led her to develop teaching material intended to help white people awaken to their complicity. In 2018, Saad led a 28-day Instagram challenge – #MeAndWhiteSupremacy – to support people in examining their relationship to white supremacy. The Instagram challenge evolved into a digital workbook that saw nearly 100,000 downloads in six months. In 2020, Saad published the material as this book.
Among the antiracist titles that vie for the attention of liberal white readers, Me and White Supremacy offers a unique selling proposition: whereas other books aim to educate – to open readers' eyes to the truth about racism and white supremacy in America – Saad's book offers to help readers translate their knowledge into genuine personal change and true allyship. The book promises to act as a lever, moving willing readers out of their chairs and into active engagement in the world. But to accomplish this, readers have to do more than merely read: They have to engage fully with the book as a tool for self-awareness and personal change. 
28 Days of Self-Reflection
Drawing from the structure of the Instagram challenge, Saad organizes the book as a 28-day program, in four week-long sections. Each day's work is made up of a few pages of reading and a handful of prompts for reflection and journaling. For week one, she reviews basic concepts, such as white privilege, white fragility and white exceptionalism, and asks, for example, "In what ways have or do you believe you are exceptional, exempt, 'one of the good ones,' or above the conditioning of white supremacy?"
In the second week, Saad encourages readers to consider the specific ways they may be playing a part in white supremacy, albeit unwittingly. Week two covers color blindness, anti-Blackness, racist stereotypes and cultural appropriation. Saad asks readers to consider, for example, "What are the racist stereotypes, beliefs and thoughts you hold about the different racial groups of people?"
The aim of this work is not self-loathing. The aim of this work is truth – seeing it, owning it and figuring out what to do with it.Layla F. Saad
In the third week, Saad asks readers to reflect how they might be undermining their own allyship through attitudes and behaviors such as tokenism, white saviorism, optical allyship, and resisting being called out or called in. Questions for reflection probe readers' past behaviors and their attitudes about doing antiracism work – such as, "In what ways have you been apathetic when it comes to racism?"
In week four, Saad nudges readers toward action by asking them to think about how active allyship will affect their relationships and privilege. Saad asks, for example, "How do you feel about speaking up about racism and white supremacist beliefs and actions to your family members?" and "In what ways will your privilege need to change in order for you to consistently practice antiracism?"
Antiracism work that does not break the heart open cannot move people toward meaningful change. Layla F. Saad
Saad aims to create a "deep shift in consciousness" for her readers. Those who conscientiously complete the program will have taken a systematic inventory of their attitudes, subconscious beliefs and behaviors. They'll have encountered and worked through their anxieties and resistance. In theory, they'll emerge more self-aware, humble and willing to act to dismantle white supremacy.
Raves and Resistance
Me and White Supremacy garnered glowing reviews upon its publication in January 2020: critics called it "insightful and necessary" (Booklist), "required reading" (Library Journal), and "bracing, highly useful" (Kirkus Reviews). By mid-February, the book had climbed to the #10 position on The New York Times' best-seller list, and by June, amid surging demand for antiracism reading materials, it reached number six at The New York Times, number five at The Washington Post and number six on Audible.
The philosophy of color blindness does not sufficiently answer the question of why, if there are no racists, racism continues to exist.Layla F. Saad
Readers' responses have reflected a mixture of gratitude, enthusiasm, resistance and rejection. Readers who don't accept the underlying premises of antiracism won't be convinced by Me and White Supremacy. And readers who are still learning about the mechanisms of racism and white supremacy won't find an education here; reviewers have criticized Saad's descriptions of these concepts for their thin scholarship and lack of context.
Saad's ideal readers have already become educated about antiracism and feel ready to do heavy personal work. In this best case, Me and White Supremacy can offer helpful guidance and tough nurturing. Saad hopes that her book will change people – but only active, sincere readers can accomplish that for themselves. Saad offers tools, but readers must pick them up and wield them. Books don't change the world, after all. People do.