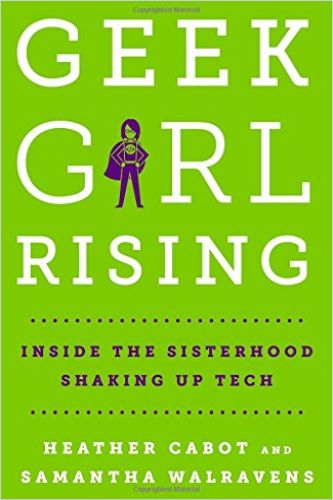 Women of Tech
"Geek girls" – that is, female tech entrepreneurs – are fostering the next generation of women in tech.
Former ABC News anchor Heather Cabot is a professor at the Columbia University Graduate School of Journalism. Journalist Samantha Walravens edited TORN: True Stories of Kids, Career and the Conflict of Modern Motherhood. Together they address a dilemma: Although the technology sector continues to grow, the number of women in that industry has declined since the 1990s due to "hostile work environments," the gender wage gap and lack of opportunity.
Cabot and Walravens chart a trending change by profiling women tech leaders, mentors and investors who form networks, hold hackathons and raise funds for a rising generation of "geek girls." Women contemplating a future in the tech industry or seeking to pitch start-up ideas will welcome the authors' optimistic, thorough report.
The authors' coverage of woman angel investors and entrepreneurs struck a chord with other female entrepreneurs. Arianna Huffington, CEO of Thrive Global, said, "Geek Girl Rising…[is] the rallying cry we need for a diverse, connected and sustainable world." Kristy Wallace, president of Elevate Network, called this book, "an inspiring 'who's who' in tech that is a must-read for anyone wondering how women are using the power of business, sheer grit and a lot of heart to start, build and fund…companies that are driving innovation and changing the landscape of the tech industry." 
Goldieblox 
The author praise Debbie Sterling, who created GoldieBlox, a building set designed to teach young girls the mechanics of simple machines. Sterling sought to engage girls in STEM subjects – science, technology, engineering and math – by challenging the gender norms of their toys. Cabot and Walravens describe how Sterling successfully turned to Kickstarter to fundraise for her first production run. Goldieblox was wildly successful.
Bias
Cabot and Walravens delve into reports that tech company leaders have ignored women in meetings and have asked them to do low-level work. During job interviews, executives ask women to field questions about their relationships and family status, questions they don't ask male candidates. Many women, the authors lament, remained silent about discrimination from fear of retaliation.
Fighting stereotypes is difficult, and so is breaking into the fraternity of venture finance. Heather Cabot and Samantha Walravens
Cabot and Walravens praise the work Shelley Zalis did to start Girls' Lounge, a networking group that hosts pop-up women's events at traditionally male-dominated industry conferences. The authors also praise TheLi.st and Broadlist – groups that also help women in tech connect to professional opportunities.
Fewer Resources 
Cabot and Walravens track the career trajectory of gamer Michelle Phan, who started her YouTube channel with videos offering beauty and makeup tips. Now Ipsy, the online makeup company Phan founded in 2011, is valued at $500 million.
The authors explain that few women who aren't famous can find growth capital to build entrepreneurial ventures, in part because women run only 2.7% of venture capital firms. When male venture capitalists evaluate a female-led start-up that targets a female-centric audience, Cabot and Walravens find, the men are less likely to connect.
In an interview with Cabot and Walravens, Kathryn Minshew, founder and CEO of The Muse, a job search company, talks about the tightrope she walked as a tech founder raising money in a "bro culture" where she encountered men with fragile egos. 
Female-Run Funds
The authors report that in 2013 Kristina Montague's JumpFund, which is dedicated to investing in women-led start-ups in the southern United States, raised $2.5 million – 98% from local women – to encourage female tech entrepreneurs.
Cabot and Walravens also profile other ventures that support women in technology fields. Golden Seeds is the largest angel network fostering women's businesses. Rebecca Miller-Webster's Write/Speak/Code boot camps instruct women in coding, public speaking and other executive skills. The authors also spotlight The Women's Startup Lab, which helps women develop into CEOs, and Kathryn Finney's #ProjectDiane research report, which signals the need for equity as it reveals that Black women tech founders find funding at significantly lower rates than white women founders.
If you want to be a great creator, you have to be your own number one fan first. You have to love what you're doing. Michelle Phan, Ipsy Open Studios founder
Cabot and Walravens recount that Julia and Kevin Hartz were expecting their first child when they launched Eventbrite – the world's largest online ticketing company. The authors point out that Eventbrite provides employees with private breastfeeding areas and access to massages and acupuncture treatments.
Education 
Cabot and Walravens admire Judith Spitz – Verizon's executive-in-residence at Cornell Tech – who believes educational institutions must make computer science available to everyone.
Girls are 10 times more likely to choose a computer science major in college if they took AP computer science in high school. Heather Cabot and Samantha Walravens
The authors recognize the She++ Conference for women in tech at Stanford. Cabot and Walravens found that students who attend the conference credit it with opening their eyes to their career possibilities of the tech industry. 
Entrepreneurs and Angels
The authors offer an encyclopedia of striving, successful women in tech to inspire girls and women considering STEM careers. Cabot and Walravens's straightforward, plain writing style doesn't always flow chapter to chapter, though some chapters read as intriguing stand-alone essays or profiles. They regard community-minded pioneers who advance women in technology as visionaries and communicate that admiration throughout.
With Cabot and Walravens's book as your gateway to the issues, history, struggles and triumphs of women in tech, you may also enjoy Nevertheless, She Persisted by Pratima Rao Gluckman, Women in Tech by Tarah Wheeler, Reset by Ellen Pao and Brave, Not Perfect by Reshma Saujani, founder of Girls Who Code.