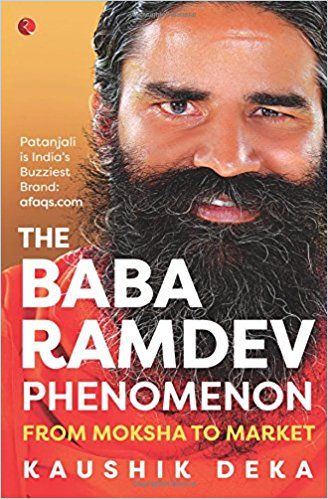 Who Is Baba Ramdev?
Indian journalist Kaushik Deka offers a sometimes detailed and always positive biography of Indian yoga and business star Baba Ramdev.
Kaushik Deka, a senior associate editor at India Today, describes how India's Baba Ramdev overcame obstacles to become a formidable businessman and spiritual leader. He felt that teaching spiritual knowledge required also contributing to society. This, the author explains, is the core of Ramdev's approach to business and spirituality. Ramdev's company, Patanjali Ayurved, co-founded with his friend Acharya Balkrishna, revolutionized the "fast-moving consumer goods" (FMCG) market in India.
Deka covers Ramdev's rise and offers insights into India's politics and commerce.
Of course, this is a hagiography, which Deka wrote for an Indian audience and the writing seems hurried, perhaps due to time constraints. Deka draws on his work as a journalist while quoting many, many secondary sources, all in the public domain. This detracts from Deka's presentation and flow of ideas, but his biography scores high marks for its clear illustrations of how Indian politics and businesses function. Deka repeatedly makes the point that an ascetic such as Ramdev could build a business empire in very few nations, and India is one of them.
"Philosophy of Detachment"
Baba Ramdev, Deka reports, was born Ram Kishen in 1965 to poor farmers in Haryana, India. Kishen took his parents' "philosophy of detachment" and created incredible wealth from it. As an ardent Hindu, his father named the boy Ram Kishen after Lord Ram. Before the child was eight, Deka reveals, he suffered a severe paralytic attack. Unable to run and play, he read widely on Indian philosophy and practices at the village library.
Barring the squint in his left eye, Ramdev conquered a paralytic attack…with the power of yoga.Kaushik Deka
Despite his disabilities, Ramdev practiced yogic asanas to regain use of the left side of his body. Deka's approach to Ramdev's youth echoes many biographies of successful people: a disadvantaged beginning, a physical setback resulting in a childhood of thought and reflection, and a near-miraculous recovery. If such accounts strain credulity, they remain hallmarks of the genre, and reflect touchstones in Ramdev's life.
Deka reveals that a book by Maharishi Dayanand Saraswati helped Ramdev understand Vedic learning. He ran away from home to study at a traditional Indian school, where he met his lifelong friend and eventual business associate Acharya Balkrishna.
Ramdev never talked about God or religion; instead he talked about good health.Kaushik Deka
Interested in Indian medicine, the Vedas and yoga, they discussed the meaning and purpose of life. A guruji, Deka discloses, renamed Ram Kishen as Ramdev. Ramdev studied medicinal plants and yoga in the Himalayas for three years. When he returned to the mainstream, Deka relates, he set out to help others.
Ramdev embraced Ayurveda, encouraged made-in-India products, promoted education and research, and participated in sociopolitical movements. He became popular teaching yoga, taught on television in 2001 and became a star by not mentioning religion; he spoke only of well-being.
Patanjali Ayurved
Deka details how, in 2004, leftist critics alleged that Ramdev's company, Divya Pharmacy, used human and animal bones in some medicines. The author, drawing on secondary sources, does not clarify the credibility of those claims. Ramdev took a militant line against foreign products, which his fans appreciated.
As brand ambassador for Patanjali, Ramdev has urged his followers to show their patriotism by buying products only made by companies that are fully Indian-owned.Kaushik Deka
In 2006, Ramdev and Balkrishna established their company, Patanjali Ayurved, which opened a manufacturing facility employing 6,500 people. Patanjali grew 11-fold between 2012 and 2016. Deka says that Ramdev and Balkrishna take no remuneration.
Deka, continuing in the line of praise only, presents Ramdev saying that Patanjali's success stems from never cutting corners, building the best infrastructure, sourcing the best ingredients and hiring the best people.
Balkrishna's large equity share raises questions about how Patanjali funded its expansion – questions the author doesn't answer. Deka does caution that Ramdev  faces competition from Indian holy men seeking to copy Patanjali's success.
If yoga and Ayurveda have helped Ramdev create his business empire and brand equity, the yoga guru wants to leverage this fame to bring back traditional education in India.Kaushik Deka
Deka's well-observed and well-reported discussion of how multinationals attack Patanjali illuminates various Indian markets. Ramdev hopes to fight international companies' dominance of the Indian economy and aims to persuade his followers to buy Indian-made products by Indian-owned companies.
Dixit
In early 2009, Deka worked with Rajiv Dixit, a self-proclaimed scientist and an authority on Ayurveda. Dixit died in November 2010, and Deka vaguely outlines how accusations of involvement in Dixit's death hampered Ramdev's attempts to create his own political party. Weirdly, the author offers no information about Dixit's death beyond calling it "mysterious."
Deep inside, [Ramdev] is hurt by a perceptual approach [that] sadhus can do nothing. They live on others. They are just parasites. He had to show the world what a yogi could do.Kaushik Deka
Deka characterizes Ramdev's goals as fighting corruption and promoting yoga, Indian products and traditional Indian education.
Hagiography
This is an odd book. It reads like a quickly-written, sometimes slipshod piece of quick work seeking to capitalize on Ramdev's success by pandering to his fans. Deka explores no negative incidents in detail and strains to burnish Ramdev's reputation. Deka's work may prove popular with Indian readers who know and revere Ramdev and would like to read about him without having to consider more nuanced viewpoints.
Deka does explain the underpinnings of Ramdev's extraordinary success and knowledgeably put him and the Indian business environment in context for non-Indians. Deka proves a perfectly competent newspaper writer, with a style that neither gets in the reader's way nor inspires page-turning. Yet, he raises many more questions than he answers.
Kaushik Deka co-authored The Secret Killings at Assam with Mrinal Talukdar and Utpal Borpujari. Some of the many other books on Baba Ramdev include Godman to Tycoon by Priyanka Pathak Narain, Baba Ramdev's Resurgence of New India by Dr. K.C. Mahendru, and Pranayama Rahasya by Swami Ramdev.