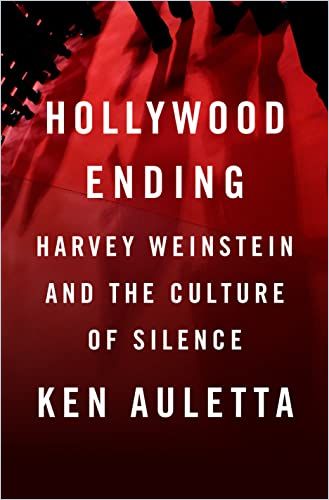 Weinstein's Fall
Journalist Ken Auletta details Harvey Weinstein's remarkable Hollywood rise and his sordid fall.
Ken Auletta – author of Greed and Glory on Wall Street – provides a shocking history of film producer Harvey Weinstein's remarkable rise in the entertainment industry and his sexual abuse of vulnerable women. Auletta does not spare the details – when they are available – and so readers who would rather avoid descriptions of assault, physical coercion and rape will not be interested. This lurid history is significant, of course, because Weinstein's downfall marked the beginning of the #MeToo movement which changed employment practices nationwide.
 Weinstein's Ascension
Harvey Weinstein and his younger brother Bob grew up in Queens, NY. Harvey dropped out of college to start a music promotion company.Bob joined him. They distributed a live concert film and wrote and produced a horror movie.They named their company Miramax after their mother, Miriam, and their father, Max.
I'm not going to lie to anybody and say that the things that happened on those tours weren't rock-n-roll induced and highly spirited.Harvey Weinstein
Male employees feared Harvey Weinstein's temper and female employees avoided being alone with him. Actor Cynthia Burr claims Weinstein forced himself on her and actor Lysette Anthony claims he raped her. In the 1980s, assault accusations rarely brought justice for victims. Meanwhile, Miramax distributed Weinstein's films, including Sex, Lies, and Videotape; Cinema Paradiso; and My Left Foot, which won Oscars and made millions.
Laura Madden, a Miramax assistant, and actor Katherine Kendall say Weinstein tried to turn massages into sexual encounters – his trademark technique.Actors Sean Young and Rosanna Arquette, who refused Weinstein's advances, say that he crippled their careers by spreading rumors that they were "difficult to work with."
Miramax
Disney and Miramax's first joint production – Pulp Fiction – grossed more than $100 million in the United States and won the Palme d'Or at the Cannes Film Festival. In 1994, Miramax released 40 movies and received 22 Oscar nominations. This monumental success recast Weinstein's anger, micromanagement and deceptive practices into aspects of genius, not character flaws. 
Actor Annabella Sciorra says Weinstein forced himself into her apartment, raped her and stalked her afterward. Actors Rose McGowan, Asia Argento, Ashley Judd, Kate Beckinsale and Gwyneth Paltrow all say he assaulted or attempted to assault them.
In 1998, Miramax earned $420 million with monster hits, including Good Will Hunting and Shakespeare In Love. That year, model Zoe Brock and actor Daryl Hannah say Weinstein tricked them, separately, into coming to his hotel room, where he tried to assault them. Women reported his behavior to the CAA talent agency, which later apologized for not taking action.Quentin Tarantino, who often worked with Weinstein, expressed regret that he knew of Weinstein's attacks on women and did nothing.
Weinstein's political and journalistic connections enabled him to quash potential stories. Due to fear or Non-Disclosure Agreements (NDAs), victims would not speak on the record.
In 2004, Disney terminated the Weinstein brothers with a $140 million severance package.
Miramax released more than 300 movies under Disney, generated ticket sales of $4.5 billion, and collected 220 Academy Award nominations and 53 Oscars, including three Best Picture wins.Ken Auletta
The brothers formed The Weinstein Company with a $1 billion from outside investors. Their contract gave them carte blanche over company decisions and protected them from termination. This emboldened Harvey's behavior.
The Weinstein company launched tv shows, clothing lines, cable channels and advertising ventures. From 2005 to 2008, it issued 65 movies, none of which made money. To cover debts, the company sold the rights to hundreds of its films.Then, Tarantino's Inglourious Basterds grossed $321 million worldwide.
Accusations
Actresses Jessica Mann and Talita Maia recounted how Harvey lied to them about possible roles in a nonexistent film to get them to his hotel room. He locked Mann in his bedroom and attacked her. 
I didn't think he was a predator. I just thought he was a man who had impulse control problems. It spanned across all areas – in his rage, in food, in power, in awards, in money, and in women. Abby Ex, former Weinstein Company senior executive
Weinstein assaulted Ambra Battilana Gutierrez in his office. She went to the police and captured Weinstein confessing on tape. Due to Weinstein's political connections and a smear campaign against Gutierrez, the district attorney never pressed charges. Weinstein hired a private security firm to stalk journalists and his past victims.
Jodi Twohey and Megan Kantor's groundbreaking New York Times article about Weinstein's history of sexual assaults quoted women, including actress Ashley Judd, on the record. More women came forward. Weinstein's own company terminated his contract.
Sixteen former and current executives and assistants at Weinstein's company told me that they witnessed or had knowledge of unwanted sexual advances and touch at events associated with Weinstein's films and in the workplace. Ronan Farrow
New Yorker reporter Ronan Farrow showcased 13 women who claimed Weinstein assaulted or raped them or damaged their careers because they refused his advances.
Reckoning
Weinstein hired lawyer Ben Brafman to defend an indictment on three counts of sexual assault and one count of rape. Weinstein also faced 13 civil lawsuits.New York State filed five charges against him and set his trial for January 6, 2020.Brafman recused himself due to lack of payment and Weinstein's personality. 
At the trail, Sciorra, Haley and Carla Young recounted in painful detail how Weinstein assaulted them. Then the defense asked: Why they didn't go to the police? Why did they keep seeing or working for Weinstein? They said he threatened them, and they feared for their careers and felt ashamed. Expert witness Dr. Barbara Ziv explained that victims often stay silent and in contact with their attackers.
Dawn Dunning, Taralê Wulff and Lauren Young recounted horrific experiences. The defense painted them as attention-seekers trading sex for advancement. Prosecution witness Jessica Mann spent three days on the stand. The defense called only seven witnesses.
After four days of deliberation, the jury found Weinstein guilty of criminal sexual act in the first degree and rape in the third degree. He faces more sexual assault charges in Los Angeles and possible charges in England, Ireland and Canada. He settled some civil cases for $17 million.
Weinstein stopped paying his lawyers and PR reps.When Harvey reached out to Bob, his brother did not respond.
A Grisly Saga
Ken Auletta is a seasoned, professional journalist who has earned his peers' respect. He is thorough and careful. The publication of this book after Weinstein's conviction enabled Auletta to write bluntly about Weinstein's unspeakable behavior. Those who can bear the more horrifying aspects of Weinstein's saga will learn a lot about how power protects the powerful and, yet, how even the worst can be brought to justice.