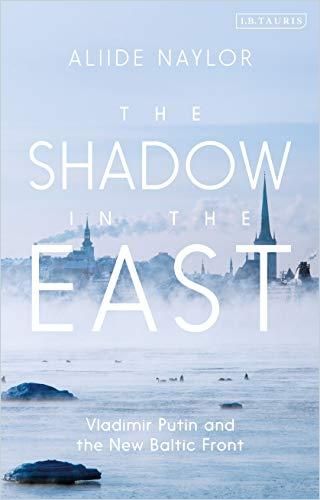 The Baltics and Russia
Journalist Aliide Naylor provides a detailed protrait of the Baltics' past, present and likely future relations with Russia.
In this revealing analysis of life in Lithuania, Latvia and Estonia, journalist Aliide Naylor argues that, despite having joined the European Union and NATO, these nations struggle to shed Moscow's overbearing influence. Each shares a border with Russia – two have significant Russian minority populations – and lingering challenges hamper their economies.
The New York Times wrote, "Naylor…guides us through pagan rites, cigarette smugglers' routes and secrets of the Nazi occupation. Naylor takes us inside a swath of Europe in a state of suspended animation, forced to serve as a testing ground for a war that may never come." Peter Pomerantsev, author of This Is Not Propaganda, called this "an insightful, nuanced account…A mix of travelogue, social and political analysis, Naylor tells the stories and dynamics of the region from the inside, which is really the only way to understand them."
Small and Overlooked
Former president Donald Trump once confused the Baltics – Estonia, Latvia and Lithuania – with the Balkans. The Western world might consider the Baltics an afterthought, but for decades, they have resisted Russia.
Historically torn between east and west, the Baltic states have in recent years faced the question of whether they are better off under potentially friendly relations between Trump and Putin or mired in the haze of a new Cold War.Aliide Naylor
Moscow imposed economic sanctions on Lithuania in 1990, and in January 1991, Soviet troops killed 14 and wounded hundreds more while breaking up demonstrations in Vilnius. In 2004, Naylor relates, the Baltics ​​​​joined NATO, officially claiming the United States as their ally and protector. But Russia remains the region's dominant power.
During Soviet rule, Naylor explains, Russians moved into the Baltics and forced reverse assimilation: Rather than obliging ethnic Russians to learn a new tongue, Moscow decreed Russian to be a "second native language" in the Baltics. After the Soviet Union collapsed, the Baltics reclaimed their native languages and increasingly embraced English for higher education and business.
Language and educational policies across the Baltics do not cater to their native Russian populations well, despite some attempts at inclusivity.Aliide Naylor
After the Iron Curtain fell, nearly $21 billion flowed through Latvian banks, particularly via Trasta Komercbanka, before being dispersed to dozens of nations. What Naylor calls the "Russian Laundromat" illustrates how nations with fraught relationships with Russia still aid organized crime and Russian attempts to evade international sanctions. Naylor offers the example of an Estonian branch of Danske Bank laundering more than €200 million [$233.7 million] in suspect funds from Russia.
Military Muscle
Naylor details how, in 2012, Russia boosted its military spending and troop numbers. Russia invaded Crimea, entered the Syrian conflict and asserted its influence elsewhere. The author concedes that the Baltics do enjoy protection as members of NATO. She feels they are unlikely to face an outright assault from Russia but points out that Georgia and Ukraine don't have the same security.
NATO, the US and the Baltics have all had to cope with an increasingly adversarial Russia in recent years.Aliide Naylor
Naylor documents Russia's disinformation campaigns. For example, she recounts that in 2017, shortly after German troops arrived in Lithuania as part of a NATO deployment, rumors circulated that German-speaking men had raped a toddler. Local officials found no evidence to support the rumor, which Naylor labels classic Russian propaganda.
Putin
In 2016, Naylor reports, Vladimir Putin enjoyed an approval rating of 83% among Russians, but he still engaged in election fraud. His stranglehold on the media includes clamping down on privately owned television networks and independent newspapers.
Among Latvian policy makers, Russia is often perceived as the number one threat to national security.Aliide Naylor
The Baltic states, she makes clear, feel Putin imperils them. All three nations began constructing border walls along the Russian frontier. In 2014, Lithuania increased its military spending and brought back the draft. Trump's tough talk about NATO, Naylor observes, sparked concerns in the Baltics that the alliance might not survive.
Economics
In general, Nalyor recognizes, the Baltics remain poor and socially conservative. Textile mills and manufacturing plants closed after 2004, when the Baltics joined the European Union and adopted free market policies. Naylor found that even skilled workers struggle to make a living.
For instance, she says, a Lithuanian medical resident posted her pay stub on Facebook in 2017, showing that she earned a salary comparable to that of a housekeeper's. Those who can, leave the Baltics in pursuit of better wages and career prospects. Naylor relates that when it joined the EU, Latvia's population was nearly 2.4 million; by 2017, it numbered less than two million.
The memory of the Second World War and beyond is still deeply etched into the fabric of modern society in every single Baltic state – in public space, education and art.Aliide Naylor
Naylor laments the prevalence of alcoholism, suicide, murder and domestic violence. The region's inhabitants prioritize neither the rights of women nor those of the LGBTQ community. Even young people in Estonia, Latvia and Lithuania hold traditional views; Naylor cites a 2018 poll that found a majority of people in the Baltics aged 18 to 34 opposed gay marriage. In Latvia, she discloses, politicians ran on stridently homophobic platforms as recently as 2007.
Fear Russia
Naylor's perspective focuses not on the Baltics, per se, but on the threat Russia poses to their independence, culture and economies. She discusses the aspects of Baltic history that relate to the former Soviet Union, as well as current Baltic interactions with Russia. Naylor believes a Russian military incursion is unlikely, but she predicts its cyber and economic irruptions will never cease. Though the Baltics are not the central conflict zone she claims – the world's attention has shifted elsewhere, as has, apparently, Putin's – Naylor offers an indispensable guide to those considering participating in policy, politics or business in Lithuania, Latvia and Estonia.
Other works exploring Russia and its influence include A Specter Haunting Europe by Paul Hanebrink; Nothing Is True and Everything Is Possible: The Surreal Heart of the New Russia by Peter Pomerantsev; Fires of Hatred: Ethnic Cleansing in Twentieth-Century Europe by Norman M. Naimark; and The Origins of Totalitarianism by Hannah Arendt.