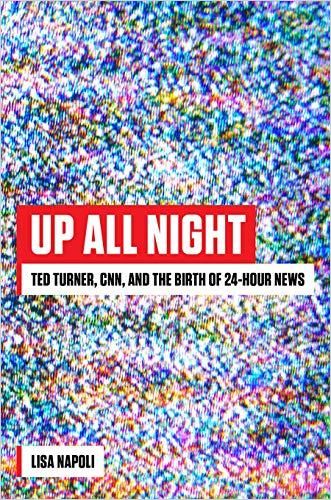 Swashbuckling Television
Lisa Napoli details the almost unbelievable history of media mogul Ted Turner and his foremost invention: CNN.
Journalist Lisa Napoli details CNN's saga and the life of its founder, Ted Turner. By emphasizing live reports and broadcasting 24 hours a day, CNN, which was the first all-news cable TV channel, turned the news world upside down. Napoli revels in Turner's eccentric life and powerful personality. A pioneer in broadcasting, Turner seldom gets the credit he deserves; Napoli sets the record straight.
Ted Turner
Atlanta's independent TV station, Channel 17, struggled with a tiny audience, few advertisers and monthly losses of $50,000. To rescue his venture, the station owner bought an ad on an Atlanta billboard.
Robert Edward "Ed" Turner Jr. owned that billboard and many more. When his son Ted was 4, Ed sent him to boarding school; he believed sons who spent too much time with their mothers became feminine.
Ted later went to Brown University, where he became an accomplished sailor. After Brown suspended him twice, Ted joined the Coast Guard and worked for Ed at Turner Outdoors in Macon, Georgia. He increased billboard-space sales twofold. 
New York media circles…were predicting – and almost hoping – that CNN would fail, for its success would upend not just news, but the entire advertising industry.
In 1962, as Turner Outdoors grew, Ted oversaw operations in Atlanta. Ed smoked three packs a day, drank a fifth of liquor daily, became addicted to pills and, in 1963, shot himself in the head. His suicide at age 52 devastated Ted.
Broadcasting
Ted Turner bought a radio station in Chattanooga, Tennessee, which adopted a Top 40 music format. Turner used unsold billboard space to promote it and acquired three more stations. Then he acquired Channel 17, renamed it WTCG – for Turner Communications Group – and began broadcasting on January 1, 1970. 
Turner promoted the station as "Super 17"; in August 1974, it became the first US television station to broadcast 24 hours a day.
Wasted space – wasted anything – drove Ted crazy. It made zero sense [to him] that television stations ceased transmission each night.
Turner acquired the broadcast rights to Atlanta Braves baseball games. He boosted profits by accepting direct-response commercials featuring products viewers could buy by mail or phone. His advertisers included the renowned Ginsu kitchen knives.
Former deejay Bill Tush, a WTCG employee, read 20-minute audio summaries of news stories daily. He read stories about UFOs, higher beer prices and anything involving marijuana. The WTCG crew lampooned news shows with on-camera characters like "the Unknown Newsman," a crew member with a paper bag on his head. A German shepherd in a shirt and tie, Rex the Wonder Dog, once co-anchored the news. Fan mail and merchandise orders poured in.
Satellite and Cable TV
In 1972, Turner expanded Channel 17's audience via cable television. The Federal Communications Commission (FCC) ruled that cable system operators could air the broadcasts of the nearest independent TV station. No independent could match WTCG's sports programming, library of old movies or all-night broadcasting schedule. 
In 1976, Turner bought the Atlanta Braves to make sure the team would stay in Atlanta. That year, the Braves won 70 games and lost 92, but attendance nearly doubled.
Convinced that the big networks did not properly inform the American people, Turner regarded competing with network news shows as a noble pursuit. 
Reese Schonfeld started the New York City-based Independent Television News Association (ITNA), a news service with a subscriber base of nine independent television stations. In September 1978, Turner and Schonfeld planned a nonstop news operation – the Cable News Network, or CNN.
CNN
On May 21, 1979, Turner announced that CNN would launch in one year. To create a studio for it, he bought the Progressive Club – a former Jewish country club – for $4.2 million. The 21-acre property had a vacant, columned mansion, three swimming pools, and handball and tennis courts.
While crews worked on CNN's headquarters, Turner competed in England's 605-mile Fastnet yacht race. Deadly gales turned it into a struggle for survival; sailors were washed overboard and yachts sank. Rescuers could not find Turner and his crew. But 80 hours after they started, Turner and his crew won the race, which claimed 19 lives. 
CNN suffered the mysterious disappearance of a crucial satellite just after its December 1979 launch. The manufacturer of the satellite, RCA, had reserved space on it for CNN, but RCA wouldn't launch another satellite for 18 months, and had already sold out transponder space on that satellite.
Ted fell to his hands and knees to underscore his contrition and begged. 'You gotta let me sell this station, or I'm a goner.
A federal court ruled that RCA owed CNN a transponder on a different satellite. Assuming that its satellite transmission would not be interrupted, Turner said, CNN would stay on the air until the end of the world.
On June 1, 1980, CNN pitched tents for its launch party, which sported six huge satellite dishes, the largest array ever at a nongovernmental site. Turner and his guests celebrated a successful launch, but during its start-up period, CNN lost $2 million a month.
AOL, Time Warner, Turner Broadcasting
In 1987, Turner sold 37% of Turner Broadcasting for $560 million, money he used to pay down the $2 billion he had borrowed to buy MGM and its profitable film library.
Turner married Jane Fonda in 1991, and he became a billionaire in 1997, when Time Warner bought Turner Broadcasting. Time Warner later agreed to a disastrous merger with AOL. In the wake of that merger, AT&T acquired Time Warner in 2019 for $85 billion and announced it would remove any mention of Ted Turner from the businesses he had built.
Gossip, Shenanigans and Triumph
Napoli, an experienced media reporter, entwines gossip, media shenanigans, bloody corporate warfare, abusive parenting, yachting, desperate grasping after money, personal courage and the finances of billboard companies to weave an amusing, captivating portrait of Ted Turner and the birth of CNN. She captures the vanished age of independent, swashbuckling television, a time that profoundly shaped today's media universe – and will never return. Napoli echoes, with great detail, the usual contradictory presentation of Ted Turner: obnoxious jerk, lady- killer, adventurer and determined mogul. Turner understood how to capture a huge audience with a tiny resource – the essence of every entrepreneur's struggle.
Lisa Napoli also wrote susan, linda, nina & cokie: The Extraordinary Story of the Founding Mothers of NPR; Ray & Joan: The Man Who Made the McDonald's Fortune and the Woman Who Gave It All Away; Radio Shangri-La: What I Learned in Bhutan, the Happiest Kingdom on Earth; and Temple on the Mall: The Harmonic Convergence of the Faux Bhutan.