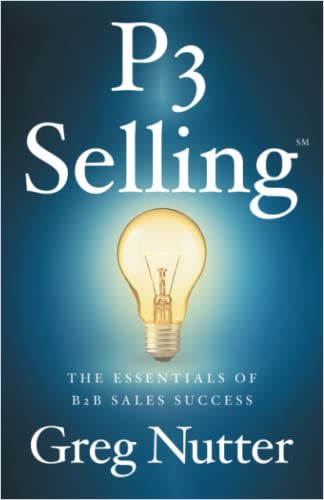 Solve Client Problems
The P3 Selling approach overcomes many of the obstacles that make B2B selling such a challenge.
When you sell to B2B accounts, the costs of products and services are high, the competition is fierce, and the sales are complex. Large B2B transactions often involve many decision-makers – the average number is 10. If you are a B2B salesperson who would like a firmer handle on managing all that, turn to author and sales management consultant Greg Nutter.
Nutter offers a thorough, organized sales method – P3 Selling – that helps salespeople build confidence, satisfaction and sales success. He teaches that P3 sellers aren't luckier than other salespeople; they have learned how to make their own luck and reap the rewards.
Problems, People and Processes
Successful B2B selling calls for creating "light bulb moments" for prospects by offering special insights that open their minds and inspire their curiosity about your products or services. 
Everyone who pursues a career in sales wants both the prestige and financial rewards of success. But figuring out how to achieve success often isn't an easy journey.Greg Nutter
P3 Selling focuses on asking prospects weighted questions that engage their interest and then making logical, responsive suggestions. This strategy addresses problems, prospects and processes, the 3P's, as it delves into how these elements link to selling your particular products or services.
Factual information that illuminates your prospects' problems can help you establish the necessary context for your offering and, thus, the basis for a sale. This approach does not manipulate prospects; instead, it concentrates on recognizing their issues and providing them with workable solutions. Ask your prospects what problems you can help solve, what their attitude is toward those problems and what alternative solutions they have investigated.
Where's the Power?
Research how many people wield influence or power over your prospects' purchasing procedures and stay conscious of that equation. In many firms, approving a significant B2B purchase involves at least 10 people. Pitching a single prospect is usually ineffective.
The person you're talking to might show interest, but what do you know about the opinions of the other people in the buying mix? Any one of them could kill your deal. Figure out who the decision-makers are at each prospective firm and how much influence each one has over purchasing. Prioritize each contact and deal with them individually. 
Instead of pushing too early for a sale, act as a "buying-process expert" who provides helpful guidance. Of course, your guidance should cover how your product or service could solve the prospect's problems.
Prospects' buying processes can be complicated and time-consuming. They tend to include multiple steps and timelines, plus specific "criteria, policies, people, information sources" and other factors particular to each firm. This level of complexity and obscurity can frustrate salespeople. 
The buying-decision process is the glue that connects problems with people and results in action.Greg Nutter
Stay relaxed and don't expect prospects to follow your buying processes. Let their buying processes take the lead. In a B2B setting, salespeople often must comply with two levels of bureaucracy. First, the clients' firm will want to follow its standard buying process. Second, that firm's central purchasing office may insist on its own idiosyncratic demands and procedures. Adjust your selling tactics and your emotional state to deal with both. 
Nutter is a realist: he says to figure out the parameters of each firm's multi-part buying requirements, and patiently adapt your sales activities accordingly. 
"Ask ↔ Suggest: Recap"
To apply the Ask ↔ Suggest: Recap (ASR) model, start by asking questions.  Begin with queries that help you determine the prospects' priorities. Seek basic information, such as how many employees work for the firm. Ask what's going well – and poorly. Ask what the prospect normally spends on a service or product such as yours. Your questions should increase your knowledge, but, even more so, they should build the prospects' awareness of how you can help their company.
Validate the information the prospect shares. For example, you might say, "I fully understand why you would want the cheapest offering, but could I share another perspective with you?" Make your prospects aware of professional options they may not have considered. Ask if the client agrees with your alternative perspective, such as the idea that future operating costs matter as much as the current price.
If you are ever in doubt whether you are dealing with a simple sale or a complex sale, always start by assuming it's a complex sale.Greg Nutter
If the prospect agrees, move ahead. If the prospect disagrees, be ready to suggest another alternative. Even if none of your suggestions work, engage in several rounds of questions and answers, then change subjects to dig "for more gold."After you secure sufficient "problem and opportunity nuggets," summarize what your prospects have shared and ask if they agree with your recap.
The ASR approach spotlights various opportunities to solve your clients' problems with your product or service. And, answering questions brings your product or service to the forefront of your prospects' thinking. Addressing these issues encourages clients to be proactive by buying your offering.
If your prospects are unwilling to consider your ideas or to change their thinking sufficiently to consider your product or service, stop wasting time, end your meeting and move on to a more promising prospect. Offer another short recap, and then request confirmation, just so you can be 100% certain you heard and interpreted everything correctly, for good or ill. 
Additional Sales Processes
Prospecting has four crucial elements: "pre-call research and warm-up;" a short, powerful message; sharp delivery; and a carefully planned pace. Salespeople can almost never get enough in-person time with B2B prospects, so make each second count. Establish firm objectives for every sales call. Then plan precisely how to implement your P3 strategy and achieve your goals. 
Ask your prospects: What risks concern you? Consider how your product or service could reduce their risk. Other than your offering, what are the clients' likely avenues for solving their problems?
Success won't just come to you. It has to be met at least halfway.Frank Tyger
Great B2B salespeople plan carefully. Take 10 to 15 minutes daily to plan carefully and schedule your prospecting, sales calls, deal reviews and pipeline reviews. Sales move fast. To be effective, you must keep numerous balls in the air. But, even as you juggle, allow time for reflection about where you've been, where you are and where you want to go.
Earnest Advice
Greg Nutter, the founder of Soloquent, Inc., a sales management consultancy, offers useful, familiar advice and sincere cheerleading. He believes in his P3 method and wants you to believe, too. How much you believe will likely depend on your B2B sales experience. Rookies will welcome Nutter's professional insights into customer processes as they learn why they need to keep their emotions out of their sales calls and do several things at the same time. Veteran salespeople may find his information best suited for a quick review to refresh the basics. Nutter sometimes repeats himself, but he is a well-informed true believer, and his earnestness may inspire you.