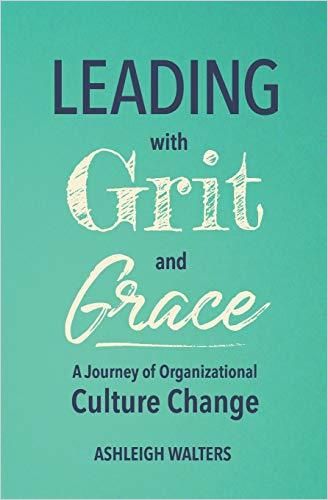 Servant Leadership
Ashleigh Walters offers a detailed, direct guide to leading privately-held companies through crucial, modernizing cultural change.
As president of Onex – a family-owned industrial furnace service firm in Erie, Pennsylvania – Ashleigh Walters transformed the company into an innovative, stakeholder-centric, employee-owned enterprise. She draws on that experience to offer leaders a few lessons in changing their corporate culture. Writing in a no-nonsense, accessible style, Walters argues that successful transformation demands embracing servant leadership and putting stakeholders first.
Transformative Change
As company president, Walters discovered that the members of teams in her workforce didn't collaborate well and that the company lacked a culture of trust. She crafted a mission statement describing her vision for the future and used it to create standards to guide her decisions and strategy.
It's not lost on me that a pearl exists as the result of an irritating piece of grit that made its way into an oyster. It takes years for that grit to transform into a pearl. Ashleigh Walters
If your mission statement doesn't inspire you to tackle the challenges ahead, she says, write a new one.
Empowered Workplace
Traditional companies need to become people-centric to remain competitive. Make sure your stakeholders – clients, vendors, employees and shareholders – embrace your mission statement.
Adopt a Lean approach. Clarify workers' roles, flatten hierarchies, and foster communication, transparency and collaboration.Walters advises empowering the workers closest to a problem to suggest solutions to it. Avoid micromanaging; instead, let your employees figure out how to collaborate.
Challenge Yourself
Transform failures into learning opportunities by identifying the root cause of a failure, so the same mistakes can't happen again. Don't fear or hide failure.
The road to progress is not smooth or straight. Rather, it's a rutted path with twists and turns, filled with peaks and valleys and fallen trees blocking the way. Ashleigh Waters
Welcome new ideas from everyone in your organization. Celebrate victories as a team.Encourage people to use their judgment and creativity to pursue innovation. 
Embrace Servant Leadership
Servant leaders cultivate an unselfish mind-set and practice humility. They combine compassion and empathy with persistence, determination and resilience.
The foundation of servant leadership is a shared mission that inspires others to take the journey along with the leader in order to make things better.Ashleigh Walters
Servant leaders view themselves as part of their teams and never take individual credit for their group's work. They listen and heed employee feedback to help themselves and their organization grow. 
Coaching
Companies such as Microsoft, GE and Adobe have eliminated annual reviews in favor of holding individual evaluative conversations about employees' performance. Walters says that this approach calls for investing in a collaborative discovery process to align your staff members' strengths with your company's broader goals and do what you can to foster their career growth.
Two colleagues can engage in peer-to-peer coaching, and managers can coach their employees. When you're coaching, let your staff members speak twice as much as you do. Give clear feedback and offer opportunities for corrective change. And, as a leader, consider how you might benefit from executive coaching.
When employees perform well, consider expanding their role or giving them new goals and challenges before rushing to promote them into positions they might not be ready to handle. Let people identify their goals and tell you where they envision taking their careers.
Visionary Strategic Planning
Align your team's efforts with your company's single biggest goal by identifying core values team members share that fit your mission statement. Let these values guide you also as you work toward your goals. 
Reflect on your company's strengths, weaknesses, opportunities and threats (SWOT analysis) by analyzing a variety of pertinent factors, such as inefficiencies in your processes and future developments in your industry. 
Identify your company's most important challenge. This is your "Wildly Important Priority," or WIG. Create a strategic plan that identifies the steps your teams must take to achieve your WIG. Measure their success by defining key performance indicators (KPIs) that help you gauge whether your team is doing a good job of executing its strategic plan. Carefully choose which data to monitor to quantify how well people, teams and departments are meeting their KPIs. 
Prioritize Customer Experience
Older companies often need to update their marketing and sales strategies by leveraging the power of social media, websites, blogging and digital media. Create a marketing plan that includes market research, product development, customer support, public relations and sales.
Never try to sell clients a product or service they do not want or need, because it might just be the last sale you make to them. Ashleigh Walters
Market your service or product by creating a value proposition, a statement that explains how your offering provides value to your clients and why they should support your business. Optimize your customers' experience and demonstrate how much they matter to your organization. 
Transform Adversity
If your company hits a crisis, try to transform adversity into opportunity by staying positive, remaining calm, making quick decisions and changing course if necessary. Communicate your organizational crisis management strategy internally and make sure people understand their roles. Plan for recovery while maintaining day-to-day business operations and projecting a positive vision of your post-crisis future.
Be sensitive to how different members of your team cope with adversity. A shared crisis experience often makes a team more capable of dealing with future challenges.
Your Legacy
Fully 58% of small business owners fail to create a succession plan, which would safeguard the well-being of their company and protect their legacy after they're gone. 
Well-run businesses have the ability to make profits for their shareholders and the ability to change the world. Ashleigh Walters
Prepare your company and yourself for whatever might come next. If you had to ramp down or step away, consider what your alternatives would be. Would you sell your company to a business partner, employee, private equity firm or third party? Might you transfer ownership to a family member, or would you have to close the firm?
Simple and Direct
Ashleigh Walters offers a simple, direct read in which she espouses her principles, provides a quick example of each value in action and moves on to the next. She addresses private sector businesses generally and family-owned companies specifically, so some of her advice will prove less relevant to publicly-own firms and much of it appears in other cultural-transformation guides. However, few of those books offer Walters' warmth, sincerity and unpretentious insight about employee relations. To an inspiring degree, she is unimpressed with herself and admiring of her employees: a true servant leader.
Other books on cultural change include Work Rules! Insights from Inside Google That Will Transform How You Live and Lead by Laszlo Bock; The Culture Code: The Secrets of Highly Successful Groups by Daniel Coyle; and No Rules Rules: Netflix and the Culture of Reinvention by Reed Hastings and Erin Meyer.