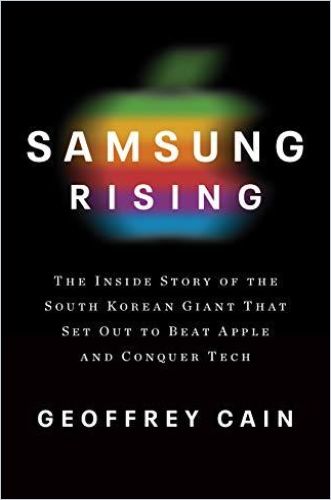 Samsung – In All Its Corrupt Glory
Samsung's Story of Spirit
Foreign correspondent Geoffrey Cain interviewed more than 400 people to trace Samsung's ascent from a dried fish and vegetable shop to the largest company in South Korea. He follows it through a government coup, smartphones that caught fire and an epic legal battle with Apple. Cain presents Samsung as a symbol of South Korean pride and corruption, juggling the dueling forces of tradition and modernity. 
Cain, who is a Term Member of the Council on Foreign Relations, also writes for The Economist and The Wall Street Journal, among other outlets. Both the Financial Times and McKinsey long-listed his Samsung biography as a Business Book of the Year. The Wall Street Journal said it, "reads like a dynastic thriller, rolling through three generations of family intrigue, embezzlement, bribery, corruption, prostitution and other bad behavior." 
The Asia Times called it "essential reading for the 21st century…crackling with circuitry, lit by neon and fueled by soju," South Korea's signature booze. However, The New York Times criticized Cain for spending too much time and ink on smartphone marketing, and complained, accurately, that during his research he gained only scant access to Samsung's reclusive founders, the Lee family.
Calling Samsung
Cain begins with a 2016 Samsung brand disaster: Its Android Galaxy Note 7 smartphone kept catching fire. Samsung knew that its devices overheated, but hid that knowledge, according to media reports. Cain finds this in character for the company, which he says embraced a fear-based, top-down environment that discouraged employees from disclosing potential problems – such as faulty batteries – to their bosses.
How could South Korea go from an agrarian nation to one of the world's most successful economies in two generations? Geoffrey Cain
Samsung's success or failure, Cain explains, affects South Korea's national economy and national pride. The author supplies crucial context: Two generations ago, South Korea was an impoverished military dictatorship. By 2016, it was a democracy and tech hub. Cain discloses that Samsung recalled the Galaxy Note 7, but only after vendors reported that people were not buying it. 
B.C. Lee
Chairman Lee Byung-chul (B.C. Lee) opened a dried fish and vegetable shop, the "Samsung Sanghoe," or "Three Stars Shop," in 1938. The number three, Cain reveals, symbolically refers to size and strength, and the star represents the concept of shining brightly for eternity.
Samsung's success wasn't about sales, operations, economic policies and bottom lines. It was a story of patriotism and spirit. Geoffrey Cain
During the 1950 war between North and South Korea, Lee moved south with his family. The conflict ended in 1953, leaving five million Koreans and 36,000 Americans dead. 
B.C. Lee rebuilt his fortune with a wool plant, a sugar refinery, a Confucian university, a department store and shares in a bank. He became, as Cain makes clear, South Korea's richest man, though many people criticized his corrupt connections to South Korean politicians. Cain also details – in perhaps too much detail – a complex stock maneuver that sparked a national controversy and landed two Samsung executives in jail for corruption.
Militaristic Culture
A military coup ousted South Korea's democratically elected government in 1961. The new dictator, Park Chung-hee, coerced Lee to cede control of his banks to the state and to pay $4,400,000 in penalties and unpaid taxes. Samsung suffered, but recovered as Lee expanded into electronics and semiconductors.
Samsung tapped into the feelings, emotion and sense of belonging that South Koreans experienced. It understood the human need to be a part of something great, something bigger than oneself; it offered Koreans the promise of glory.Geoffrey Cain
Cain lists five components of Samsung's militaristic culture: Family members inherit executive roles; the company embraces the power of ethnic Korean bloodlines; it vests in militaristic rituals and ceremonies; it is wary of outsiders; and it venerates a paternalistic leader as if he were an emperor. Lee Byung-chul died in 1987 and was succeeded by his son, Lee Kun-Hee, who died in 2020.
Cultural Revolution
In 1996, Cain reports, Lee Kun-Hee declared that the 21st century would be the company's "Age of Culture," starting with the "Year of the Design Revolution." The firm turned to a more minimalist look, inspired by the Sydney National Opera House, the Sony Walkman, Apple and the Coca-Cola bottle.
The company was increasingly trapped between tradition and the need to modernize. Geoffrey Cain
Between 2000 and 2008, Samsung opened new design centers in London, Shanghai, Milan and New Delhi. But old habits die hard. Cain recounts that a South Korean prosecutor charged Lee with giving more than $30 million to the country's former dictator, Roh Tae-woo. When Lee gave the dictator money, Cain divulges, his government granted Samsung licenses to expand. 
Apple and Samsung
Cain describes Steve Jobs's 1983 visit to the new Samsung Electronics plant. Jobs sought memory chips for a tablet computer, and Lee was eager to align with him. However, Apple fired Jobs two years later. 
Cain relishes the saga of how Apple executives later accused Samsung of stealing the iPhone's design. The media nicknamed the Android Galaxy S Phone "the iPhone killer." Jobs, back in control at Apple, sought "thermonuclear war" against the Android.
What if Apple had patented something as silly as a black rectangle with rounded edges out of desperation, attempting to bully its way into a monopoly? Geoffrey Cain
In a costly, drawn-out legal battle, Apple demanded $2.5 billion from Samsung, which counter-sued for infringement of patents. Again, Cain shows a passion for arcane detail that deadens the excitement of this legal battle. He explains that in 2018, a court ordered Samsung to pay $539 million in damages to Apple. Cain makes a crucial point: No one won the battle because neither company knocked the other's product out of the market.
Tech companies scrambled to become digital leaders in the mid-1990s, as they merged computers, phones, music players and televisions into single, multifunctional products.
K.H. Lee's niece Miky Lee became the firm's main emissary to the United States in the 1990s, befriending Hollywood celebrities, including Steven Spielberg, and making efforts to raise the status of South Korea's culture. Samsung invested $60 million in Pretty Woman's production company, New Regency, and created a short-lived film studio, Samsung Entertainment.
Samsung's Fascinating Saga
This fascinating saga offers as clear a portrait of South Korean political history since World War II as it does of Samsung and the Lee family.
To immerse yourself in Cain's book, you will need to love details, that is, to care a lot about arcane lawsuits, chip design, advertising campaigns, and dirty deals among businessmen, dictators, politicians and judges. An evocative author, Cain is passionate about his subject, offering astonishing nuggets of power plays, personality and technology. His lack of access to the Lee family does mean, however, that he's always considering their motivations from the outside looking in. Still, businessmen, students, politicians and professors seeking insight into South Korea and this signature company are in the right place.
Geoffrey Cain also wrote The Perfect Police State. Other praiseworthy biographies of business empires include T.J. Stiles's The Tycoon; Sara Frier's No Filter and Reeves Wiedeman's Billion Dollar Loser. More general books about Korean business include Boyé Lafayette De Mente's Korean Way in Business and Korean Business Etiquette.