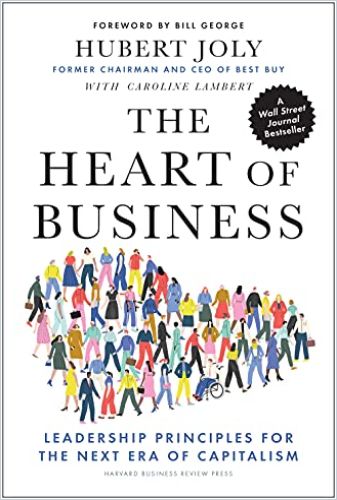 Purposeful Leadership
Former Best Buy CEO Hubert Joly details how to transform your company and yourself by pursuing purposeful leadership.
In this Wall Street Journal bestseller, Bloomberg Best Book of the Year and Financial Times Top Title, former Best Buy CEO Hubert Joly makes a convincing case that businesses must replace the obsessive pursuit of profits with a focus on purpose and meaning. Joly, who oversaw Best Buy's remarkable 2012-2019 turnaround, says a business must prioritize its employees and help them find meaning in their work. In a gentle, amiable style, Joly – writing with Caroline Lambert – describes how he put these principles to work at Best Buy and outlines how you can become what he calls a "purposeful leader."  
I have come to believe – to know – that purpose and human connections constitute the very heart of business.Hubert Joly 
A rather incredible and lengthy list of CEOs contributed rave reviews, many of which endorse Joly's character as strongly as they do his thoughts. This speaks to how perfectly Joly – now a senior lecturer at the Harvard Business School and a board member of Johnson & Johnson and Ralph Lauren – captures today's leadership zeitgeist and how many leaders believe – or say they believe – in a new, more collaborative work environment.
Rethink Received Wisdom
Joly believes capitalism has reached an inflection point and asserts that it suffers from outmoded ideas about the nature of work, the function of leadership and the central purpose of a business.
The current corporate operational model has led to worldwide worker apathy and dissatisfaction. Workers cannot find meaning in what they do, and, as a result, businesses suffer reduced productivity and increased turnover, workplace accidents and customer complaints. 
We can choose to treat work as what I feel it is: an essential element of our humanity, a key to our search for meaning as individuals and a way to find fulfillment in our lives.Hubert Joly
The authors believe work should be an arena for expressing purpose – a communal effort of self-sustaining inspiration and collaboration. Corporate leaders should learn what motivates each employee and help them connect their motivations to the organization's purpose.
Move Beyond Profit
Joly cites and then rejects economist Milton Friedman's oft-cited maxim that a company's only responsibility is to "maximize profits for shareholders." Joly regards profit as a poor metric of performance. Instead, he views profit as he might a patient's temperature – a consequence of the patient's condition, not the condition itself.
If we want employees to be more invested, we must acknowledge that their souls are not wrapped up in a stock price.Hubert Joly
Customers want to work with companies they see as principled, competent and socially responsible. Increasingly, shareholders demand that businesses demonstrate proactive good citizenship. Employee engagement stems from meaningful and purposeful work. Fixation on stock performance drains their enthusiasm, just as fixating on profit only alienates customers and investors.
Employee Focus
Joly endorses the idea of interlinked imperatives for every organization: "people, business and finance," as articulated by Jean-Marie Descarpentries, the former CEO of Bull SAS.
A firm's primary purpose is employee satisfaction and growth – achieve that, Joly says, and the other imperatives will follow in a virtuous circle. Engaged employees inspire customer loyalty, which increases profits – a result of fulfilling the company's primary purpose.
The secret of business is to have great people do great work for customers in a way that delivers great results. Hubert Joly
To motivate and fulfill your employees, define your company's noble purpose, which should expand opportunities, inspire all shareholders, nurture sustainability and boost profits.
Purposeful Leadership
Joly calls for discarding conventional top-down management in pursuit of a flatter, more collaborative and communicative work environment.
Creating a purposeful human organization that truly unleashes human magic and makes a positive difference in the world is not only complex, but it is also hard work. Hubert Joly
Purposeful leaders are clear about the reasons for their efforts. They understand their stakeholders' various purposes, and how those purposes connect with the  overarching company purpose. Be clear that your purpose as a leader is to inspire, energize and coach. Let everyone see that your priorities serve the company and its people foremost, not your career. Internalize your company's values, proselytize for them and make them the fabric of the business. Be honest about your skills and knowledge, and open with your thoughts and feelings.
Transformation
Best Buy's noble purpose led to many innovations, such as expert tech support – even for products that customers bought elsewhere – and in-home IT support.
A business reboot requires a new perspective on strategy. Conventionally, strategic questions analyze trade-offs: Focus on cost or quality? Customers or shareholders? Joly advises avoiding such either/or questions. Ask "and" questions: How do you achieve low prices and high quality? How can you serve customers and shareholders and employees?
Best Buy imagined how it would behave if it were a person and decided it would be an "inspiring friend," someone who helps others use technology and sparks new ideas about what people can accomplish with the right tools.
Incentives
Monetary rewards are counterproductive for tasks requiring intellectual activity. In fact, they narrow a person's creativity and analytical ability.
No one should feel he or she has to pretend to be invincible or perfect, because we are all human, and it is in our vulnerability that we connect and unlock the power of the collective. Hubert Joly
Financial incentives can act as an inducement to cover up mistakes or weaknesses and may motivate unethical behavior. Effective incentives, Joly explains, show an appreciation for individual employee's goals and motivations. He advises linking individual goals with company goals to develop a sense of community. Cultivate autonomy, but be cautious in fostering independence; delegate responsibility only to skilled, motivated team members.
Switch your managerial focus from results to process by coaching employees, honing their skills and cultivating individual growth. Joly insists that growth opens a wider scope of opportunities. A growth mind-set energizes employees while promoting their creativity and experimentation.
Written with Heart
Joly comes across as a thoughtful, considerate man who offers his ideas in simple form without drawing attention to his singular skills as a CEO. His apparent humility engages readers while his applicable strategies mark a clear path to purposeful leadership.
Caroline Lambert, an accomplished writing partner, meshes seamlessly with Joly; his voice and tone ring through. A journalist, writing collaborator, ghostwriter and writing coach, Lambert is the former Deputy Asia Editor of The Economist. She co-authored Oil to Cash and World Investment and Political Risk 2010, and wrote You Don't Lose 'Til You Quit Trying with Sammy Lee Davis. 
Other books on providing more heartfelt leadership include Think Again by Adam Grant, Net Positive by Paul Polman and Andrew Winston, and Everybody Matters by Bob Chapman and Raj Sisodia.