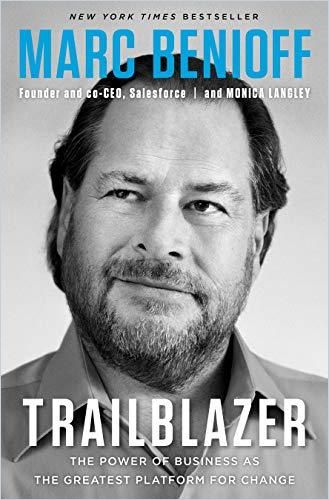 Profit and Conscience
CEO of Salesforce Mark Benioff makes a strong, well-written case for merging corporate responsibility and profit.
Not all the same
Not all CEO autobiographies are the same. Some are more narcissistic, some more insightful, some more self-congratulatory, some better written. Generally speaking, CEO autobiographies from more traditional industries – manufacturing or finance, for example – seem to offer less self-insight and more hard and fast business instruction.
But, as top-down leadership fades in importance and more horizontal organizational structures dominate, CEO biographies are coming to reflect this trend with more thoughtful, egalitarian, communal philosophies. It's hard to imagine anyone like Salesforce CEO Marc Benioff writing this work – or, indeed, having Benioff's career path – in, for example, the go-go 1990s, and it's even harder to conceive of such a journey during the deranged run-up to the 2008 financial crisis.
Salesforce
Benioff started at Oracle. He honors the sense of responsibility for customer satisfaction he inherited from his father and the civic orientation he learned from his grandfather Marvin Lewis, who proposed San Francisco's BART transportation system. Today, Benioff's company, Salesforce, provides customer relations management software that leads the world in sales force automation.
Doing well by doing good is no longer just a competitive advantage. It's becoming a business imperative.Marc Benioff
Benioff relates with pride and defiance that when the Indiana legislature passed the Religious Freedom Restoration Act in 2015 – under then-governor Mike Pence – Salesforce resisted the law's treatment of its LGBTQ customers by threatening to withdraw its investment from the state. Slowly, Benioff's peers at YouTube, Apple and Gap followed. Benioff found that taking a stand raised Salesforce's profile; his firm posted record sales and growth.
"Trailblazers"
In 2005, Salesforce had technical issues with cloud technology; Benioff insisted on keeping customers up to date in real time. His "radical accountability," he insists, increased customer trust.
The future isn't about learning to be better at doing what we already do, it's about how far we can stretch the boundaries of our imagination.Marc Benioff
He explains that Salesforce launched its Trailblazers campaign to show appreciation for its "greatest innovators and evangelists." This community, he asserts, understands the value that comes from trust. For example, Toyota suffered a trust crisis in 2010, when it had to recall several million defective cars. Benioff pitched the Tokyo Friend program, which connects drivers to the company, to Toyota's CEO, Akio Toyoda. The program alerts drivers when the car needs a new tire, and it can tell them the location of the next gas station. Toyota adopted this customer-centric strategy and re-established its consumers' sense of trust.
Also in 2010, Benioff relates, Salesforce launched its internal social network, Chatter, building on his belief that enabling employees to speak out engenders trust. 
Artificial intelligence
Benioff covers his efforts to open Salesforce to developers and to form AppExchange, the first business software marketplace.In 2015, he convened a meeting to promote the effort to "infuse AI" into every Salesforce product, based on his belief in synchronizing AI with standard business performance measures. This led to Salesforce Einstein – which led to Einstein Forecasting (2016) for projecting quarterly reports and Einstein Voice Assistant (2018).
Equality and diversity
Benioff tells of his shock when a female Salesforce executive revealed in 2015 that his company's female employees suffered pay inequality due to "unconscious bias" against women's choices around family and career. Benioff is adamant that Salesforce adjusted its salaries, created new job codes and changed its mind-set.
Can you imagine trying to drive innovation and transformation inside your company when everyone looks and thinks the same?Marc Benioff
When Benioff learned that Black employees made up only 2% of his workforce, he expanded Salesforce's core value of equality to include race and sexual orientation. He notes that the company has invested in college programs in underserved communities. Benioff learned that the digital age requires an ecosystem that promotes innovation, and innovation needs diversity.
Giving Back.
Benioff details his "1-1-1 model": Salesforce dedicates 1% of equity, 1% of products and 1% of employee time to serving others. Over 20 years, Benioff says Salesforce has given $300 million in grants, and its employees have volunteered for more than four million hours. Fully 88% of Salesforce employees give back.
If I could put anything on a billboard it would be 'Adopt a public school'.Marc Benioff
In one example, Benioff outlines the effort he and his chief philanthropy officer, Ebony Frelix Beckwith, made to devise a STEM program for San Francisco Bay Area middle schools. Salesforce's $100 million commitment funded a comprehensive curriculum for each grade.Now, Benioff proudly asserts, 90% of the kids are proficient in computer science, including a 2,000% increase among computer-adept female students and a 6,000% among students from underrepresented groups. These astonishing numbers demonstrate that Benioff puts his money where his mouth is. This draws readers to him and fuels their respect.
Profit and Social Conscience
Benioff understands that social conscience and profit aren't always compatible, but he knows businesses must practice better stewardship. He says the first rule for building a sustainable, responsible business is "rooting out complacency." Each day on his way to the Salesforce office, Benioff sees squalor and addiction. He makes the case that he supported legislation – which some of his peers resisted – entitled "Proposition C: Our City, Our Home" that would increase corporate taxes on companies that earn more than $50 million in annual revenue to generate $300 million a year for services for the homeless.
Activist CEO
Salesforce openly champions justice, and Benioff sees a connection: its share price has risen 3,300% since 2004. Businesses, he argues, must see themselves as part of the social fabric and embrace corporate responsibility and civic duty. The Fourth Industrial Revolution, he avows, is ending, and a Fifth will emerge in which people will harness today's progress toward building a sustainable future.
In the future, the only way to lead a company, or even to work for one, will be to raise your eyes from the work on your desktop and take a much wider view.Marc Benioff
Benioff, the son of activists, has a conscience and the fortune he has earned has, astonishingly, not blunted it. He writes with genuine passion – and perfectly readable, if not exceptional, prose – about the need for all businesses to vest in diversity, giving back and local community activism. He provides workable, adaptable lessons in how to do just that. Benioff is justifiably proud of what his company has provided to others and of how he made his millions at the same time.