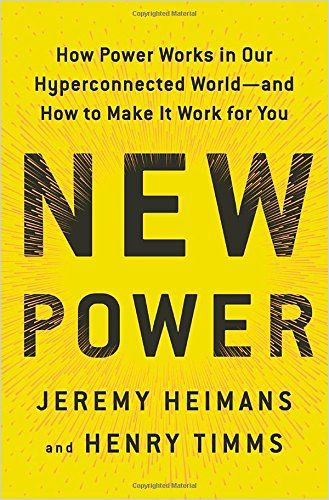 Power of the Crowd
Social-engagement experts Jeremy Heimans and Henry Timms celebrate the new power that impels broad-based social movements.
Social-engagement experts Jeremy Heimans and Henry Timms explain that movements like #MeToo exert a new form of power that is participatory, collaborative and connected.
Fueled by social media's reach and massive popular appeal, this power flows person to person in businesses like Uber, movements like Black Lives Matter and even terrorist groups like ISIS. New power, the authors say, is the power of the crowd. They assert that it will define the social, political and economic future. And they should know.  Heimans is CEO of Purpose, which builds and supports social movements, and Timms is president and CEO of the 92nd Street Y, co-founder of #GivingTuesday and founder of GetUp!, the massive non-partisan Australian political organization.
Forbes called their book, "A must read for anyone looking to engage people to help them build a movement around a cause or a brand." NPR identified it as, "A manifesto for a more humane world." And Jane Goodall said, "This book will inform and inspire all those wanting to make change…and achieve a goal against all odds."
Old Power
Heimans and Timms describe the way Hollywood tycoon Harvey Weinstein once could make or destroy a person's career. Weinstein, they report, exemplified old power, deployed top-down by the few to control the many. The authors list the traits of old power: it respects institutions, approves of the exclusive consolidation of resources, demands privacy, hides its reach from the public, and rewards devotion and loyalty more than active participation.
Old power works like a currency. It is held by few. Once gained, it is jealously guarded.Jeremy Heimans and Henry Timms
When Weinstein faced accusations of sexual assault, the authors explain, his colleagues protected him, he paid for his accusers' silence, and he hired people to discredit women or journalists who might expose him. The #MeToo movement undid him – and that success supplies the cornerstone theme of the book.
New Power
Heimans and Timms describe the impact that unfolded when actress Alyssa Milano posted the hashtag #MeToo to encourage women to share their experiences of sexual harassment and assault. The authors report that 12 million related Facebook posts appeared within one day. Within two days, nearly a million tweets used the #MeToo hashtag.
The authors posit that #MeToo exemplifies new power, which proliferates and hinges on engagement and interaction. Participation among friends and colleagues, Heimans and Timms maintain, spreads new power and enables people to organize and participate with few geographical limitations. 
Slogans and Memes
Heimans and Timms cite the long-lived previous era in which people watched the same TV shows and read similar newspapers; anyone with money could advertise to a large audience.
Today, the most resonant ideas are not those that get flashed at the highest number of people but those that become individualized expressions of affiliation and identity among peers.Jeremy Heimans and Henry Timms
New power doesn't rely on slogans and soundbites. Storytelling – whether in words or images – turns out to be the most effective way to spread an idea. It works best when the creators offer up their stories, but understand they can't control how the stories spread. 
To help you define an idea on which you could base a movement, Heimans and Timms offer the acronym ACE, which stands for actionable, connected and extensible. An ACE idea, they clarify, inspires you to act, participate and connect with other people. Its design enables each person to individualize it. Thus, the authors celebrate, when an ACE idea spreads or goes viral people can tweak it to suit their communities. 
Crowds
Anyone who wants to build and sustain a movement, the authors instruct, must identify connected people and connect to them; create a new-power brand that speaks to and inspires a community; create galvanizing moments to launch their movement, and move people toward higher levels of participation.
Heimans and Timms recognize that building crowds and movements effectively requires making engagement and participation so attractive and accessible that they inspire increasing levels of acceptance. And, the authors insist, such movements must be able to hold their community together over the long haul – a leadership achievement that requires the ability and resilience to navigate crises.
Participation
Old power fundraising skills, Heimans and Timms delineate, include a gift for selling and the ability to work with complex bureaucracies and cultivate relationships with the social and financial elite. In the new power world, on the other hand, fundraisers need a talent for bringing people together, the talent to deal with the complexities of communities, and the ability to tell a riveting, foundational story about themselves and their organization.
People have always wanted to take part in the world.Jeremy Heimans and Henry Timm
When trying to channel people's passion and energy, the authors caution, accept that they may move in directions you don't expect.
Anyone
Demonstrating that they understand and know how to apply their own advice, Heimans and Timms keep their language and graphics simple, easy to grasp and powerful. They create their own slang expressions or potential memes, and include a handy glossary of terms you never heard of until you opened their book. Given their extraordinary accomplishments as activists and cultural avatars, readers should bear in mind that their guidance is deliberately non-partisan and aimed at no specific point on the political continuum. The authors believe in new power activism and provide detailed actionable guidance – with wit and a sense of the absurd – for anyone who wants to launch or support a movement.
Other energizing works offering tools for organizing include Read This For Inspiration by Ashley Perez, The Fifth Discipline by Peter M. Senge and Original by Adam Grant.