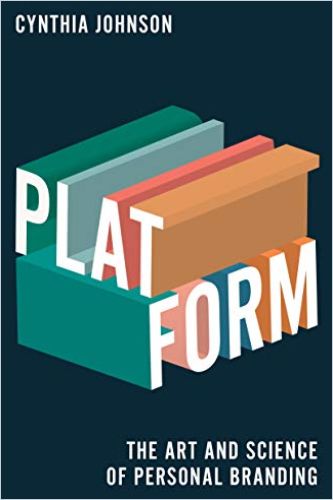 Own Your Brand
Digital branding expert Cynthia Johnson offers a basic primer for beginners who want to burnish their online personal brand.
Personal branding
Digital branding expert Cynthia Johnson explains that in the early 20th century, people began to associate ideas, values and feelings with brands. Advertising emphasized brand benefits. In the 1980s, brands evolved to create culture. Nowadays, social media enables consumers to communicate and interact with brands. Branding drives influence.
Johnson's theme – which most people already understand – is that anyone can build a personal brand. 
In a sound piece of advice that may have little to do with branding, Johnson urges you to never accept reality as others present it. She says you must shed preconceived notions, gain control of your reputation and be as authentic as you can.
Your Online Data
Your personal brand depends on what others think of you. Good communication earns their high regard. The better you communicate, Johnson asserts, the more your audience will like you and see you as relatable.
Personal branding is self-awareness and self-preservation.Cynthia Johnson
The word "résumé" derives from a French word that means "summary" or "abstract." Your résumé is available in aggregate online, and people use its information to make decisions about you. Résumés are ubiquitous. They form the basis for whether your rideshare driver picks you up and whether people swipe left or right for you on a dating app.
Johnson's crucial question is, do you control your brand? Consider your online behavior. Would you be embarrassed if a prospective employer read one of your scathing reviews or saw your party pictures? Remove images or posts you're no longer proud of or that fail to help you achieve your goals.
If you know of damaging content posted about you online, Johnson cautions you to stay away from those sites. Going to them will drive up their importance, and search algorithms will direct potential employers to those sites when they conduct searches for you online.
Minimize Irrelevant Content
Search for yourself online, using a so-called incognito browser window while you're not logged into a platform like Google or YouTube. Search for your name, phone number, social media handles and email addresses. Note the content you don't want posted publicly, and see how Facebook and Google categorize you. Turn off the ad personalization options on Amazon, Facebook and other platforms. 
Proof
Your personal proof is – among other evidence – your credentials, your education and your experience. Most employers value references over credentials, but they seldom check either.
People identify brands with other people, and just like people, brands are judged based on the best and worst things they have ever done in the eyes and perspective of the person judging.Cynthia Johnson
Social proof means other people vouch for you. Your followers on social media, your professional references, published work and experience constitute social proof. Opportunities to build social proof will come to you randomly. Take advantage of them even if you don't feel ready.
Formal Information
Rumors spread by word of mouth. Media attention spreads them farther. Negative rumors spread more quickly than positive rumors. Social media platforms connect large groups of people and accelerate rumors, in just one example of how easily misinformation spreads.
People care more about whom you know than how you know them and [more about] what they think of you than about what you know.Cynthia Johnson
Johnson posts on social media only about her job and career successes. As a result, people in her circles have come to understand that she is an expert in her field. Meanwhile, she leads an entirely separate private life that she doesn't chronicle in public. Take your expertise seriously, and fold it into the authority and credibility of your personal brand. Consider the opinions your clients or employers may form about everything you publish.
Brandbuilding depends on how you influence others – how you make them feel. For example, consider Elon Musk, who burnished his personal brand as a socially aware tech genius. A single tweet in 2016 alerting his followers to a press conference about Tesla added 2% to the value of its stock.
Network
Your network might be the most valuable component of your personal brand. Identify the result you want from your networking relationships. Link with people you want in your network. Let them know you viewed their posts, and put your name in front of them. Follow them on Twitter, and reach out to them on LinkedIn. The ideal next step is face-to-face meetings. Think of ways you can be valuable to the people you meet and help them achieve their goals.
Post your email address in your profiles, and explain why people should reach out to you.
Post Accomplishments
Johnson emphasizes that you must not be so humble that no one knows about your achievements. She repeatedly advocates publicizing your accomplishments.
Most jobs get posted, and referrals fill most jobs. Thus, Johnson counsels, make sure you're the person who comes to mind when someone seeks your type of expertise. Post content to LinkedIn and participate in online groups to build recognition.
When you develop your brand message, create content and become known for your expertise, rebrand everything at once, so you don't risk confusing your followers. Don't be shy about claiming your place as an expert.
Imposter syndrome impedes qualified people from landing jobs and helps unqualified people retain their positions. Send notices of your achievements to your partner, family members and acquaintances, and share their praise about you. Post what you've done – not what you're going to do – and don't add commentary.
Basic and Amusing
Cynthia Johnson offers a basic primer for online brand building. She writes for people with little practical or life experience with brand-building, especially online. Because almost anyone in junior high or high school today is all too aware of what creating an online brand involves, Johnson's manual might prove more helpful for older members of the workforce – for instance, those who are active on Facebook or even Instagram, but who have little idea how to create a more sophisticated online presence.
Johnson's advice about hunting down every time you appear on the web will help readers discover the extent of their online presence. She writes with energy and verve, and makes various dull but necessary brand-building tasks seem less like chores and more like purposeful steps in taking control of your online identity.
Other worthwhile books on personal branding include The Brand Called You: Make Your Business Stand Out in a Crowded Marketplace by Peter Montoya; Reinventing You: Define Your Brand; Imagine Your Future by Dorie Clark; and From Individual to Empire: A Guide to Building an Authentic and Powerful Brand by Laura Bull.