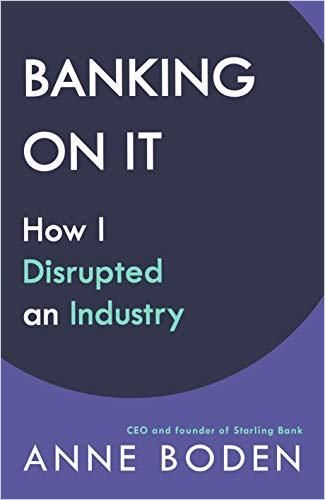 One Woman's Bank
Anne Boden details the astonishing narrative of how she created the United Kingdom's first all-digital bank.
In this intriguing insider story, British banker Anne Boden – founder and CEO of Starling Bank, the United Kingdom's first digital-only bank – describes her battle to build a virtual financial institution. Boden acknowledges she's an unlikely fintech entrepreneur: She comes from the staid world of British banking, and she didn't catch the start-up bug until she was in her 50s. In her compelling narrative, Boden offers a frank account of her setbacks and successes. Would-be entrepreneurs will find her advice particularly instructive.
The Times named Boden's tell-all one of its Top Five Best Business Books of the Year. The Observer called it "a banking blockbuster," and The Financial Times said that "if there was ever a business book suitable for TV adaptation, this is it." Yahoo Finance wrote that it "sent shock waves through the tight-knit world of UK tech and venture capital."
A Good Idea
Boden cautions that entrepreneurs often think success demands a breakthrough brainstorm, something entirely new. She found instead that start-up achievement depended more on execution than innovation.
Entrepreneurial success is far more dependent on the character and determination of the individual driving the start-up.Anne Boden
In 2013, when she left her job at an Irish bank to launch a new financial institution, her idea was to launch a virtual bank with no branches and a focus on current accounts. Instead of her bank making loans, Boden intended that it use technology to keep costs low and that it get its revenue from interchange and overdraft fees.
Facing Obstacles
Boden concedes that she was 54 at the time, much older than the typical founder, and a woman in a male-dominated sector. She admits that she had neither money nor a banking license. And, she reveals, she found asking for money demoralizing.
The first few weeks of knocking on doors was a miserable, soul-destroying, energy-sapping job.Anne Boden
She discloses that many potential investors declined or pointed out flaws in her plan. With little cash, she met with KPMG about shepherding her fledgling bank through the regulatory process. She relates proposing that the accounting giant work on a contingency basis and receive its six-figure fee when the bank launched. Boden was thrilled when KPMG agreed.
Boden burned through £60,000 [$82,680] in cash per month, mortgaged her house and ended up on the hook for £2 million in professional fees. She chronicles landing a partnership with Michael Dell, the Texas billionaire. But, she laments, Silicon Valley investors didn't seem to understand the banking sector or to grasp the concept of a founder in her 50s.
Venture Capital
Ultimately, Boden explains, three venture capital firms showed interest, and one agreed to a £3 million investment. But, she laments, the firm prohibited its money from going toward her bill for unpaid fees. Starling was on the brink of failure when its chief technology officer quit. She warned her eight employees that the company would fold within a week, and then she learned her CTO was seeking to push her out and devalue her stake. Boden describes her shock when, after she warded off the coup, her entire team quit. Persevering, she recruited a new team.
I had no team, no money and millions of pounds of debt.Anne Boden
Boden offers her startling and helpful approach: Starling Bank had no IT department because she had noticed that, at many banks, the IT departments remained apart from the core business. Her philosophy was that, if technology was to be fundamental to Starling, IT should not be a separate unit but integrated into all parts of the business.
Now we were in play we seemed to get a vastly different reception. Doors that were previously closed began to open.Anne Boden
Boden's business caught the attention of Harald McPike, an Austrian billionaire. He agreed to invest £48 million, but he took two-thirds of the company.
The Launch 
Boden sets the stage for Starling's launch by citing how the UK's four largest banks already had 80% of the market. What's more, Mondo, the digital bank started by her defecting team, won regulatory approval a month after Starling did.
Boden gleefully admits her revenge: Mondo changed its name to Monzo, and Boden discovered Monzo hadn't secured the domain names monzobank.co.uk and getmonzo.co.uk, among others. So Boden bought them. When Monzo launched, half a dozen domain names led to Starling instead of to Monzo. After making her point, Boden turned over the domain names to her rival to settle old differences.
Boden details the shopping spree she enjoyed when Starling's first batch of debit cards arrived; she wanted to make sure the cards worked. Boden writes amusingly of persuading a store manager to ring up £3,000 in purchases. One glitch, the author divulges: At first, Starling Bank's cards wouldn't work at retailers whose names included an ampersand – such as H&M and M&S (Marks and Spencer).
Criticism is what you need if you wish to get the best possible product.Anne Boden
Boden tells of an imaginative promotion for which she ordered 5,000 pairs of touchscreen gloves labeled with the bank's logo; these enabled customers to use Starling's app when they were outdoors in wintertime. Boden recalls visiting a youth rugby league game on a chilly Sunday and handing out gloves to parents.
Success
Boden relates how Starling Bank won regulatory approval and became available through Apple's app store. The company drew £1 million in deposits within a month of its launch. The author describes giving her team the ambitious goal of opening 30,000 commercial accounts in a few months. She cheerfully details how, in the fintech world, employees expect outlandish goals, so no one told her the plan was unworkable.
Female bosses suffer from boiled-egg syndrome. We're either too hard or too soft, but never quite right.Anne Boden
Boden is rightfully proud that Starling reached her goal of 30,000 commercial accounts and won a £100 million grant from the British government. She celebrates raising £263 million in funding and opening a million accounts by November 2019.
Uncynical Advice
Boden is a lively, unpretentious author who wins readers' sympathy immediately. She never hides her mistakes, and you will likely be unable to avoid rooting for her. The novel aspects of Boden's quest will draw profound interest from anyone in the tech sector. Businesswomen will find much to admire and appreciate in Boden's straightforward tactical and strategic business advice.
Other compelling guides to the world of disruptive start-ups include The Innovation Stack by Jim McKelvey, The Lean Startup by Eric Ries and The Hard Thing About Hard Things by Ben Horowitz.