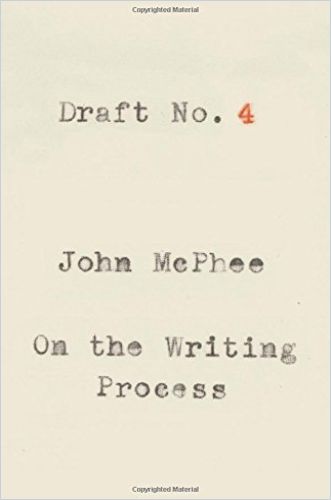 Nonfiction Strategies From the Master
Renowned, bestselling enduring New Yorker non-fiction avatar John McPhee offers invaluable advice for writers.
Famed nonfiction genius John McPhee details his strategy for writing magazine pieces and books: Start with months of reporting and obsessive note-taking. Add months of organizing your notes, thinking and writing. Finish with months of editing and fact-checking.
The approach to structure in factual writing is like returning from a grocery store with the materials you intend to cook for dinner.John McPhee
McPhee regards developing the skill to create sophisticated narrative as an individual task that rejects hard rules or easy tips. His thoughts on his writing career make a wonderful read, though his advice will prove applicable mostly to longer – commissioned – projects. McPhee grants readers the great pleasure of learning how a master works.
The Lead First
McPhee once spent two weeks lying on a picnic table and staring at the sky. It was 1966, and he had spent eight months researching a story for The New Yorker. He had so much material he had no idea where to begin. When this happens, he says, stop looking at your notes and look into your mind. Find a good starting point and write it. A polished lead will give you direction.
The lead – like the title – should be a flashlight that shines down into the story. A lead is a promise.John McPhee
The length of your lead depends on the length of your piece. Composing the lead – any writer's most difficult chore – shapes the rest of the story. Your lead shouldn't promise anything your story doesn't deliver.
The End Next
When McPhee wrote a 5,000-word profile of comedian Mort Sahl for Time magazine, his notes overwhelmed him. He wrote a one-sentence lead, but was unsure about what should come next. So, he wrote the ending. This gave him a starting point and a destination. He turned to his notes as if laying out the ingredients to prepare a meal.
Structure
McPhee's adventures don't always lend themselves to chronological recounting. For one piece, he rode more than 3,000 miles cross-country with a truck driver. A chronological recitation would have proven unbearably dull. So, instead, McPhee pulled out themes and details. Truck stops were one theme. Another was the driver's calm demeanor. When the driver toots his air horn at a girl in a bikini in Oregon, McPhee notes that it's only the fourth time in 3,000 miles he blew the horn.
Almost always there is considerable tension between chronology and theme, and chronology traditionally wins.John McPhee
A thematic approach lets a writer show creativity and wit. McPhee once rafted down a river with two experienced mountain men. Approaching a harrowing rapid, one got out of the boat and walked downstream. His friend asked why he didn't ride the rapid. "Because I'm chicken," the man replied. McPhee ended the passage with a bit of white space. He followed it with a recitation of nearly three dozen Western mountains that man had been the first to ascend.
Gather Material
McPhee takes far more notes than he ever includes in his articles. While working on a story about riverboat barge captains, for example, McPhee's reporting approach was simple: Wait for things to happen.
Display your notebook as if it were a fishing license.John McPhee
McPhee scribbles in his notebook constantly. To put a recalcitrant interview subject at ease, he suggests, pretend to take notes, even if the source says nothing worthwhile. If a subject isn't delivering good material, stop taking notes to spur him or her to improve. If you don't understand something, keep asking the interviewee to explain it.
Calm Observation
When people ask McPhee about preparing for interviews, he shrugs. He does sufficient research not to seem rude to his sources, but not much beyond that. His deep research comes after interviews, as he hones in on the material that captures his interest.
I have no technique for asking questions. I just stay there and fade away as I watch people do what they do.John McPhee
Even the most astute writer may misinterpret a scientist's pronouncements. Once, after interviewing a Princeton geologist, McPhee sent the scientist a passage about maar-diatreme volcanoes. The scientist told the writer it was partly correct. McPhee took another pass, and the scientist said the new material was 75% correct. Only on the third attempt did he compose a description of the scientist's work that passed muster.
Quotations = Conundrum
According to the conventions of nonfiction, placing words inside quotation marks signals to readers that the writer is presenting a verbatim transcript of what someone said. But spoken words and printed words are two different things. For example, McPhee removes "um" and "uh" from direct quotes. In interviews for his story about a canoe maker in Maine, the subject used the word "bummer" once a minute. McPhee struck it from most of the man's quotes. Even so, readers insisted there was no way the man said "bummer" so frequently.
In complex situations, quotation, fairly handled, can help keep judgment in the eye of the beholder, and that is a deeper mission for a writer than crafting a sermon from a single point of view.John McPhee
While profiling actor Richard Burton, McPhee sat in on the actor's interview with two News of the World reporters. The men took no notes and didn't record the conversation. Yet their story contained multiple quotes McPhee had never heard Burton utter.
Story Titles
New Yorker editor William Shawn had a rule about titles: The subject of the piece could not be the story's title. McPhee proposed titling his piece about oranges "Oranges"; Shawn said no.
Fiction, in my view, is harder to do than fact, because the fiction writer moves forward by trial and error, while the fact writer is working with a certain body of collected material, and can set up a structure beforehand.John McPhee
McPhee quoted a song lyric describing the fruit as "golden lamps in a green night."  Shawn used that quote as the title.
Avoid Celebrity References
McPhee once polled his Princeton class. All 19 students knew Woody Allen, Muhammad Ali and Winston Churchill. None knew George Plimpton, Bob Woodward or Sophia Loren – household names to previous generations. McPhee insists that tying your writing to celebrities dates it and weakens its impact.
The Best
John McPhee's colleagues regard him as among the best nonfiction writers in American letters. The hallmarks of his style include elegant grammar and sentence construction, revealing understatement, unstoppable narrative drive and remarkable –though seldom directly expressed – compassion for his subjects. Because McPhee has been writing for so long and so visibly in The New Yorker, generations have studied his work to improve their own. Here, with classic dry humor and self-effacement, McPhee provides basic, workable rules and tactics any writer can benefit from and follow.
John McPhee has written 33 books, including Coming Into the Country; A Sense of Where You Are; Annals of Where You Are; Levels of the Game and Looking For a Ship.