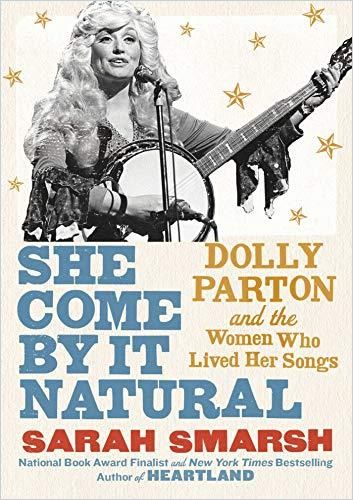 More than a Country Icon 
Sarah Smarsh offers a biography of Dolly Parton covering her cultural, political and business impact. 
In this Time Top 100 Book of the Year, music writer Sarah Smarsh – author of Heartland, a 2018 National Book Award finalist – details how country superstar Dolly Parton forged her success.
Smarsh developed this chronicle from her 2016 articles in No Depression magazine – which covers the roots music known as Americana. Smarsh examines female resilience and power through the lens of Parton's art and life. Drawing on her own upbringing in rural poverty, Smarsh showcases Parton's journey from Appalachia to global stardom, her music and her innate feminism, and how they exemplify and illuminate an often misunderstood and discounted American subculture.
In my family, country music was foremost a language among women.Sarah Smarsh
Smarsh treads classic rock-writer territory, using the life of an icon to reflect American values – and the author's life – while parsing Parton's music in terms of politics, feminism, emotional pain, yearning for freedom and breakthrough autonomy. Parton does seem to embody the themes Smarsh depicts her as representing, and Smarsh's remarkable intelligence and sensitivity offer insight into Parton's art, career and financial success.
Poverty
Sarah Smarsh grew up in Kansas rural poverty – as described in her bestseller Heartland. As she recounts, Dolly Parton's lyrics and life shaped her feminism.
Parton grew up as one of 12 kids on a Smoky Mountains farmstead that lacked electricity and indoor plumbing. Parton's mother's family was musical; though poor, her father had business sense. Parton's mother and her maternal grandfather, a minister, thought Dolly, with her earrings and teased hair, was "possessed." Parton knew she was the one who quite deliberately created her on-stage persona – not the devil. Smarsh writes movingly of how the very dressed-up women Parton saw in magazines seemed to her to be safe from male assault, which poor women are likelier to face than middle-class women.
She built her image… so that she can't sing or look in the mirror without representing women who go unheard and unvalidated every day. Sarah Smarsh
Parton's songs reveal the conflict between hard life experiences and gratitude for the present moment, expressed with inclusive positivity. Parton stays away from public politics but, at her live performances, she reiterates that no one should feel bad about who they are or where they came from.
Ownership
Parton's early successes included writing a BMI Song of the Year and singing her top-10 hit, "Dumb Blonde" on national TV. At 21, Parton accepted a $60,000 salary to co-host a nationally syndicated show starring country music legend Porter Wagoner. Although her pay was unfairly low, it initially seemed like a huge windfall to Parton. Smarsh writes that Parton now regards her seven years on the show as indentured servitude.
I look like a woman, but I think like a man, and you better pay attention, or I'll have your money, and I'll be gone.Dolly Parton
Before Parton left the show, she wrote, "I Will Always Love You" for Wagoner. Smarsh reveals Parton's business sense when she notes that years earlier, Parton had created her own publishing company. She owns all the rights and revenues from her songs. This was quite unusual for any songwriter at the time, and it showcases Parton's business foresight and independence. She is still the only person who profits from her songs.
When Elvis Presley sought to record "I Will Always Love You," Parton initially agreed to let him cover it. Moments before recording started, Elvis's manager told her Elvis would take 50% of the song's future publishing revenue – Presley's usual cut from other songwriters whose material he recorded. Parton refused.
Years later, when Whitney Houston performed the song on the soundtrack of 1992's movie The Bodyguard, Parton earned enough money, she said, to "buy Graceland." 
Sexism
In 1980, Parton acted in the movie 9 to 5, with Jane Fonda and Lily Tomlin.  Parton played a flashy blonde secretary, Doralee, a reflection of her onstage presence who suffered mistreatment similar to Parton's. She was another woman whom men underestimated at their peril.
Smarsh, born the year the film debuted, comments that in her 20-year career, sexism has affected her at every job. The author's autobiographical reference seems like an interruption here, but Smarsh's personal history illuminates her empathy with Parton. 
When Parton lost weight in the 1980s, she had surgery to restore her breasts to their previous size. Many people ignore her wit and creativity, judging her solely on her appearance. She often jokes, about herself, that it is very expensive to look so tacky.
It makes sense that a woman whose mere mention provoked boob jokes might reclaim not just the joke but the boob itself – as if to make clear, perhaps, that no punch line had caused her to feel shame. Sarah Smarsh
In the 1980s, Parton went through a physical and emotional breakdown. Her low point came in 1982, when the United States failed again to ratify the Equal Rights Amendment. Smarsh reveals that Parton now regards her breakdown as a rebirth. Afterward, Parton created Dollywood, a theme park in her home mountains.
The Business of Dolly
Her business advisers opposed starting Dollywood, so she fired them. By 2016, it had become Parton's most profitable investment, pumping $1.5 billion into the local economy. In 2018, Parton removed "Dixie" from the name of a dinner-theater attraction at the park.
She had conquered a man's world…and found it a place that would treat her like dirt even when she was on top.Sarah Smarsh
Parton now owns theme parks, a film company, a record label, her own artistic output and investment properties. Her philanthropic Imagination Library program has donated 133 million books to children worldwide. When COVID-19 hit in 2020, Parton gave $1 million to Vanderbilt University for research.
Two Sagas
Smarsh resolutely entwines her life story and attitudes with Parton's, citing Parton as her exemplar. Your interest in her telling of Parton's life may hinge on your interest in Smarsh's own saga. But the author inserting herself in this tale doesn't feel like narcissism; Smarsh wants young women and persecuted members of the LGBTQ+ community to recognize Parton as an icon of politicized femininity and not to underestimate the country star because of her appearance.
Smarsh repeatedly emphasizes Parton's political actions, even though Parton downplays them. This sets up a certain tension by reminding readers that as Smarsh tells Parton's saga, she is also relaying it in order to deliver her own messages. At times there is too much Smarsh in this account of Parton's life, but you never doubt her sincerity.
Her entire life [has] broken ground – for female artists, for poor girls…for women who would like to be bosses without hiding their breasts.Sarah Smarsh
Sarah Smarsh's other books include Heartland: A Memoir of Working Hard and Being Broke in the Richest Country on Earth, It Happened in Kansas and Outlaw Tales of Kansas, co-authored with Robert Barr Smith. Dolly Parton wrote My Life and Other Unfinished Business and Dream More: Celebrate the Dreamer in You. She also co-authored the mystery Run Rose Run with James Patterson and wrote Dolly Parton, Songteller: My Life in Lyrics with Robert K. Oermann.