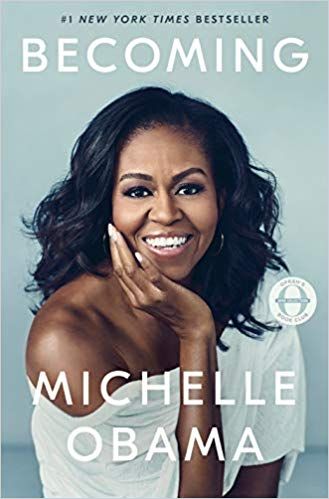 Michelle Obama's Life Story
Michelle Obama movingly identifies and explores her life's formative stages.
America's first African American First Lady invites you to relive her journey, from the tough South Shore neighborhood of Chicago through the Ivy League and on to the White House. Obama writes with wit, depth and insight. She explores issues of public education and race as she describes how she met and started a family with Barack Obama and shares her struggles to adapt to life in the public eye. Obama's honesty, optimism, authenticity and sense of wonder illuminate her life story.
Becoming is never giving up on the idea that there's more growing to be done.Michelle Obama
This number one New York Times bestseller was an Oprah's Book Club Pick, and an NAACP Image Award winner. The New York Times called Becoming, "A serious work of candid reflection by a singular figure of early-21st-century America…refined and forthright, gracefully written and at times laugh-out-loud funny." Time found it, "…inspirational without trying to be." The Boston Globe said, "A complex, accomplished life recounted with confidence and candor…Every page sparkles with directness and grace."
Growing Up
Michelle Robinson Obama relates her childhood history, growing up in a two-family home on Euclid Avenue in the South Shore neighborhood of Chicago. Obama's father, Fraser Robinson, was a precinct captain for the city's Democratic Party.
In 1969, Obama writes, her neighborhood and school were middle class and racially diverse, but each year, she explains, more white families moved away. Obama presents her mother, Marian, as level headed – never praising success too much or becoming too upset over problems.
If in high school I felt as if I were representing my neighborhood, now at Princeton I was representing my race.Michelle Obama
Obama attended a magnet school where she befriended Santita, the daughter of Reverend Jesse Jackson. Through Santita, Michelle says, she learned what it means to work for something larger than herself, and she first witnessed both the messiness and excitement of politics. 
Becoming a College Student
Obama shares that a college counselor told her dismissively that she wasn't "Princeton material," but in 1981, she matriculated there. At Princeton, Obama notes, fewer than 9% of the members of the freshman class were Black.
Obama describes her subsequent three years at Harvard Law School, after which she joined the Chicago law firm Sidley Austin. A senior partner, she says, asked her to mentor a summer associate, Barack Obama, whose reputation as a gifted law student preceded him. Michelle Obama explains that Barack was a community organizer who was happier reading or fixating on complex, abstract issues than socializing or worrying about upward mobility.
Michelle Obama rhapsodizes over her and Barack's electrifying first kiss. The new couple, she celebrates, discussed each other's thoughts on every subject. After Barack returned to law school (where he became the first Black president of the Harvard Law Review), they began a long-distance relationship. Michelle Obama also describes their Christmas break in Hawaii, where she met Barack's modest, middle-class family, who made her feel immediately comfortable.
She discusses her grief when her father passed away at 55, after fighting Multiple sclerosis (MS) for years. The following summer, Michelle accepted the position of assistant to Mayor Richard M. Daley, and Barack asked her to marry him. She describes their wedding, which was held in October 1992 in a church on the South Shore.
There were days, weeks and months when I hated politics. And there were moments when the beauty of this country and its people so overwhelmed me that I couldn't speak.Michelle Obama
Michelle Obama candidly discusses her fertility struggles dating from 1966, when  Illinois elected Barack to the state senate. She relates that the couple decided on in vitro fertilization, and she gave birth to Malia Ann Obama on July 4, 1998. Michelle Obama also rejoices that on June 10, 2001, Natasha (Sasha) Marian Obama arrived. The author is frank that the new parents experienced some marital stress, balancing child-raising with Barack's political life, but she reports that counseling helped them resolve their concerns.
First Lady
In the fall of 2004, Michelle Obama writes, Barack decided to run for US Senate; his 17-minute speech at the 2004 Democratic National Convention spurred his landslide win.
He spoke with hope, projected hope, almost sang with it really.Michelle Obama
Michelle describes her hesitancy over Barack running for president, but she felt the nation needed his leadership. Once in the White House, she prioritized getting Sasha and Malia settled. She enrolled them at Sidwell Friends, the private Quaker school Chelsea Clinton had attended. Michelle reports that she also convinced her mother to join them in the White House.
Michelle Obama recalls the 2012 re-election campaign with horror: She describes the way the Republican-controlled congress sided against Barack on every issue, as the birther movement, re-galvanized by Donald Trump, questioned his citizenship. Ultimately, she celebrates, Barack won the election, garnering the most votes from young people, minorities and women.
She recalls the family's final year in the White House and takes stock of their successes, such as the new health care law, and their heart-wrenching failures, such as the inability to pass gun regulation. Michelle relates with pride that in 2015, she spoke at the Democratic Convention for Hillary Clinton, and critiqued Trump's eventually successful presidential campaign by appealing for dignity.
When they go low, we go high.Michelle Obama
Obama relates that she left the White House feeling grateful, and she promptly disabuses everyone of the idea that Michelle Robinson Obama would ever run for public office, let alone the presidency.
Sincere Intelligence
Many commentators who knew both of the Obamas in law school said they assumed Michelle would go on to be President, not Barack. Michelle Obama demonstrates why they believed that in this open, brilliant, confessional, heartfelt telling of her life story. She proves to be a singular writer, with a relaxed, accessible style. She is never pretentious or fake-humble; her sincerity might be her most appealing quality.
We were the 44th First Family and only the 11th family to spend two full terms in the White House. We were, and would always be, the first Black one.Michelle Obama
Anyone hefting this book might feel a reasonable uncertainty about spending this many pages with Michelle Obama, but a quick read of any random page, let alone the entire first chapter, will convince anyone – even her political opponents – of the charm and worthiness of her tale.
Michelle Obama also wrote A Life. Companion reading includes Barack Obama's A Promised Land, The Audacity of Hope and Dreams from My Father; Ruth Bader Ginsburg's In My Own Words; and Hillary Clinton's What Happened and Hard Choices.