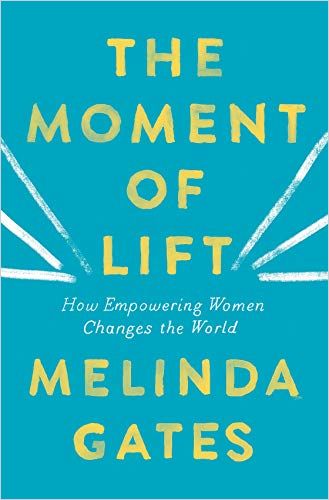 Melinda Gates's Journey
Melinda Gates describes how the Bill & Melinda Gates Foundation works to break cycles of poverty, ignorance, disease and discrimination.
Melinda Gates is a powerful advocate for women and girls, and she has the rare ability to fund the causes she supports. The work of the Bill and Melinda Gates Foundation is her primary subject here, a commitment she has announced she will continue to pursue despite her pending divorce. Seeking to make a big impact through the Foundation, she realized – as she writes here – that it could most effectively help families and communities by helping women and girls. Gates focuses on lifting up women and helping their families escape poverty.
The primary causes of poverty and illness, are the cultural, financial and legal restrictions that block what women can do – and think they can do – for themselves and their children.Melinda Gates
Gates's insights aren't new, but her abilities and her dedication to backing up her beliefs with donations seem extraordinary. She writes that it took her years to realize that she's a full-fledged feminist, but her dedication to gender equity and to doing the most good for the most people underlie her Foundation initiatives. Her voice comes across as firm and sure, and she strengthens her calls to action by including people from multiple groups. Gates illuminates the way intelligent investments in women and girls elevate societies. Those curious about her evolution as a feminist will find her thoughts particularly intriguing.
No less a literary critic than Barack Obama said that Melinda Gates, "digs into the data and powerfully illustrates issues that need our attention – from child marriage to gender inequity in the workplace." Tara Westover, author of the number one bestseller Educated, called this, "a lesson in listening. A powerful, poignant and ultimately humble call to arms." 
Partners
Gates makes it clear that she and Bill Gates evolved their 27-year marriage and philanthropic partnership consciously, and that its evolution was not always smooth. Early on, she says, the couple agreed they would share difficult work. Such sharing thwarts the unconscious creation of hierarchies. Melinda Gates posits that when women understand that they have the power to challenge and change male dominance, they can work to do away with hierarchies, so men and women can become true partners.
Uplifting Women
After a successful career at Microsoft, Gates became a stay-at-home mother. As her three children grew, she devoted time and energy to philanthropic efforts.
Gates details how the Foundation seeks to solve unaddressed problems and to find opportunities where small investments can leverage transformation. She explains that she and Bill began their education as philanthropists in Africa when they learned that tens of thousands of African children were dying because their families lacked access to – and, often, had no knowledge of – low-cost medical interventions. The Foundation invested in vaccines in Africa to promote global health. The Gateses learned that poverty and disease fuel one another. 
It was the first time we saw clearly what happens when there's no market incentive to serve poor children. Millions of kids die.Melinda Gates
Gates describes the Foundation's work in providing maternal and newborn health care, but she cautions that attempts to change behaviors in traditional cultures must be respectful and transparent. In poor communities, she notes, women often suffer marginalization, and some societies do not include women in their community improvement efforts.
The Vatican criticized Gates, a Catholic, for her role in urging poor women to use contraception. She notes that Catholic Church provides education and health care in many communities, so its viewpoint carries great weight. Still, Gates points out, contraception saves lives and fights poverty. She believes that laws prohibiting contraception spring from efforts by men to control women.
In the United States, Gates observes, teen pregnancy is now at a historic low due to increased access to contraception through the Barack Obama-era Affordable Care Act and the Teen Pregnancy Prevention Program for low-income youth.
Gates details the work the Foundation does to focus its US funding on education. Her belief is that a strong education promotes equal opportunity, while unequal education widens social divides.
Inclusive
Gates urges societies to codify their societal rules to protect everyone's equality, but some cultures are abusive and seek to exclude particular groups. In workplaces worldwide, women are paid less, trained less, promoted slowly, trained poorly and mentored less often than their male counterparts. Sexism is systemic. 
Gates argues that women and communities benefit from equality and that the energy wasted to uphold dominance and discrimination could serve far more productive purposes. Empowering women, Gates teaches, empowers societies.
Call to Action
Melinda Gates's sincerity and passion are unquestionable. She describes without vainglory the years of self-education, hard work and commitment her passion has demanded. She feels strongly that anyone can devote a portion of her or his energy and resources to helping others, something she sees as a fundamental human privilege and necessity.
We have to include everyone, even those who want to exclude us…We have to use our power to bring people in…We have to end factions.Melinda Gates
Gates, admirably, does not try to conceal the power she wields in the world, yet she calls for sensitivity to local cultures and norms and for avoidance of a colonial mentality. Most people in Melinda Gates's position would live lives of indolent luxury. Instead, she chose activism, and her articulate account of her activities will inspire others to choose activism as well.
Ancillary readings might include Chimamanda Ngozi Adichie's We Should All Be Feminists; Bill Gates's How to Avoid a Climate Disaster; Michelle Obama's Becoming and Ruth Bader Ginsburg's My Own Words.