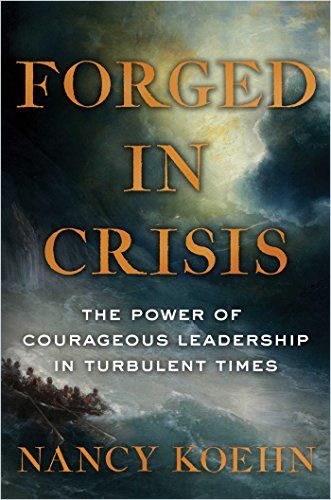 Made, Not Born
Best-selling Harvard professor Nancy Koehn studies leadership through the lives of five modern heroes and one heroine.
In this Wall Street Journal bestseller, Nancy Koehn argues that the best leaders are "forged," not born. Through detailed accounts of great leaders' struggles, perseverance and triumphs, Koehn – who holds the James E. Robison chair of Business Administration at the Harvard Business School – offers a nuanced if not entirely original perspective on leadership.
For the most part, Koehn breathes new life into familiar sagas with her prose skills and eye for telling detail. She gained admirable reviews from many publications, historians, academics, authors and CEOs. 
Made, Not Born
True leaders, Koehn contends, are able to detach from the moment, regard problems through a wide lens and take definitive action, even if that action is unpopular, dangerous or fatal.
Courageous leadership is actually a result of individual people committing to work from their stronger selves, discovering a mighty purpose, and motivating others to join their cause.Nancy Koehn
She holds that leaders learn from experience, acknowledge weaknesses while exercising strengths, and know when they should lead, embrace the moment and get involved.
Ernest Shackleton
Explorer Ernest Shackleton often serves as an exemplar of determination. On his first attempt to reach the South Pole in 1909, he came within 100 miles of his goal, but had to turn back. 
What was the best thing to do? How should he shape his tactics in the next round of the fight with death, with the lives of 28 men at stake? I realized the loneliness and penalty of leadership.Shackleton expedition photographer Frank Hurley
On August 4, 1914, as England declared war on Germany, Shackleton set sail on the Endurance. Polar ice trapped the ship in January 1915. For months, the crew hunted seal and kept their spirits up. Shackleton improved morale by promising to pay them even though they could not complete their mission.
Fighting ice floes, tidal waves and fog, Shackleton commanded a lifeboat with a crew of five, successfully making it to an outpost of civilization and returning to rescue his 22 men. 
Shackleton and his crew returned to England in 1917, when World War I was raging. Nobody cared about polar expeditions. Shackleton died in relative obscurity in 1922. Over time, as Koehn recognizes, he came to exemplify effective crisis leadership.
Abraham Lincoln
Lincoln committed to an America without slavery when he signed the Emancipation Proclamation of 1863. As Koehn depicts events, Lincoln used his Gettysburg Address masterfully to detail the trajectory for change, acknowledge stakeholder concerns and identify the trade-offs that come with any negotiation. Koehn's reframing of that address to bring out its businesslike aspects will either seem deeply incongruous or innovative and insightful, depending on how you prioritize business goals. 
All courageous leaders confront the limitations of their own agency. They then confront an important choice: whether to embrace the possibilities of decency and hope or those of baseness and despair.Nancy Koehn
Lincoln has become a myth, but Koehn cites recent historians who appreciate his complexity, humanity, doubt and patience as crucial leadership qualities. 
Frederick Douglass
Enslaved throughout his youth, Frederick Douglass – born Frederick Bailey – became an abolitionist crusader. Douglass joined other American Anti-Slavery Society speakers, putting his life on the line.
Having written his autobiography, Douglass started a publication, The North Star, and helped the Underground Railroad. In the 1850s, he declared the Constitution "an antislavery document," and said slavery lacked moral or legal justifications. Douglass, Koehn notes, helped bring about the 15th Amendment, which assured Black men the right to vote and run for Congress. She offers Douglass as the exemplar of change initiated at the grassroots level in service of a grander purpose.
Dietrich Bonhoeffer
Koehn details a lesser-known hero in anti-Nazi German clergyman Dietrich Bonhoeffer. When the state church, the Reichskirche, would not stand up to the Nazi Party, Bonhoeffer founded the Confessing Church, which opposed anti-Semitism. This made him a Nazi target.
When today the synagogues are set afire, tomorrow the churches will burn.Dietrich Bonhoeffer
In 1937, the Nazis banned Bonhoeffer from public speaking and closed his seminary. They arrested him in spring, 1943. In prison, he worked on his unfinished masterwork, Ethics.
Bonhoeffer died in a concentration camp in April 1945, weeks before Hitler's suicide and the war's end. Bonhoeffer's 1937 book The Cost of Discipleship has become a classic. Perhaps because he is the least-known of Koehn's heroes, her discussion of him proves uniquely passionate and moving.
Rachel Carson
Koehn explains that after Rachel Carson attended the Pennsylvania College for Women in the 1920s, she found a calling in writing and ecological issues. Koehn depicts Carson as struggling against systemic misogyny, and reminds readers that most women of that time did not receive a college education.
In 1928, Carson enrolled at Johns Hopkins University to pursue a PhD in zoology, but she abandoned her studies to care for and support her family.
The materials of science are the materials of life itself. Science is part of the reality of living; it is the what, the how and the why of everything in our experience. Rachel Carson
Simon & Schuster published Carson's first book, Under the Sea Wind, in 1941. In the late 1950s, Carson discovered ecological conservation. She undertook a tenacious investigation to report her next book, the groundbreaking Silent Spring. Carson hypothesized that pesticides could change DNA, making cells susceptible to cancer, and recognized that insects would build resistance to insecticides.
Koehn laments that Carson died of cancer in her 50s, without seeing how her writing influenced a ban on DDT, the passage of the Clean Air Act and the creation of the Environmental Protection Agency both in 1970. Carson's research and her eloquent words framed the environmental movement for decades to come.
Unlikely Suspense
Koehn offers both well-known and lesser-known heroic leaders. She creates suspense by opening each section with its protagonist on the edge of crushing defeat. Though at times this reads as a literary device, Koehn pivots from that cliché by showing how each leader – at that moment – found within himself or herself a new level of leadership.
Her depiction of each person's journey from near-despair to accomplishing their goals – though, crucially, not always triumphing – sets Koehn apart and makes this an inspiring leadership book for adults, though it will likely find a home as required college reading.
Nancy Koehn also wrote Ernest Shackleton Exploring Leadership; Brand New; Oprah, Brand Re(New); Oprah, Leading with Heart; and The Power of Commerce.