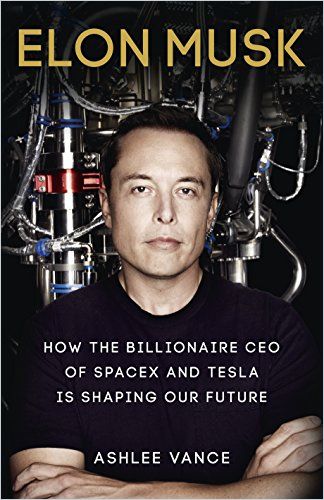 Looking at Musk
Ashlee Vance takes a long, perhaps too admiring look at Elon Musk, Paypal, Tesla and SpaceX. 
Bloomberg Businessweek reporter Ashlee Vance chronicles Elon Musk's life and career – his youth, Paypal, Zip2, Tesla and SpaceX – and how public perceptions of Musk have shifted over time. Vance's description illuminates how Musk's singular personality and inventiveness could disrupt any industry – and most social contexts.
Family
Musk was born on June 28, 1971 in South Africa. From a young age, he read compulsively. When his parents' marriage fell apart, Musk moved in with his father, an emotionally cold and controlling engineer. He made the lives of Elon, his brother Kimbal and their sister Tosca miserable.
Young Musk
Reserved, intellectual and geeky, Elon Musk was an outsider in his home country. He moved to Canada at age 17.
Musk's insistence on explaining the early origins of his passion for electric cars, solar energy and rockets can come off as insecure. It feels as if Musk is trying to shape his life story in a forced way.Ashlee Vance
Musk attended Queen's University, where he fell for Justine Wilson. He transferred to the University of Pennsylvania and, in 1994, spent part of the summer in two Silicon Valley internships, one at Pinnacle Research Institute working on super capacitors and another at Rocket Science Games writing code for video games.
In 1995, Musk and his brother Kimbal formed the Global Link Information Network, later called Zip2. Musk pitched "a searchable database of businesses" that included maps. Elon wrote code, and Kimbal sold software that enabled newspapers to build online directories. When the venture capital firm Mohr Davidow put $3 million into Zip2, it replaced Musk as CEO and coder. In 1999, Compaq bought Zip2 for $307 million.
PayPal
In March 1999, Musk started X.com, invested $12 million and set out to revolutionize banking.
The PayPal episode was a mixed bag for Musk. His reputation as a leader suffered in the aftermath of the deal and the media turned on him in earnest for the first time.Ashlee Vance
Musk faced competition from Confinity, the company that created PayPal. Their war ended in March 2000. Overcoming technical issues and Musk's stubbornness, they merged. PayPal survived the dot-com implosion. Its IPO provided Musk with hundreds of millions of dollars to invest. In 2002, eBay bought PayPal for $1.5 billion.
SpaceX
Musk attended meetings of the Mars Society in 2001 to make contacts in the aerospace industry. He tried to buy Russian ICBMs, but Russia refused, put off by Musk's youth and direct style.
In June 2002, Musk founded Space Exploration Technologies – SpaceX. Seeking to be the budget brand, the "Southwest Airlines of Space," SpaceX set out to build better rockets more cheaply than other companies. When he and his wife lost their first child to sudden infant death syndrome, Musk shut down emotionally, pouring himself into his work.
When Musk ran through the calculations concerning SpaceX and Tesla, it occurred to him that only one company would likely even have a chance at survival.Ashlee Vance
Musk hired a strong team, including Mary Beth Brown, who became his trusted assistant at SpaceX and Tesla. She functioned as a bridge between Musk and the world.
SpaceX became a mix of dedication, energy and ignorance. This led to interdisciplinary learning and success. After its many failures on the launch pad and near death as a business in 2008, NASA gave SpaceX a contract for 12 flights to the International Space Station, paying $1.6 billion and powering the company to success.
Now worth $12 billion, SpaceX launches payloads into space for science and industry. It builds most of its own rockets, and its launches cost far less than its competitors' take-offs. For example, the United Launch Alliance – a Boeing and Lockheed Martin partnership – charged the government $380 million per flight. SpaceX charged $90 million.
Tesla
J.B. Straubel studied engineering and electronics at Stanford. He teamed with Stanford students to compete in solar car races. They agreed to work on a lithium ion car if Straubel could find funding. In 2003, Straubel met Musk, who offered him $10,000 in their first conversation.
Using lithium ion batteries in cars intrigued NuvoMedia founders Martin Eberhard and Marc Tarpenning. Together, they founded Tesla Motors on July 1, 2003, and approached Musk about investing. Musk suggested including Straubel. The founders sought to adapt the power train from an electric car pioneer, AC Propulsion's "tzero." They worked on combining "hundreds of lithium ion batteries in parallel."
In July 2006, Tesla revealed a prototype electric car that it would manufacture in low volume and sell at high prices. Many people invested and asked to buy cars. The company suffered external struggles with suppliers and the press. After clashes over vision and personality, many employees left, including Eberhard.
Musk never relented in asking his employees to do more and be better, whether it was at the office or during extracurricular activities.Ashlee Vance
The Musks had two boys and then triplets. They often fought, in part over Musk's long working hours. In 2008, they divorced.
Musk met Talulah Riley and proposed within weeks. She accepted at a time when Tesla and SpaceX were at crisis points. Tesla was spending $4 million a month by 2008, and Musk poured millions more into the company, including $15 million from investing in Everdream, a cousin's start-up.
Tesla produced stylish, efficient electric cars and provided a network of recharging stations. Motor Trend magazine named the Tesla Model S Car of the Year a few months after the company started shipping. Musk and Tesla were a revolutionary success. Musk sees the electric car as a fundamental way to make the world a better place.
Function over Feeling
Musk seeks to understand the world. He quizzes new employees to absorb their specialized knowledge. More than once, when an employee told Musk something couldn't be done, Musk fired the employee and added his or her responsibilities to his own. By going for impossible deadlines, Musk achieves the amazing faster than most people do the ordinary.
He seems to feel for the human species as a whole without always wanting to consider the wants and needs of individuals.Ashlee Vance
Musk is blunt, emphasizes function over feeling, and has fired loyal, long-time workers. He believes humankind must be space-faring and should colonize Mars.
Overly Awed
As in the Motown song "The Hunter Gets Captured By the Game," Ashlee Vance seems to fall under Elon Musk's spell. Even while citing Musk's inconceivably insensitive or narcissist behavior, Vance writes of Musk with clichés and constant admiration. His awe at Musk's accomplishments – and they are undeniably awesome – eventually slows the reading experience, as does the depth of detail, though you will appreciate the hard work involved in Vance's research into his very public, and yet very opaque, subject. 
What's fascinating is that Musk remains willing to lose it all.Ashlee Vance
Other books on Elon Musk include Liftoff: Elon Musk and the Desperate Early Days that Launched SpaceX by Eric Berger, and Reverse Engineering Elon Musk: The Optimized Optimism of a Neurodivergent Man by Brandon Hamberg. Steve Gold wrote a two-volume biography Elon Musk: The Biography of a Modern Day Renaissance Man and Elon Musk: The Business & Life Lessons of a Modern Day Renaissance Man.