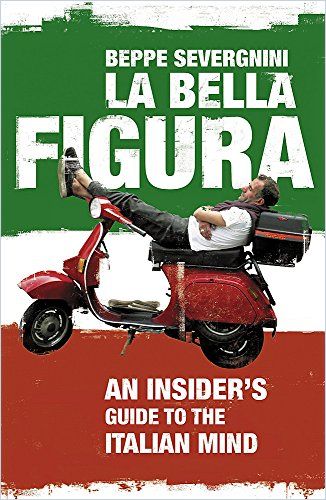 La Vera Italia
Italian journalist Beppe Severgnini is your guide on a hilarious and insightful 10-day journey through his beautiful, bewildering country.
Journalist Beppe Severgnini takes readers on a romp through Italy in this entertaining, edifying portrait of his home country. With lively wit, he guides readers along city streets, railways, rural valleys and coastal lanes, accompanying them to museums, restaurants, family homes and piazzas. Severgnini offers up a diet of astute observations about his country and his compatriots in this critique-cum-ode to Italy.
Being Italian is a full-time job. We never forget who we are, and we have fun confusing anyone who is looking on.Beppe Severgnini
By organizing his portrait of this complex, fascinating country as a 10-day tour, Severgnini immerses readers in all of Italy's beauty, warmth, charm and chaos. With a keen eye for telling detail and deep understanding of the Italian people, Severgnini weaves observations about Italian propensities and attitudes into every step of this imaginary journey.
Bend the Rules
The tour begins at Milan's Malpensa airport, where Severgnini indulges in people-watching. He observes Italian's wariness of authority as they pass through customs. Travelers gleefully collect their luggage, which they never expected to see again. Families argue as they make their way through the airport, yet these tiffs feel performative, as much for the benefit of onlookers as for each other.
The drive to a hotel in Milan becomes a lesson in the Italian attitude to authority – and driving habits. Why stop at a red light if there are no pedestrians about? Cars swerve and accelerate, signaling displeasure via horns and headlights. The police are tolerant of such displays and flexible in the face of a well-crafted defense.
On the second and third day of his itinerary, Severgnini escorts readers to typical locations in Milan. At a traditional restaurant, he explores Italian culinary traditions and the unwritten rules that often confound visitors – such as never to order a cappuccino after midday. The evening finds Severgnini in a local bar, where the subject turns to Italians' predilections in drinking and flirting. The next day, visiting the apartment of friends, Severgnini describes the pleasures, frictions and finances of Italians' private lives, and the places where they live them.
Art Appreciation
On day four, Severgnini has readers board a train to Tuscany, which offers Severgnini opportunities to comment on Italians' communication style – their openness with strangers, their penchant for large gestures, and their readiness to shout or laugh. Italians are generally congenial and chatty, a sincere trait that is a form of social networking. People are verbose in public – a point of national pride and a tendency that is reflected in Italian literature. But in private, Italians talk quickly and to the point. At the Uffizi museum in Florence, Severgnini praises Italians' love of art and beauty, found both in high art and in everyday life.
A romp through the Tuscan countryside on day five of the tour highlights the historical significance of piazzas: For example, Piazza Venezia in Rome saw the start of Mussolini's war, which ended at Piazzale Loreto in Milan. Now usually home to a church, a government building and a variety of shops, the piazza offers routine and comfort, a place to rest, interact, observe and replenish.
Italy is the only workshop in the world that can turn out both Botticellis and Berlusconis.Beppe Severgnini
Visiting a Roman bank on day six, he examines Italians' relationships with work, banks and money, including their appreciation for titles, status and hierarchies. Italians, he remarks, put in long hours at the office, but time doesn't necessarily equate to productivity.
The Beautiful South
Moving on to Naples on day seven, Severgnini offers acerbic observations of street life and Italian car culture. Italian sidewalks, he observes, are not simply paths for pedestrians: They're shopping areas, Vespa parking lots, extensions of basement flats, trash receptacles, homes for professional mendicants and hangouts for teens. People are obliged to walk in the street, where cars park willy-nilly. And they do love those cars: Italians, Severgnini notes, own as many cars as Americans do but drive only a fraction of the miles. Instead, they use their cars as extensions of their homes: places to talk on the phone, eat and drink, listen to music, or indulge in a romantic tryst.
In Italy, immigration is an economic necessity and an accident of geography. Our peninsula dangles like a ripe fruit over the heads of the poor in Africa, the Balkans and the Near East.Beppe Severgnini
On day eight, Severgnini takes readers by ferry to visit Sardinia, for a walk down the Poetto beach at the Cagliari harbor. The aroma of eucalyptus wafts in the air; tables, kiosks and umbrellas dot the shore. Here, Severgnini tackles the subject of immigration and refugees. Italy, with an aging population, depends on immigrants to support the pension system and to perform low-status jobs, he says. Yet Italy's immigration system hasn't adjusted to deal with the large number of arrivals in recent years, and immigrant workers frequently suffer exploitation.
Two Religions
On day nine, the tour continues to Crema, a small town on the outskirts of Milan that exemplifies Italy's stark contradictions. Much of the town's scaffolding remains unchanged since medieval times, but it is now populated by bars, shops and parking lots. Crema's dated liceo (high school) epitomizes Italy's education system. Italy spends just 4.5% of its GDP on education. The underfunded system lags other European nations. Yet the country's public schools are equalizing and offer the "glue that, despite everything, binds the nation."
During a visit to Crema's 700-year-old cathedral on day 10, Severgnini delves into the history and complexity of religion in Italy, where 90% of people identify as Roman Catholic but just 25% regularly attend Mass. Then he's off to Milan's Stadio San Siro, where Sunday afternoons find tens of thousands of fans praying at the altar of soccer. The stadium's architecture mirrors the strata of society: Exclusive executive boxes line the top tier, the bourgeoisie enjoy the upper decks, the middle class sit in the lower decks, and the working class occupy the terraces.
If Italy doesn't leave you bewildered, it means it has conned you.Beppe Severgnini
Returning to Malpensa airport, Severgnini leaves readers with a clearer understanding of the Italian psyche and a country as charming as it is perplexing. Italy defies definition, Severgnini opines. What you do know is that this unpredictable and contradictory country is, and always will be, a very special place. Severgnini's vivid portrayal of his country will appeal to tourists seeking deeper understanding, expats looking for insights into their adopted home, businesspeople interested in the customs and psyche of the Italians, and Italophiles.
Severgnini's many other books include Ciao, America! An Italian Discovers the US and Italian Lessons: Fifty Things We Know about Life Now.