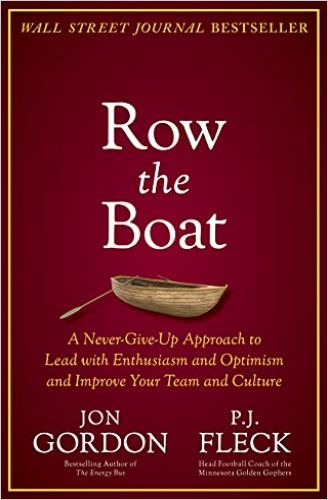 Keep Rowing
Minnesota head football coach P.J. Fleck relates his unique history and the philosophy that sustains him.
University of Minnesota head coach Philip John "P.J." Fleck, Jr. is a walking testament to the power of character, faith and determination. He defied the odds as a college and professional football player and as a coach. The tragic death of his newborn son led him to develop and promote a lifestyle that emphasizes hope, purpose and selflessness. Fleck grew up battling for recognition and respect. Today, he focuses on helping people achieve intangible k intangibles – courage, enthusiasm, tenaciousness and creativity. 
Fleck and co-author Jon Gordon detail how the coach learned to overcome adversity, maintain optimism and succeed in transforming two college football programs, on the field and off. They offer advice on how to lead a fulfilling life, become an effective leader, create an outstanding culture and make the most of your talent, the "unmeasurable force" that expands your natural abilities.
The Hard Way
Fleck starred in football, basketball and track in high school, where he set school and state records as a wide receiver and won consecutive state football championships. But no US Division 1 college would offer a scholarship to a relatively slow, 5-foot-9, 150-pound receiver. 
I have always been referred to as the 'King of the Toos.' Too small, too short, too slow, too young, too inexperienced, and on and on.P.J. Fleck
Northern Illinois University (NIU) held a summer football camp, and Fleck played his heart out, diving for every ball. Head coach Joe Novak offered his last full scholarship to Fleck over the objections of his assistant coaches. Fleck justified Novak's faith in him. During Fleck's senior year, he was named All-League wide receiver and became an academic All-American, earning a bachelor's degree in elementary education.
Willpower
In 2004, the NFL's San Francisco 49ers invited Fleck to a mini-camp as an undrafted free agent. Excited to show his talent and determination, Fleck set out to win a spot on the team. The contest came down to Fleck and rookie quarterback Brandon Doman. They finished in a dead heat, collapsing in exhaustion at the end. Head coach Dennis Erickson, who didn't know Fleck's name, referred to him as "number 10, that freaking warrior."
Fleck spent a year on the team's practice squad, finally making his NFL debut against New England in the last game of the season's. The 49ers then hired head coach Mike Nolan, who became influential in Fleck's life.
Fleck became a starting receiver in 2005, but severely injured his shoulder in an exhibition game, ending his season. Nolan said he could work with the team's inexperienced receivers.
My coaches were and still are the greatest influences in my life.P.J. Fleck
Fleck took that on, placing the team's concerns above his own.Nolan believed in Fleck's potential as a coach. When Fleck tore his hamstring, Nolan shocked him by offering him a coaching position. Next, out of the blue, Ohio State head coach Jim Tressel offered Fleck a job as the graduate assistant working with the offense and special teams. Fleck took the job. Even today, he symbolizes his gratitude to Nolan and Fleck by wearing a tie on the sidelines, as they do.
Heartbreaking Loss
Fleck's world turned upside down on February 9, 2011. His son, Colton James Fleck, died in his arms minutes after birth. His baby's death shattered Fleck.
Fleck decided to keep Colton's name alive while inspiring others to persevere. Fleck's desire to transmit uplifting messages brought him to the nursery rhyme that chants, "Row, Row, Row Your Boat." That became his theme: he told himself he would row the boat and keep rowing.
Life Circumstances
In 2013, Fleck, then a wide receivers coach for the NFL's Tampa Bay Buccaneers, became head coach at Western Michigan University (WMU) in Kalamazoo.
Row the Boat (RTB) means not allowing people or conditions to dictate your attitude and behavior. Instead, Fleck told his players, overcome life's adversities with energy, creativity and joy. As a leader, motivate your people to pull together toward shared goals. Whether you struggle or succeed, keep rowing.
In the end, why we row, how we row and the way we row through all of it will dictate our path and determine how far we go.Jon Gordon and P.J. Fleck
Row the Boat focuses on the present – because the past is unchangeable and the future unpredictable. Your next stroke is all that matters.
A Golden Opportunity
Fleck's team won only one game and lost 11 in 2013. He wondered if his job was in jeopardy. His Row-the-Boat culture manifested in season two. His team trailed 31-14 at halftime against Ball State. In the locker room, Fleck blurted out: "When you are tired of being average, you're not!"
The Broncos scored 28 points in the second half, winning 42-38. Fleck's team reeled off five consecutive wins and played in the Famous Idaho Potato Bowl.
During Fleck's fourth season, WMU went 11-0, was the 15th ranked team and played Wisconsin in the prestigious Goodyear Cotton Bowl.
Start Rowing
The Row the Boat approach has three components: the oar, the boat and the compass. The oar propels your boat. It represents your quest and determination. Life demands rowing – investing your energy and sharing your enthusiasm.
Whether it's windy, raining and stormy, or a calm, beautiful, sunny day, you decide to row or not. The oar is the only tool that moves the boat. Jon Gordon, P.J. Fleck
Your boat symbolizes reaching out to others. Sacrifices strengthen your boat and make your life more fulfilling. The compass stands for where you are now and your future direction. Set a goal for yourself, trust your abilities and row. Whether the waters are tranquil or choppy, follow your compass.
The University of Minnesota
Mark Coyle, the University of Minnesota athletic director, offered Fleck the University's head coaching job. Fleck discussed the offer with his second wife, Heather, and she asked: Are you prepared to endure the pain of rebuilding again, and are you frightened of making the move?
Wherever you are headed in life, you need direction, belief in yourself and other people to help you get there. Jon Gordon and P.J. Fleck
Heather told him he should take the job because he could bring about the greatest change where circumstances were the most difficult.
Fleck inherited a troubled, divided team. The players wondered him why he came to Minnesota, how he planned to help them and what changes his Row-the-Boat strategy would bring.
Fleck's "Rest-OAR-ation" campaign culminated with an 11-2 record in 2019, his third year at Minnesota. His team's record included an Outback Bowl victory over Auburn and an AP Top 10 ranking. He taught his players that people who kept rowing grew stronger because they proved to themselves that they could overcome adversity and succeed.
Football and Inspiration
Jon Gordon, an experienced nonfiction author, brings Fleck to life, detailing Fleck's truly astonishing career and his Row the Boat philosophy. But explaining Row the Boat requires only a few pages and reminders, so most of the book is made up of football stories. Those who don't find US college football compelling may have to skip a few pages – well, a lot of pages – to absorb Fleck's clearly worthwhile management counsel and overall philosophy. And those who do love college football will particularly relish this unique, inspiring tale of determination and athletic success.
Among other titles, Jon Gordon also wrote Stay Positive: Encouraging Quotes and Messages to Fuel Your Life with Positive Energy; The Energy Bus: 10 Rules to Fuel Your Life, Work, and Team with Positive Energy; The One Truth: Master Your Mind-set to Transform Stress, Anxiety, and Fear into Clarity, Courage, and Calm; The Garden: A Spiritual Fable About Ways to Overcome Fear, Anxiety, and Stress; and The Carpenter: A Story About the Greatest Success Strategies of All Time. His latest book is How to be a Coffee Bean: 111 Life-Changing Ways to Create Positive Change.