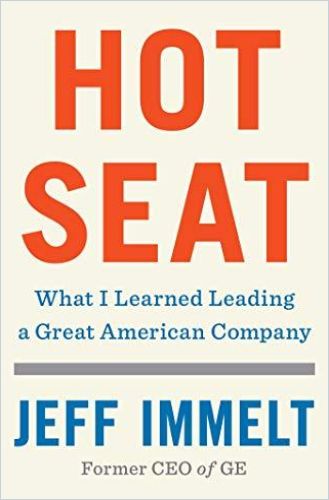 Immelt Looks Back
Jeff Immelt, who was CEO of General Electric for 16 years, offers a surprisingly candid, feisty memoir.
Jeff Immelt ran GE for 16 years. He followed legendary Jack Welch, and couldn't maintain momentum through the Great Recession or satisfy investors. In this frank postmortem, Immelt blames himself and impatient investors. His candor and refusal to sugar-coat his failures make for compelling reading.
CEO of GE
Investors regarded Jack Welch, who was CEO of GE before the author, as one of the best leaders in Wall Street history. During Welch's tenure, investors valued GE as if it were a technology company instead of an agglomeration that made jet engines, broadcast television shows, insured pets, and spent little on research and development.
My legacy was, at best, controversial. GE won in the marketplace but not in the stock market. Jeff Immelt
GE shares soared 4,000% during Welch's years. Its price-to-earnings ratio was 50 – suggesting a company whose image outpaced reality.
Ivy League Football
During a baseball game, Immelt learned a life lesson from his father who worked for GE for nearly four decades. His team's shortstop made an error when Immelt was pitching, and Immelt slammed his glove on the mound. At home, his father excoriated Immelt for embarrassing his teammate. Immelt took that ethos to GE.
I was a good athlete but not a gifted one. All my successes came from working hard.Jeff Immelt
Immelt played football as an offensive lineman at Dartmouth, majored in math, and went on to earn an MBA at Harvard Business School. He entertained offers from a consulting firm and a Wall Street bank, but accepted a lower-paying job at GE.
GE Logo Tattoo
Immelt's star rose at GE because he took on tough tasks, such as fixing 3.3 million faulty refrigerators.
But when oil prices rose in 1994, Immelt's division – GE Plastics – missed its earnings target by $50 million. At GE's retreat in Boca Raton, Florida, Welch berated Immelt in public. Later, Immelt got a tattoo of the GE logo on his hip. He told no one; it was a private gesture of loyalty.
Cutthroat Culture
General Motors bought plastic pellets from GE and used them to make dashboards and bumpers, but Immelt recounts that he found it hard to deal with GM's head of purchasing. Immelt was caught between Welch – who told him to close the deal or lose his job – and the GM vice president, who greeted Immelt with curses. After hours of tough negotiating, Immelt got a price hike and ensured his future promotions.
It seemed like Jack was creating drama, milking his own departure for all it was worth.Jeff Immelt
As Welch planned his departure, he named Immelt and two top GE insiders as potential heirs. The men would audition; the losers would leave GE. This sabotaged any teamwork among them. After Immelt won, one of the losers, Bob Nardelli, became CEO of Home Depot – and exacted revenge by ending its relationship with GE as a supplier of both lighting and credit cards.
Confidence in Tough Times
Soon after Immelt took over, the September 11, 2001 terrorist attacks rocked the US economy and the airline industry. The financing arm of GE owned 1,200 aircraft and had loaned billions of dollars to airlines. In such crises, Immelt maintains, effective executives must translate uncertainty into resolve and convey optimism.
From mid-2008 to early 2009, GE shares plunged from $40 to $9. Immelt declined his $12 million annual bonus, and GE's board slashed its stock dividend, which it hadn't done since the Great Depression. Immelt sold NBC and its movie studio.
GE Capital
In 1980, GE Capital made up 20% of the company's earnings. By 2000, it contributed nearly 40% of profits. GE Capital issued credit cards for Walmart, backed loans for commercial real estate, and leased jets, trucks, railcars and satellites.
The parent company's triple-A credit rating had buoyed GE Capital, and GE could borrow cheaply and make loans at a higher rate. But GE's insurance business was highly leveraged, and Moody's and PIMCO's Bill Gross grew skeptical.
Dismantling GE Capital
By 2008, GE Capital's $696 billion in assets made it one of the nation's largest lenders. But it wasn't a bank, and it couldn't rely on government bailouts.
Nobody wants to burn furniture to heat the house. But in the dead of winter, even a favorite armchair starts to look like kindling.Jeff Immelt
As the 2008 financial crisis hit, GE Capital was weak. When Washington Mutual went into bankruptcy, GE needed $15 billion. Thanks to a $3 billion investment from Warren Buffett, GE brought in the $15 billion in one day.
The Great Recession
Investors saw GE as two organizations – an industrial company that made engines and turbines, and a financial company. GE Capital became a weight, and GE sold $300 billion of financial assets.
CEOs rarely talk about how solitary the job is.
Immelt viewed GE as a family of 300,000, and selling assets meant telling thousands of people that GE had fired them.
Public Perception
Immelt worked hard – to a fault. His executives reminded him that flying 10 hours for a 20-minute meeting overseas was unwise. And, GE often sent a chase plane following Immelt's private jet in case of a breakdown. People believed Immelt was full of himself and eager to spend company resources.
In December 2016, Immelt met with activist investor Nelson Peltz, who held a large stake in GE. He told Immelt to cut $1 billion in costs, or Peltz would sell his shares. In March 2017, Fox Business reported Peltz wanted new leadership at GE. When Immelt announced his retirement, GE stock rose 4% – a harsh farewell.
Mea Culpa
Immelt left in 2017; his successor lasted only a year. GE Capital's long-term care insurance book blew up, creating losses beyond any projections. And, GE's market share in gas turbines plunged from 70% in 2017 to 18% in 2018.
When Immelt left, GE's price-to-earnings ratio plunged to 15.
Immelt acknowledges that he didn't move quickly enough after September 11, and says now that he should have developed more promising executives. He admits he should have managed GE Capital more effectively, been more humble and recognized his limits.
Admirable Candor
Perhaps Jeff Immelt didn't know how to run GE, but he certainly knows how to write a singular, compelling, readable and remarkably honest memoir. Most CEO memoirs' ratio between self adoration and admission of wrongdoing is barely measurable. Immelt reverses that tradition by praising himself almost never and devoting his pages to the mistakes he made and the lessons he learned. He offers tales of incredible pettiness – Jack Welch looms large – strategic brilliance and everyday challenges. All leaders on any level will savor Immelt's entertaining tales and wise counsel.
Other compelling CEO memoirs include The HP Way by David Packard; My Years With General Motors by Alfred P. Sloan, Jr.; and The Ride of a Lifetime by Robert Iger.