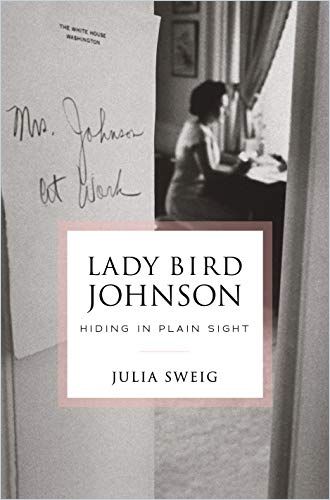 History, Behind the Scenes
Award-winning author Julia Sweig chronicles the life, politics and activism of first lady Lady Bird Johnson.
Claudia "Lady Bird" Johnson, wife of President Lyndon Baines Johnson (LBJ), kept an audio diary while she served as first lady of the United States. Renowned researcher and award-winning author Julia Sweig uses that diary as the basis of this in-depth portrait of a significant behind-the-scenes force at a crucial time in United States history. A devoted wife and mother, Lady Bird helped her husband fashion the Great Society he envisioned, including passage of the landmark Civil Rights Act. She was his strong right hand, valued advisor and moral compass.
Claudia Alta ("Lady Bird") Johnson
When Claudia Alta Taylor, nicknamed Lady Bird, married fellow Texan Lyndon Baines Johnson, she was excited about his political ambitions. Johnson, who became vice president under John F. Kennedy, had a "hard-knuckles" approach and a vision for an America that took care of its people. 
Kennedy's assassination on November 22, 1963, catapulted the Johnsons into the White House.
Anything that…needs to be done, remember this: My husband comes first, the girls second and I will be satisfied with what's left. Lady Bird Johnson
Lady Bird dedicated herself to maintaining a daily audio diary, which chronicled the era's struggles, along with her concerns for LBJ's mental and physical health.Lady Bird's journal captures her efforts, achievements and unwavering support for her husband.
First Lady
Taking her inspiration from Eleanor Roosevelt, Lady Bird sought to be the "doingest" first lady since World War II. In her first speech as First Lady, she addressed young women at Radcliffe College. She emphasized having an education and a profession, but not at the expense of femininity and not by waging a war on men.
Despite Lady Bird's convictions and her efforts, Sweig explains, LBJ's administration lacked the will to advocate for equal pay for equal work. Johnson did not appoint a vice president while he served out Kennedy's term up to the 1964 inauguration. In acknowledgment of her devotion, Lady Bird earned the moniker, "Mrs. Vice President." 
Lady Bird hosted White House "Doers Luncheons" for women in government, science, education, the arts, media and urban planning. She exhorted women to take leadership roles in volunteer organizations at the state and local levels.
Vietnam
When LBJ took office, the United States had not fully committed to military action in Vietnam. He tried to keep the conflict under the radar as he shepherded the Civil Rights Act through Congress in July 1964.
Johnson gave in to his hawkish advisers and authorized military action in Vietnam with bipartisan support. He won 61% of the vote in the 1964 presidential election, but Lady Bird knew he would struggle with the bitter conflicts tearing America apart.
In these troubled hours, we need to remember that we are moving forward. This land is our land. It belongs to all of us. It is ours to rend apart – or to work for – and to keep strong. Lady Bird Johnson
In 1965, LBJ eluded questions regarding Vietnam to protect his Great Society agenda. Congress passed major legislation that he sponsored supporting education, the social safety net and civil rights. The Johnsons advocated for the National Endowment for the Arts and acquired modern American art for the Smithsonian.
Lady Bird's arts festival at the White House showcased American luminaries Georgia O'Keeffe, Mark Rothko and Ansel Adams. However, some guests used the opportunity to sign a document forswearing their support for the US's foreign policy and the Vietnam war.
Conservation and Urban Renewal
Lady Bird worked for environmental conservation and urban renewal. She believed that the US government should support these causes.
Her heritage as First Lady is not in beautification per se; it is in communication. It is in the hope and the desire to identify a human being with his environment.Walter Washington, mayor of Washington, DC
Lady Bird collaborated with a visionary in urban planning to protect and revitalize Washington's Capitol East. But, as Sweig shows in this detailed account, her first planning committee session included no Black public figures and others criticized her vision as superficial and disconnected from the issues Black Americans faced.
Reelection
 In 1955, LBJ suffered a heart attack. He was overweight, slept badly and drank heavily. The presidency weighed on him, and he suffered bouts of severe depression that alarmed Lady Bird. She wanted to leave the White House so she and her husband could enjoy their grandchildren and LBJ could recover his health.
Bird summarized her husband's most compelling argument, the one that would allow him to unbind himself from the Promethean rock: 'I do not believe I can unite this country'.Julia Sweig
The Johnsons deliberated for months over LBJ's decision to not run for reelection. They did not want to see his rival Robert F. Kennedy become the Democratic nominee.
Despite remarkable progress on his Great Society agenda, including passage of the Civil Rights Act, the Voting Rights Act, Medicare, Medicaid, the Economic Opportunity Act and the Fair Housing Act, Johnson saw that American could not unite around him. 
When LBJ announced he would not run for president, Lady Bird's relief was profound, but short-lived. Five days later, James Earl Ray assassinated Martin Luther King Jr. Weeks later, Sirhan Sirhan assassinated Robert Kennedy, then the front-runner for the Democratic nomination.
Widow Lady Bird
The Johnsons' two daughters, Lynda Bird and Luci, were teenagers when LBJ became president in 1963, and the White House hosted both their weddings.
Lyndon Johnson died in 1973, four years after he left office. The former first lady lived another 34 years. 
I must not live in the White House, insulated against life. I want to know what's going on – even if to know is to suffer.  Lady Bird Johnson
Lady Bird Johnson became a trustee for the National Geographic Society in 1974. In 1977, she joined fellow former first ladies Rosalynn Carter and Betty Ford at the National Women's Conference in Houston to create a National Plan of Action on reproductive freedom, sexual orientation, and rights for women of color and women with disabilities. President Gerald Ford honored her with the Presidential Medal of Freedom, and she received the Congressional Gold Medal in 1988.
After Lady Bird's death in 2007, the Audubon Society posthumously designated her as the honoree for the Rachel Carson Award for her pioneering dedication to environmental causes.
A Woman of her Time
Julia Sweig captures, with touching pathos, the contradictions that informed Lady Bird Johnson's life: She sincerely wanted to help America and believed in urban renewal. But her life of privilege and, perhaps, her Texas upbringing, left Lady Bird too genteel to relate to bitter opponents and perhaps too naive for bare knuckle politics, where LBJ was a master. Her diary proves an author's gold mine, and Sweig uses Lady Bird's thoughts and emotions to present an in-depth, evocative portrait. There is little doubt that in another, more modern era, Lady Bird Johnson would have been an even more potent force for change, regardless of her husband tremendous plusses and minuses.
Julia Sweig's books include Inside the Cuban Revolution: Fidel Castro and the Urban Underground; Cuba: What Everyone Needs to Know; and Friendly Fire: Losing Friends and Making Enemies in the Anti-American Century.