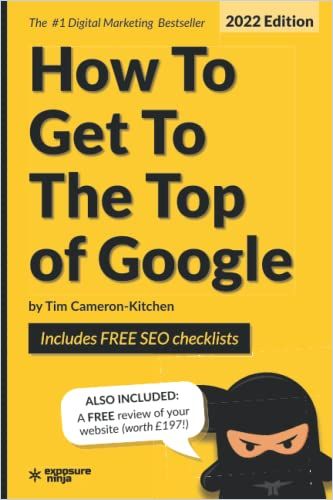 Higher and Higher
Tim Cameron-Kitchen offers clear, actionable directions and guidance to help you improve your website's ranking on Google.
Few people understand Google's PageRank; Tim Cameron-Kitchen is one of them. He explains what affects your rank and how to optimize your website to gain the highest position on Google Search results. He tells how small details – from your heading formatting to your domain name – affect your PageRank, and offers inside knowledge to help you create the high-quality content Google pushes to the top.
Google's Algorithms
Companies climb to the top of Google because they understand how to optimize their website pages to appeal to Google's complex algorithms.
Most of the general public don't understand what it takes to rank prominently on Google, which is part of the reason it works so well.Tim Cameron-Kitchen
While utilizing more than 200 secret ranking factors, Google also rewards pages that are relevant to the searcher's query, are popular and have authority, and meet Google's quality guidelines.
Upgrade your content by increasing its word count, pages and writing quality. Correct any errors or broken links. Make your site mobile friendly because more than half of internet users access content using mobile devices.
Keywords and Key Pages
List "seed keywords" – the names of the services or products you sell – then list keywords your customer might use to search for your offerings. Google's Search Console can tell you the keywords for which your site already ranks and which provide the majority of your web traffic. Use the tool Semrush to discover keywords for websites. Research which keywords draw visitors to your site. Add keywords related to your business's location, and to nearby locations, to connect to customers in your area.
Slim down your keyword list to 10-50 words by analyzing the metrics of your keywords. Look, for example, at the cost per click to find out which words prove the most profitable. Regularly update your list of keywords; keyword research is an ongoing, adaptive process.
Double-check your keywords to ensure any phrase you're considering means the same thing to Google that it means to you.
Details Matter
Don't neglect details such as anchor text – the text snippet into which you embed your link – when formatting links to your site. Anchor text such as "click here" isn't actually useful. Effective anchor text is specific – for example, "best protein supplements."
The reality is that, stripped to their core, the fundamental principles of search engine optimization are extremely simple.Tim Cameron-Kitchen
Your URL has a significant effect on your PageRank and your branding success. Use words that best match what people search for and which you hope to associate with your brand. For example, if the keyword phrase you prioritize is "flower shop Nottingham," make your URL "www.flowershopnottingham.com"; then sit back, and see the profit flow in.
High-Quality Content
Google determines whether content is of high quality by assessing whether it demonstrates "a significant amount of at least one of the following: time, effort, expertise, and talent/skill." Avoid duplicate content; it generates poorer rankings.
Describe your offering in detail. Describe the process your customers or clients must go through to obtain your product or services. Answer questions people ask most frequently. Share the reasons customers or clients choose you over your competitors. Address your target audience's potential objections or concerns. Create a call-to-action describing the step a person can take to make a purchase or obtain your services. Use a tool such as Grammarly to check grammar and spelling.
Good Links and Bad Links
The Google algorithm ignores links from sites it doesn't deem useful or trustworthy, such as spam sites that exist only to boost SEO. Links from websites that offer authoritative content on your topic or from popular and/or established websites, will boost your search ranking.
Whatever the metrics say, the advice is always the same – optimize your website and get high-quality, relevant websites to link to you, then it's almost impossible NOT to improve your ranking.Tim Cameron-Kitchen
Check your links' "Domain Authority" score, or "DA." This is the search engine ranking metric the SEO world uses to determine a link's importance. DA gives you quick feedback on the quality of a link. Use two metrics from the SEO tool Majestic: Trust Flow, which predicts a page's trustworthiness, and Citation Flow, which ranks the "power" of link equity.
Placing Content
Successful digital PR campaigns can place your content on websites your target audience visits. Target editors with content that showcases your knowledge of current trends, customer needs and industry insights.
Every day, the editors of the publications your target audience reads stare at half-empty computer screens, wondering how they are going to fill their next issue with good content.Tim Cameron-Kitchen
Pitch content ideas to bloggers and influencers who connect with your target customers. Offer them free products in exchange for reviews or exclusive discount codes to share with their followers. To connect with journalists, respond to call-outs for experts and sources journalists make on Twitter (search for #journorequests) or through services such as ResponseSource.com.
Successful SEO Campaigns
Review your website to ensure viewers easily understand what your business does and whom it serves. Research and use the keywords and phrases your customers use when searching. Optimize your website by compressing images using plugins such as ShortPixel.Check the functionality of your basic links – video websites, social media pages and business directories.
Target sites with high PageRanks, such as digital magazines, news sites and industry-specific publications that you'd like to see publish your content. Measure how your SEO maintenance aligns with your specific business goals every three months. Note where you need to refocus your efforts to better achieve your desired outcomes.
Follow the Directions
Cameron-Kitchen does a masterful job of condensing complex chores and of explaining what you must do in direct, simple prose. He never wastes time with jargon or assumes his readers know more than they do. This is the best and most rare kind of internet manual – one that offers clear directions you can actually follow to achieve your goals. Obviously, Cameron-Kitchen writes for the barely Google-literate – not for professional website developers or programmers. The self-employed, small businesses, students and start-ups comprise his target audience.
Tim Cameron-Kitchen also wrote, with Yvonne Ivanescu, Profitable Social Media Marketing; with Luke Nicholson he co-wrote The Ultimate Guide to Content Marketing; and with Amen Sharma he co-wrote 101 Ways to Get More Customers from the Internet.