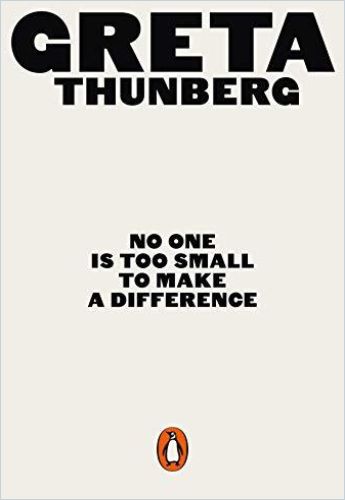 Greta Thunberg Speaks Out
Teenage climate change activist Greta Thunberg showcases her speeches around the world to mobilize action against climate change.
This New York Times number one bestseller must have given TIME magazine just one more reason to choose Greta Thunberg as its 2019 Person of the Year. Thunberg is a teenage activist devoted to fighting climate change and rallying others to join her. This book collects various inspiring speeches she made around the world.
Barack Obama called Thunberg, "already one of the planet's greatest advocates." Teen Vogue described this collection as, "A powerhouse compendium of [Thunberg's] greatest hits," and People said that although Thunberg was only 16 when the book came out, "Her voice has woken up the world…An inspiring call to action."
Three Years
In a speech in Stockholm on September 8, 2018, student activist Greta Thunberg called the world's attention to a climatologist's warning that the world's nations had only three years to meet the Paris Agreement's goal of halting emissions of the greenhouse gases that cause global warming.
You are not mature enough to tell it like it is. Even that burden you leave to your children.Greta Thunberg
Thunberg, a Swedish teenager, believes if more people realized the consequences of greenhouse gas emissions, they would share her sense of alarm. Thunberg says that she and other children see no adult leading a response to climate change, and so they must speak out.
She explains that the world's nations need to reduce emissions by 15% annually to stay on track to meet the 2oC targets that the Intergovernmental Panel on Climate Change (IPCC) recommended. The Earth is in the midst of a mass extinction event, Thunberg reports, with 200 species dying off each day.
Thunberg challenges global leaders to secure the Earth's future. She believes that adults remain willfully ignorant about the catastrophic effects of climate change. She regards that ignorance with great moral scorn and accuses corporations and political leaders of sacrificing the Earth to make money.
Strike
When Thunberg sat down on strike each Friday outside the Swedish parliament building, critics said she should be in school. But, she asks, what's the point? Facts, Thunberg insists, apparently mean nothing to people in power, so why bother learning them? The world needs civil disobedience and new rules.
When Thunberg first learned of climate change, she was surprised the news media didn't talk about it more. If humans and animal species were in mortal danger, why weren't people doing more? Why, she demanded to know, weren't governments banning the use of fossil fuels? To change the future, Thunberg avows, people must make clear demands. If politics can't inspire the public to face climate change, then politics needs to change.
If you think that we should be in school instead, then we suggest that you take our place in the streets striking from your work. Or better yet, join us, so it can speed up the process.Greta Thunberg
Thunberg has Asperger's, which may contribute to the stark clarity of her point of view, presented without nuance. Throughout this collection, she expresses her views in that mode. Thunberg says people think a girl with Asperger's couldn't organize as she has, and that's why she does it alone; she is not social.
Thunberg's parents did not support her school strike to draw attention to the crisis; they told her she had to organize it on her own. Despite her youth – or perhaps, in part, because of it – Thunberg is the rare activist who understands how to get a message across to a global audience.
House on Fire
Thunberg insists that businesses, politicians and the media fail to communicate the high stakes of climate change. Societies, she details, must manage the feedback loops that make the world hotter, such as the sudden mass release of methane into the atmosphere from the melting arctic. There is, she maintains, still hope. But young people don't want words of hope, she says. They want leaders to panic, because climate change is a crisis and the house is on fire.
Act!
A key grievance for Thunberg is how extinctions, deforestation and acidification result from people in developed nations remaining oblivious to the harm they are causing.
Politicians don't take action, Thunberg believes, because climate change is unpopular and children can't vote. She calls on adults to act decisively. Meanwhile, she says, all children can and will do is protest in the streets and hope adults listen. Thunberg regards adults now in power as willfully in denial. The biggest problem, she finds, is that no one is doing anything to confront the crisis. Young people, she insists, must strike to compel adults to act on behalf of everyone's future.
Unrelenting Tone
Readers may have to adjust to Thunberg's unrelenting tone and merciless contempt for those who are, in her view, wrecking planet Earth. She doesn't modulate her views or her manner of expressing them, and she shows no interest in being charming, despite her powerful charisma. Thunberg speaks to inspire activism and clearly thinks only her method is convincing. And, because this collection of speeches captures only the spoken word, it may come across as more didactic, since she speaks bluntly to rally people to her cause.
I have not met one single climate activist who is fighting for the climate for money. That idea is completely absurd.Greta Thunberg
Or, perhaps, Thunberg is best able to pursue only one mode of expression. But what might seem to be a limitation turns out, on lengthy reading, to be a strength. Her no-middle-ground voice is deliberate, compelling and convincing. Readers will find it hard to resist her sincerity, grasp of the facts or ardor for her cause.
Greta Thunberg also wrote Our House Is on Fire. Zoe Tucker's graphic novel of Thunberg's life and activism, Greta and the Giants, reaches out to young readers. And, Ann Leonard's Who Is Greta Thunberg? takes a similar, graphic approach.