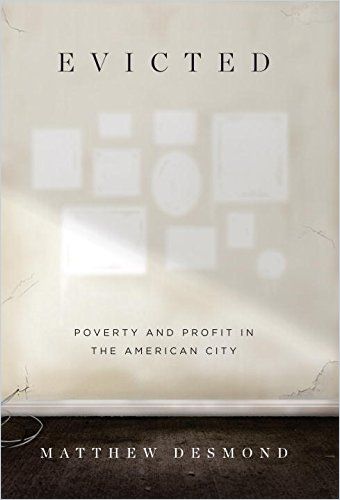 Desperate Tenants
Matthew Desmond, a 2015 MacArthur Genius, offers a heartfelt, heartbreaking detailed portrait of the desperate situations of poor American renters.
Matthew Desmond – a 2015 MacArthur Genius, the Loeb Associate Professor in the Social Sciences at Harvard University and the co-director of the Justice and Poverty Project – became interested in poverty and housing policy after his parents lost their home to foreclosure.
He explains that steep rents and limited job opportunities mean the American poor dwell at the edge of eviction. Once evicted, their plight worsens. Desmond details the social circumstances and self-destructive decisions that doom his subjects to an endless loop of poverty.
Larraine
In this tale of poverty in Milwaukee, Wisconsin, a trailer park dweller Desmond calls Larraine blows her monthly allotment of food stamps on lobster tail, shrimp and crab legs. She returns to the trailer where she's chronically late on rent and utilities, and even though she'll go hungry for the rest of the month, she savors one good meal.
Larraine chooses short-term rewards in the face of long-term consequences because – unskilled, approaching retirement age and saddled with health problems – she cannot escape poverty. She lives for the moment. No amount of frugality enables someone in her situation to move up, so she enjoys small pleasures. In this moving portrait and others, Desmond notes that Larraine – and many like her – can't bridge the gap even between abject poverty and "stable poverty," as each eviction makes their lives worse. 
People like Larraine lived with so many compounded limitations that it was difficult to imagine the amount of good behavior or self-control that would allow them to lift themselves out of poverty.Matthew Desmond
Desmond tells of impoverished people whose habits are even more self-destructive. For example, Scott, an opioid addict, loses his job as a nurse. Desperately poor, he lives in the same trailer park as Larraine.
Cockroaches and Fatal Fires
Desmond's 2008 and 2009 research may lead you to surmise that Milwaukee's wave of evictions resulted from the Great Recession. In truth, Desmond's subjects couldn't escape the bottom of the income scale even in a boom. He gives equal time to Black and white poverty in Milwaukee – which he regards as emblematic of American cities. The maggots, cockroaches and fatal fires in Black areas seem more severe, but poor whites hardly fare better. For example, Larraine endures a brutally cold winter in an unheated trailer because she can't pay her gas bill.
Urban landlords quickly realized that piles of money could be made by creating slums.Matthew Desmond
Neither Republicans nor Democrats have answers to the poverty trap. A Black landlord in the North Side and a white trailer park owner in the South Side emerge as semi-villains, though Desmond's portraits of them are nuanced. With empathy for his impoverished protagonists, the author describes how their daily struggle to juggle expenses so overwhelms them that they have no energy for finding work or saving money.
Destructive Forces
Landlords pile late fees on tenants who miss payments and quickly evict them. In Black neighborhoods, landlords despise complaints about their properties' condition and visits by the police. Female tenants won't call the cops about abusive boyfriends or husbands, even when they face being beaten now or evicted tomorrow. Eviction leads to deeper poverty and more evictions. For example, an evicted renter easily could miss work while seeking a new home. Missed work leads to job loss.
The rent was $500 a month, utilities not included, the going rate in 2008 for a two-bedroom unit in one of the worst neighborhoods in America's fourth-poorest city.Matthew Desmond
Sherrena – a Black landlord who grew wealthy renting to Black residents – pitches herself as someone tough enough to collect money and post eviction notices while patiently dealing with difficult tenants. 
Obscene Rents
Milwaukee enjoys a comparatively low cost of living, but Sherrena's tenants pay a staggering percentage of their income in rent. For example, Arleen, a single mother of two, rented a two-bedroom apartment for $550, although her welfare check is only $628 a month. Sherrena welcomes Arleen with $40 of groceries, but Arleen soon falls behind on rent.
She knew the ghetto's value and how money could be made from a property that looked worthless to people who didn't know any better.Matthew Desmond
Sherrena moves to evict Arleen just before Christmas, but a new female tenant leases the apartment. She takes Arleen and her sons as roommates. The solution proves temporary, as relations between the women fray.
Cash Flow
Sherrena complains about missed rent payments, damage to her units and tenants' requests for repairs, but renting out subpar apartments made Sherrena wealthy or at least upper middle class. She and her husband take regular vacations, but return by the first of the month when rents come due. Poor tenants rarely have bank accounts; Sherrena collects in person.
Like other seasoned landlords, she knew who owned which multifamily, which church, which bar, which street…knew which blocks were hot and drug-soaked and which were stable and quiet.Desmond Morris
During the recession's foreclosure crisis, Sherrena added to her empire by snapping up a new home every month. She paid only $16,900 for a four-bedroom house with a porch and a new roof and windows. Sherrena doesn't expect her properties to appreciate. She banks on cash flow from her tenants.
Epidemic Evictions
Milwaukee's moving companies specialize in evictions, and its data-mining firms sell lists of tenants' past evictions. Milwaukee's housing courts overflow with eviction hearings. Out of fewer than 105,000 renter families, landlords annually evict some 16,000 adults and children. From 2009 to 2011, more than one in eight Milwaukee renters had to move. Desmond reports that Chicago, Cleveland and Kansas City had similar levels of evictions. However, note that his book – which continues to be a top seller – was published in 2016, well before the COVID pandemic brought both widespread illness and some economic relief measures.
Living Research
While pursuing his doctorate at the University of Wisconsin–Madison in 2008, Desmond embarked on an ethnography project. He moved from Madison to a South Side Milwaukee trailer park after learning that residents there faced mass eviction. He rented a place and spoke to the tenants. Later, Desmond moved to the North Side's Black community and documented conditions there.
The home is the center of life. It is a refuge from the grind of work, the pressure of school and the menace of the streets. We say that at home, we can 'be ourselves'.Matthew Desmond
Desmond's compassionate, insightful, skilled reporting will move all those compelled by income inequality, the American housing crisis, the intertwining of public courts and private profit, and an economy that has grown to prey on the poor. Though Desmond is an academic, his stark, sympathetic journalism proves on a par with the work of, for example, Tracy Kidder (Soul of the New Machine), Jessica Bruder (Nomadland) or Barbara Ehrenreich (Nickle and Dimed).
Matthew Desmond also wrote On the Fireline, and he co-authored Race in America and The Racial Order with Mustafa Emirbayer.