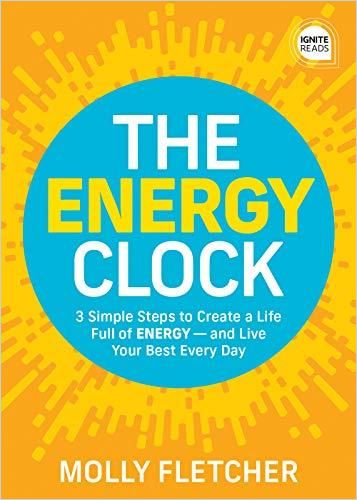 Control Your Energy
Prolific author Molly Fletcher brings her characteristic dynamic approach to gathering and maintaining your energy.
Entrepreneur Molly Fletcher – a pioneering sports agents who negotiated more than $500 million in contracts – explains how to maintain your energy as you move through your day. Instead of focusing on minutes, hours and days, Fletcher suggests living by your energy clock and identifying ​​​​​the people and activities that feed or sap your energy. Fletcher's practical program teaches you how to clarify what matters to you, reset your priorities, and achieve balance in your life and your work.
Energy versus Time
Clocks rule most people's lives. Instead of letting hours slip by, Fletcher urges you to refer to time simply to measure how you use your energy.
Learning to take ownership of our energy is the most important shift we can make on our journey. Molly Fletcher
Fletcher explains that if you define your productivity by how busy you are, you may squander energy on irrelevant activities. She suggests, instead, filling your day with the people and issues that matter to you.
The author recommends reviewing the activities that renew your energy and scheduling them on your calendar. When considering a task that depletes your energy, Fletcher urges you to ask: Can I get rid of it?
What Matters
To use your energy consciously, Fletcher reminds you to stay aware of what's important to you. She asks you to consider that you will drain your precious energy if you rush to complete one more task before a meeting or at the end of the day.
Multitasking is another word for a habit guaranteed to drain you.Molly Fletcher
Instead, she advises, learn to put your energy into what's meaningful. You may think a new job and higher salary is your goal, but she assures you that neither will fulfill you unless you focus your energy on your true priorities.
Holding steady on her theme, Fletcher reminds you that life's most important moments help you align your goals and values to your actions. If you set your energy clock in a planned, deliberate way, she asserts, you will have sufficient energy reserves to deal with important issues. This enables you to foresee possible issues, take responsibility and stay eager to learn.
Without such a touchstone, time pressure can squeeze you, making you tired and reactive. Resisting change, she warns, is the most futile use of energy. Playing it safe and accepting the status quo may seem easier, but Fletcher is adamant it is not because it would mean that you are stuck instead of moving forward. Welcome change, she prompts, and use it to modify how you think.
Given her audacious success as a sports agent and how well she operated in that fluid environment, Fletcher's advice feels like hard-earned truth.
Wasted Energy
The entire point of Fletcher's book is that you must learn to manage your energy: It's one of the few things in life you can control.
Life will throw many things at you that you can't control, she cautions, so concentrate on what you can govern. She offers the model of one circle inside another. The smaller circle represents what you can control; the larger what you can't. The outer circle includes what other people think of you. The inner one, Fletcher cautions, is how you let that affect you.
In furtherance of her model, Fletcher guides you to write a list of your inner circle activities, focusing on areas in which you can be most productive, including what you think, how you react, what options you select and what you value. Do the same for the outer circle. That list includes your genetic makeup, previous experiences, ongoing situations and other people.
Fletcher reiterates that you can't control other people's actions or opinions, so don't waste your energy in frustration.
Scheduling and systems are critical to feed what gives you energy. Molly Fletcher
Fletcher prioritizes identifying and heeding things that deplete your energy. If you know a task you must do or a person you must deal with will reduce your energy, she cautions you to prepare to replenish it afterward. Find a way to complete the task without feeling exhausted. She recommends building in short breaks after long meetings to reset your energy clock before starting the next activity.
In a poignant piece of pre-pandemic guidance, she says that after a long business trip, you should work from home the morning after you return to center you before you deal with new challenges.
Astute Cheerleading
Fletcher has a brand: that brand is dynamic, actionable, life-improvement advice. She is not a self-help writer. Her guidance does not attempt to change you from the inside out. Instead, Fletcher offers an array of tasks and approaches, that, when you undertake them, will change how your life functions, which will then create positive changes within you. Reading an author whose approach is functional, rather than faux-psychological, is a relief and even endearing. The way Fletcher grounds her guidance in small daily actions inspires the urge to embrace her methods.
Fletcher is a prolific author. If you enjoyed The Energy Clock, you may also find guidance in her Fearless At Work, The Business of Being the Best or A Winner's Guide to Negotiation. Other authors' works that offer parallel advice include Every Monday Matters by Matthew Emerzian, Chasing the Bright Side by Jess Ekstrom and The Garden by Jon Gordon.