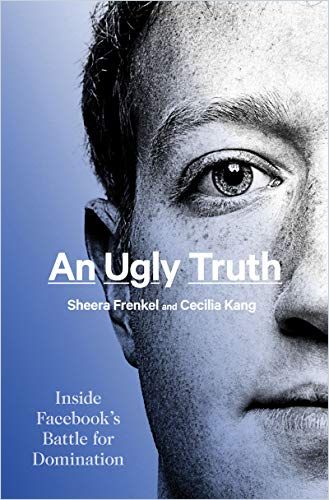 Beware Facebook
Award-winning journalists Sheera Frenkel and Cecilia Kang detail Facebook's inner workings, tactics and defenses with unsettling facts and insights.
Sheera Frenkel covers cybersecurity for The New York Times, where Cecilia Kang covers technology and regulatory policy. In this New York Times bestseller, they relate how Facebook founder Mark Zuckerberg aspired to make his company synonymous with the internet with scant care for its impact on society. Facebook became a global powerhouse worth $800 billion. 
But Facebook's algorithms and data collection tools, the authors assert, exploited private user information and allowed disinformation to run amok. Frenkel and Kang portray a company that gained wealth and power at the expense of people's privacy and the integrity of democratic institutions.
Multiple magazines listed this deep dive into Facebook as a book of the year for 2021, including Fortune, Foreign Affairs, The Times (of London), Cosmopolitan, TechCrunch and Wired.
Personal User Data
In December 2020, the authors relate, the American Federal Trade Commission and numerous states filed suit against Facebook for exploiting the site's users and engaging in illegal practices.
At Zuckerberg's side was Sheryl Sandberg, the former Google executive who converted his technology into a profit powerhouse using an innovative and pernicious advertising business that was 'surveilling' users for personal data. Sheera Frenkel and Cecilia Kang
Complainants asserted that Zuckerberg and his chief executive created a monopoly that crushed its competitors, misused personal information and enabled the spread of dangerous misinformation to some three billion people. Regulators sought to break up Facebook.
Like
Google executive Sheryl Sandberg had experience running and scaling up a technology business while dealing with Washington, DC. Sandberg sought to build the revenue Zuckerberg's ambitions demanded.
Government officials were beginning to question if free platforms like Facebook were harming users with the data they collected. Sheera Frenkel and Cecilia Kang
Google enticed people to buy what they already wanted. Facebook would sell data to advertisers who sought to convince people they needed things they didn't know they wanted. The Like button dramatically increased Facebook's data-collecting capacity by collating people's personal preferences.
Leaks
When Donald Trump ran for US president, Facebook's leaders didn't want to give conservatives the impression that Facebook was a liberal media outlet. Zuckerberg maintained that Facebook wasn't a publisher with an editorial perspective. He believed in free speech.
More alarming to Zuckerberg was the fact that an account of the all-hands meeting had been leaked to the media. This had never happened before.Sheera Frenkel and Cecilia Kang
Frustrated by the misinformation and conspiracy theories highlighted on Facebook feeds, Facebook employees leaked internal communications. Facebook's leaders granted an engineer access to its internal communications, including mouse clicks and people's location through their phones. She discovered the leakers, and management fired them.
Hackers
When something significant happened in the world, Zuckerberg wanted people to find out about it on Facebook – not YouTube or Twitter. He claimed Facebook welcomed all perspectives. But as Hillary Clinton and Trump's presidential race intensified, fabricated news sources posted deranged stories about the candidates, and audiences embraced them.
Employees who worked on the News Feed raised the issue with managers, only to be told that false news didn't run afoul of Facebook rules.Sheera Frenkel and Cecilia Kang
Facebook's "threat intelligence team" spied on communications on the site from Russian hackers who created the Facebook page DCLeaks, and wanted a journalist to release documents stolen from the Democratic Party.
Facebook had no strategy to prevent Russian hackers from setting up fake accounts to spread misinformation. Their behavior didn't violate its policies. Russian hackers and Trump benefited from Facebook's algorithms as people engaged with sensational content.
Cambridge Analytica
In spring, 2018, Cambridge Analytica obtained the likes and shares, known contacts and visited locations of tens of millions of Facebook users. Trump supporter Robert Mercer financed the firm, and Trump adviser Stephen K. Bannon led it. The company gleaned this data secretly thanks to Facebook's practice of sharing user information on countless apps.
With outrage over Facebook's role in election interference running high and the United States fiercely divided over Trump's election, the story brought together two raging veins of anger within the nation in a watershed privacy scandal.Sheera Frenkel and Cecilia Kang
Congressional hearings followed, and Mark Zuckerberg confronted an angry audience. But the tone became comical as elderly senators revealed they knew nothing about tech firms or technology. Facebook shares rose; Zuckerberg made $3 billion.
Disinformation
In a 2019 meeting with House Speaker Nancy Pelosi to discuss privacy and disinformation, Sandberg explained that Facebook had hired "content moderators" and developed artificial intelligence and other technologies to identify and delete disinformation.
Finally, they seem to be getting it, Pelosi told her aides after the meeting. Sheers Frenkel and Cecilia Kang
A few weeks later, however, an altered video appeared on Facebook that made Pelosi appear drunk and showed her slurring her words. Pelosi demanded Facebook take it down, but Zuckerberg insisted that Facebook would not remove the video.
Trump
Mark Zuckerberg knew COVID-19 was a global problem because he had access to infectious disease experts at the Chan Zuckerberg Initiative.
Facebook created hubs for information from the CDC and the World Health Organization and sought to correct COVID-19 misinformation and conspiracy theories. Zuckerberg provided significant leadership, and Facebook's public image improved.
In early April, the number of people who saw Facebook as 'good for the world' began to show marked improvement for the first time since the Cambridge Analytica scandal. Sheera Frenkel and Cecilia Kang
In April 2020, Trump commented that "disinfectants and ultraviolet light" might eliminate COVID-19. Tens of millions of people viewed this dangerous nonsense on Facebook, which left Trump's account intact; his misinformation inspired massive user engagement.
Mark Zuckerberg's profits and Facebook's success come at the expense of privacy, health and the stability of United States democracy, the authors assert. Facebook, they conclude, won't change unless the government forces it to do so. Facebook's algorithm is too pervasive and powerful.
Unprecedented Sources
Winners of the George Polk Award for National Reporting and the Gerald Loeb Award for Investigative Reporting, Frenkel and Kang gained an unprecedented number of confidential sources for their reportage. They take an aggrieved tone from the start, and their theme emerges clearly: society's powerlessness to change Facebook's scale or reach. The authors present their cold facts with no small amount of outrage. But this is not a screed. It's a layered, logical presentation of Facebook's workings and philosophy, which the authors regard as a legitimate and worsening threat to American democracy.
Other reading about Facebook includes The Facebook Effect by David Kilpatrick, Facebook: The Inside Story by Steve Levy, The Four by Scott Galloway and The Boy Kings by Katherine Losse.