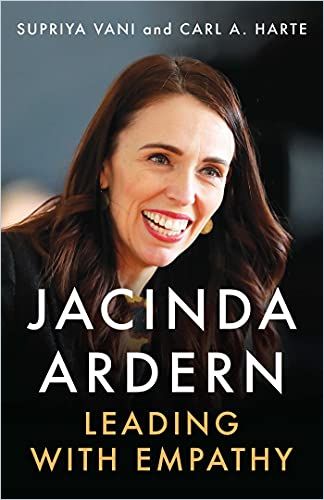 Ardern's Remarkable Journey
This personal and political portrait illuminates New Zealand's admired, astute leader, Jacinda Ardern.
In this biography, authors and community activists Supriya Vani and Carl A. Harte detail Jacinda Ardern's compassionate approach to governance. As prime minister of New Zealand, Ardern is renowned for her grace, humility and astuteness. Whether through pursuing social justice, fighting for effective climate change policies or facing a global health crisis, Ardern proves that politicians can be effective while maintaining their humanity.
"Rogernomics"
Jacinda Ardern was born in the North Island town of Murupara, where she experienced the impact of then-Finance Minister Roger Douglas's economic policies. Douglas had instigated extreme deregulation. "Rogernomics" hit New Zealand's unions hard, as Reaganism and Thatcherism did in the United States and the United Kingdom. Experiencing personal hardship as a youngster informed Ardern's empathetic approach to politics.
Ardern stuck to the rules of propriety and her vision of a different way of conducting politics. She plays the ball, not the man or woman.Supriya Vani and Carl A. Harte
New Zealand's first female parliamentarian, Elizabeth McCombs, was elected in 1933. Helen Clark and Jenny Shipley each served as prime minister during Ardern's formative years. Voted "Most Likely to Become Prime Minister" in high school, Ardern climbed the political ladder through a variety of government and party positions and became a member of New Zealand's Parliament in 2008.
Women in Politics
Prime Minister Helen Clark, who served from 1999 to 2008, helped Ardern – who began her career as a researcher in Clark's office – and supported her compassionate style. Both women were committed to gender equality and neither used her gender for electoral leverage. 
Women…work really hard and fight really hard to get where they are, and then they feel a sense of competition amongst other women.Supriya Vani and Carl A. Harte
Ardern found that some women in politics were ruthless, not mutually encouraging. Auckland Central held a general election in 2011 that pitted feisty National Party MP Nikki Kaye against Ardern. Kaye won by a small margin, giving Ardern impetus for her future career.
Beat the Odds
Ardern had no aspirations to lead the Labour Party when the 2017 election cycle began. But Andrew Little, Labour's party leader, resigned and nominated Ardern to replace him. Ardern won over the electorate with only a few weeks to campaign.
During her first week as leader, Ardern rescinded a ministerial appointment of a Labour member who confessed to a previous incident of welfare fraud, thus proving she had the necessary toughness to lead.
Ardern's campaign slogan, "Let's Do This," was a huge hit. Money poured in as women signed up to volunteer. She campaigned on income equality, homelessness and mental health, inspiring pundits to compare her to Barack Obama, Justin Trudeau and Tony Blair. Pundits dubbed the election fervor "Jacindamania."
On election night, no party had a majority. Winston Peters, leader of New Zealand First, agreed to form a coalition with Labour. This catapulted Ardern into a new position – from the deputy leader of a flagging party to the prime minister of New Zealand.
Unexpected Pregnancy
Within weeks of her victory, Ardern discovered she was pregnant. She and her common-law spouse, Clarke Gayford, did not think they could have children, so they were shocked. Ardern was the world's youngest female head of state. Now, she would be the second to give birth while in office.
We are going to make this work, and New Zealand is going to help us raise our first child.Jacinda Ardern
Ardern reached out to the indigenous Māori, with whom previous leaders had strained relations. In Europe, on her first trip abroad, Ardern reminded the world that Maori culture is New Zealand culture. Time magazine named her one of the world's 100 most influential people. 
Christchurch Call to Action
On March 15, 2019, a white supremacist murdered 51 Muslims in two mosques in Christchurch. This was the worst mass murder by a lone gunman in New Zealand's history. The shooter livestreamed his attacks on Facebook and surrendered after a police chase.
Speaking that day, Ardern said New Zealand would never condone racism; she avoided using angry or vengeful language.
Australia experienced a massacre and changed their laws, New Zealand had its experience and changed its laws. To be honest with you, I do not understand the United States.Jacinda Ardern
Ardern appeared before the Muslim community wearing a hijab – a headscarf – to show solidarity. People shared the video of her appearance more than a million times.She'd already offered legislation to ban automatic weapons. Peters, now deputy prime minister, pledged his support. In one week, Parliament passed sweeping legislation to limit firearms, something the United States has not done.
Effective Women Leaders
The year 2019 tested Ardern's mettle. In addition to the Christchurch massacre, her nation suffered bushfires, floods and a volcanic eruption on White Island. Ardern proved calm, empathetic and reliable in a crisis.
To face down COVID-19, Ardern found inspiration in the way Winston Churchill called on the British people to resist Hitler.
Other nations lurched through the crisis, procrastinating, making poor decisions and upending economies. Ardern, Germany's Angela Merkel, Taiwan's president Tsai Ing-wen and Iceland's prime minister Katrín Jakobsdóttir showed remarkable capability in containing the virus and saving lives. These countries' casualty rates proved much lower than those of nations with male leaders.
Empathetic and Pragmatic
Ardern was among the world's most-often lauded leaders for her campaign to keep the COVID-19 virus out of New Zealand. Citizens cooperated because they trusted her. An astounding 84% approved of her government's containment strategy. Holding the strictest lockdown in the world left New Zealand with a transmission rate of only 0.48. The world average was 2.5.
Everyone encounters thoughtful and generous souls who love children and possess an innate integrity. There are few, though, to be found in high office – fewer still who lead countries.Supriya Vani and Carl A. Harte
By observing, learning and adjusting, Ardern's government stayed one step ahead of the virus. Citizens rewarded her party with a majority in the 2020 election. Ardern proved that leading with compassion, agility and humility is a winning combination.
Jacindamania
Supriya Vani and Carl A. Harte admire Jacinda Ardern. They haven't a negative or cautionary word to say. And, even the most cynical reader will find Ardern worthy of their admiration. The authors don't explain New Zealand's politics or parties, so those from other countries may feel a bit lost during their recounting of campaigns. But there is no confusion about Ardern's inspirational handling of COVID-19. This hagiography will inspire women worldwide and inform students of new possibilities in governance.
Supriya Vani also wrote Battling Injustice. Carl A. Harte received an eLit Gold Award for Building Your Own Home. Stephen Levine's book Politics in a Pandemic also offers insight into Jacinda Ardern.