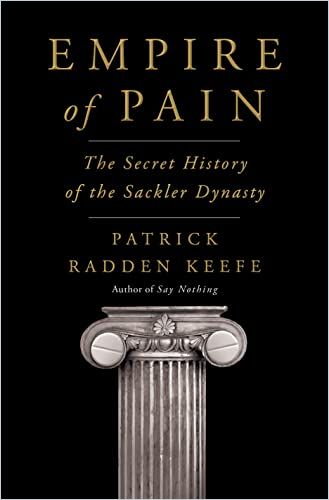 An Epidemic of Profits
Award-winning journalist Patrick Radden Keefe details the Sackler family's incredible success fomenting and sustaining America's opioid addiction.
When the Sackler family's pharmaceutical company unleashed OxyContin in 1996, it changed the course of US history. New Yorker writer Patrick Radden Keefe – whose book Say Nothing won The National Book Critics Circle Award for Nonfiction – focuses on the Sacklers, a family who made untold millions from the opioid addiction while shielding themselves from blame or consequences and gaining a public profile as philanthropists.
Arthur Sackler
After medical school, brothers Arthur, Mortimer and Raymond Sackler took jobs at Creedmoor Psychiatric Center in Brooklyn.
In 1952, Arthur gave his brothers $50,000 to buy Purdue Frederick – a small pharmaceutical company with $20,000 in annual billings. In the 1950s, the Swiss pharmaceutical company Roche developed Librium, which Sackler and his team marketed extensively to physicians as a treatment for anxiety, depression, obsessive thoughts and alcoholism.
It was Arthur Sackler who would be credited not just with this campaign but with revolutionizing the whole field of medical advertising.Patrick Radden Keefe
Roche also released Valium, which Sackler and his marketers promoted to treat muscle spasms and "psychic tension." Americans didn't think legal drugs prescribed by doctors could be dangerous, but First Lady Betty Ford and Senator Edward Kennedy, among others, acknowledged their addiction to prescription drugs.
In the early 1970s, Purdue Frederick's top-selling products included the laxative Senokot, the disinfectant Betadine and the earwax remover Crumenex. Raymond's son Richard joined the family business. He would become its second generation leader.
With his pharma fortune, Arthur Sackler collected Chinese art and, in 1959, bestowed "the Sackler Gift" on Columbia University, an endowment for study of the Far East.In 1986, he made the Forbes 400 list with a net worth of $175 million; he died in 1987 at age 73.
The Sacklers' London pharmaceutical company, Napp Laboratories, pioneered a time-release version of morphine, MS Contin. This development meant that terminal cancer patients no longer had to remain in the hospital connected to morphine drips. They could now take their pain medication at home. 
Pain Management
In 1984, The International Symposium on Pain Control helped doctors learn to view pain as an under-reported and under-treated ailment in itself. The idea emerged that pain medicines were addictive only when people took them recreationally. Richard Sackler exploited this misunderstanding for decades.
Since MS Contin was bound to face eventual competition from generic versions as patents expired, Purdue created a time-release version of oxycodone, a synthetic opioid prescribed in small amounts as an ingredient in Percodan and Percocet.
Purdue argued that the patented Contin coating on a dose of OxyContin would obviate the risk of addiction.Patrick Radden Keefe
By 1993, Richard Sackler had become senior vice president of Purdue. He sought federal approval and doctors' acceptance of OxyContin as a treatment for arthritis, neck pain, back pain and other chronic conditions. Oxycodone is much stronger than morphine, but Purdue insisted that its pill's time-release coating negated addiction by smoothing the patient's absorption of the drug.
Purdue's team wooed Curtis Wright, an FDA official who championed the drug. In late 1995, the FDA approved OxyContin. Wright left the FDA, spent a year at a drug firm in Pennsylvania, and then joined Purdue with a $400,000 compensation package.
Purdue's sales reps told doctors that fewer than 1% of patients who took OxyContin became addicted, thanks to its gradual release. Purdue budgeted as much as $9 million a year to buy meals for doctors it was wooing. Some 700 sales reps made contact with close to 100,000 doctors, many of whom were general practitioners, not pain specialists.
In 1996, OxyContin did $44 million in sales, being marketed in doses ranging from 10 to 80 milligrams, and, as of 2000, 160-milligrams. OxyContin reached $1 billion in annual sales as its reps pulled in average annual bonuses of $250,000.
Addiction
In 2001, New York Times reporter Barry Meier wrote a front-page story detailing people snorting and injecting OxyContin. He reported overdoses and illegal trafficking. Richard Sackler insisted that only lawbreakers misused OxyContin.
A study of patients recovering from surgery found that half needed OxyContin more frequently than the company's advertised hallmark dose of once every 12 hours. Purdue was fine with this; if patients needed three pills a day instead of two, it made more money.
In 2002, John Brownlee, the US Attorney for the Western District of Virginia, prosecuted doctors for prescribing excess amounts of OxyContin and dealers for selling it. Brownlee's office issued subpoenas to Purdue executives.
Purdue responded with millions of pages of documents, but it showed no evidence to back up its corporate claims that OxyContin wasn't addictive. The flood of paperwork revealed that Purdue coached its sales reps to lie about the drug's safety. The company pleaded guilty to felony misbranding, and several of its executives pleaded guilty to misdemeanor misbranding. Purdue agreed to pay a $600 million fine.
OxyContin sales reached $3 billion a year. In 2008, a Los Angeles crime ring recruited a doctor to start a pill mill. The physician prescribed 73,000 OxyContin pills.
Prior to the introduction of OxyContin, America did not have an opioid crisis. After the introduction of OxyContin, it did.Patrick Radden Keefe 
In 2010, Purdue created a tamper-proof OxyContin that users could not crush or dissolve. This allowed the company to reset the patent clock on OxyContin; it wouldn't have to compete against generic rivals for years.
Nan Goldin
In 2018, after renowned photographer Nan Goldin survived an OxyContin addiction, she organized a protest at the Sackler Wing of the Metropolitan Museum of Art in New York City. She staged similar protests at the Arthur M. Sackler Gallery on the National Mall in Washington, DC, and at New York City's Guggenheim Museum, where Mortimer Sackler was a trustee. The Guggenheim announced that it would accept no further donations from the family. London's National Portrait Gallery and Tate Museum made similar announcements. Facing multiple lawsuits, Purdue filed for bankruptcy, but the Sacklers remain fabulously wealthy.
Addicted to Profit
Patrick Radden Keefe's awe-inspiring research and heartfelt moral outrage builds a clear case that America would not have an opioid epidemic if not for the Sackler family's greed and willful callousness about the consequences of its pursuit of profit. Keefe presents an astute history of Arthur and Richard Sackler's determination to sell opioids by denying their addictive qualities. Wisely, Keefe never attempts to psychoanalyze the Sacklers. He presents their actions and lets readers draw their own conclusions. Keefe builds his case year by year, incident by incident, writing with traditional New Yorker elegance and restraint. He reveals a decades-long, slow-building, nation-wide train wreck. For Americans suffering through the opioid epidemic's impact, Keefe offers stark evidence of its cause.