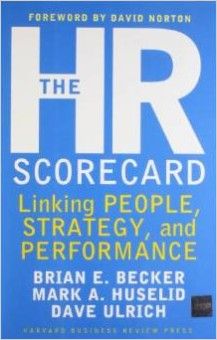 Align HR and Strategy
A trio of experts empowers HR professionals to demonstrate that HR can boost profits and functionality.
Your company's top brass should know how much impact your human resources department can have on profits – and you can show them quite precisely – according to this classic manual by three outstanding experts, Brian E. Becker, Mark A. Huselid  and Dave Ulrich. This trio of authoritative authors broke new ground in 2001 when they insisted that HR can contribute to a company's bottom line.
Becker is chair of the Department of Organizations and Human Resources at the State University of New York in Buffalo. Huselid is an associate professor in Human Resource Strategy at Rutgers University, and Ulrich is a professor at the University of Michigan School of Business and a popular author in this field.
In this now-classic text, the authors show how your HR strategy can make the most of your employees' abilities and talents to create a competitive advantage and gain higher profits. They explain how HR can nurture employee awareness and engagement and identify ways to generate internal support for your corporate strategy. Their manual focuses on steps HR can take at several levels to align with organizational goals.
Strategic Human Resources Architecture
Human resource departments need managers who can think strategically; an HR system that can create and implement policies and practices that support the corporation's overall intent; and employees whose skills, motivation and actions align with the organization's strategy.
The most potent action HR managers can take to ensure their strategic contribution is to develop a measurement system that convincingly showcases HR's impact on business performance.  Brian E. Becker, Mark A. Huselid, Dave Ulrich
To support the organization's strategic goals, HR must hire, train and keep professionals who can achieve the organization's long-term goals.
Historically, HR focused on technical administrative functions, such as qualifying job candidates, hiring and onboarding employees, providing continuing education, and managing remuneration and benefits. Today, HR professionals go beyond these functions and make valuable, measurable contributions toward the company's vision.
Professors Becker, Huselid and Ulrich essentially present a long, detailed and illuminating lecture on HR. Few HR professionals or students will have any trouble following their presentation, though those who aren't familiar with the field may find themselves re-reading here and there for full comprehension.
"High-Performance Work System"
 To create High-Performance Work System (HPWS) for your company, ask how changes in HR policies, procedures and practices might serve its corporate strategy? To build a business case showing upper management how and why HR can increase profits by building employees' knowledge, skills, abilities and attitudes, create a strategy map that shows where HR can elicit behaviors that nurture good performance.
Ask your HR brain trust if your current system augments the company's objectives and key performance drivers? Do your policies attract, develop and retain staffers who produce the results the organization wants? What factors can you measure to show whether HR is helping strategic performance?
Establish a system for collecting data and measuring those factors. This is your "HR Scorecard." Much of this data may not be available because no one previously measured it. If that means you need to collect new types of data more frequently, consider what you want to learn from both old and new sources and then pursue the information you need.
Developing an HR Scorecard and actually implementing one are two different things.Brian E. Becker, Mark A. Huselid, Dave Ulrich
With your HR Scorecard, you can gather data, measure performance and analyze the results. Then you'll have the knowledge you need to change your HR activities as required to align with and fully support the company's strategic objectives. For instance, with the Scorecard, you're better prepared to conduct a Return on Investment (ROI) analysis to demonstrate how HR's results abet the company's strategic plan.
HR Scorecard
Your HR Scorecard validates the human resource department's contribution to the company's success. What you measure on your HR Scorecard will be the elements that manage or are promising to manage, so select them carefully. Showcase the relationship between the cost and benefits of HR deliverables. For example, it costs more per hire to attract, recruit and retain high-quality staff, but the benefits outweigh the additional costs. Long-term retention leads to having more knowledgeable employees and saves the cost of turnover.
Learning to serve as strategic partners isn't just a way for HR practitioners to justify their existence or defend their turf. It has implications for their very survival and the survival of the firm as a whole.Brian E. Becker, Mark A. Huselid, Dave Ulrich
If the company's strategy changes or the performance drivers affecting that strategy change, HR's strategy must change also, and you must update your Scorecard.
Core Competencies
Your goal is to cultivate the company's culture by weaving its values, mission, vision and strategy into day to day operations. To build your individual credibility, you must live the values you espouse: working with others, establishing win-win relationships, being honest and taking initiative – and you must develop your core competencies, proficiency and business knowledge.
Being proficient demands knowing HR practices, theories and procedures. Having business knowledge requires understanding your company's technological, strategic, financial, sales and marketing functions. Your core competencies also include your ability to organize, orchestrate, manage and deliver change initiatives.
To master strategic performance management, the authors say, you must identify and implement the strategic ways HR can contribute to company strategy and success. This includes taking appropriate, accurate measurement of HR's influence on performance drivers and corporate strategy. Communicate how HR affects strategy and profits, so senior management can understand why changing HR's role will lead to a positive return on investment.
Human resource managers should evaluate the degree to which their firm's entire system of enablers – from employee selection to development and rewards – supports the non-HR drivers outlined in the firm's Scorecard.Brian E. Becker, Mark A. Huselid, Dave Ulrich
Any successful HR-driven corporate change effort requires defining the reason for the change; clearly outlining its technical elements; identifying project leaders, sponsors and a project champion; and getting agreement on the desired outcomes of the change.
To proceed, openly share information, including Scorecard results and progress. Establish financial support for the technology and other structural adjustments the change requires. Develop systems that support and reinforce the change. Begin with small changes to achieve early successes that inspire continued change. Learn from and develop the program as you go, adjusting as necessary. Along the way, celebrate progress and successes, however small.
Essential text
Becker, Huselid and Ulrich provide an essential text for HR executives – and an illuminating read for corporate leaders, including CEOs. They offer a crucial roadmap for proving that HR, strategically deployed, can significantly influence a company's performance and profitability. And then they tell you how to proceed with strategic deployment.
The authors detail a specific process. Their writing is dense, to the point and instructional. While those who are not in HR might need an extra dose of incentive to comprehend and retain the authors' approach, HR professionals will welcome this manual as an indispensable guide for bringing HR into the 21st Century.
Brian E. Becker and Mark A. Huselid co-wrote The Differentiated Workforce and The Workforce Scorecard. Among his other books, Dave Ulrich wrote Human Resource Champions. He also co-wrote Reinventing the Organization with Arthur Weng and The Why of Work with Wendy Ulrich.