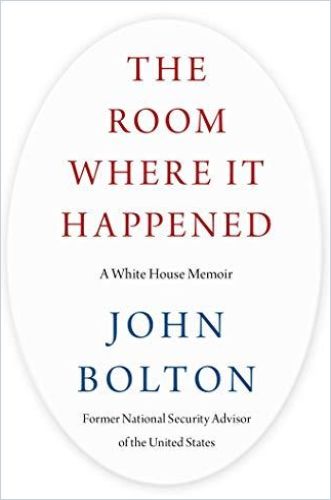 A Tell-All from "Inside a Pinball Machine"
Former national security adviser John Bolton offers an insider's take of the fundamental dysfunction in the Trump White House.
John Bolton, former national security adviser to President Donald Trump, also served as the US ambassador to the United Nations and held positions in the Reagan, George H.W. Bush and George W. Bush administrations. Trump sued to block publication of Bolton's book but, given the spate of former Trump officials' tell-alls, Bolton's insider nuggets are no longer quite as shocking as they once were.
Comedian Stephen Colbert summed up initial reaction to the information in Bolton's memoir by saying, "I can't believe I'm saying this: It's worse than I even imagined." The New Yorker called this "a scathing and revelatory account…indispensable, jaw-dropping and specific." And The Washington Post found this "the most substantive, critical dissection of the president from an administration insider."
Contradictory Chaos
After Trump's victory in 2016, Bolton – then a Fox News commentator – sought to become Secretary of State, but Trump appointed former Exxon executive Rex Tillerson instead. Bolton explains that people rapidly quit or left their administration jobs so, in April 2018, Trump named Bolton as his national security adviser.
Trump and most of his team never read the government's operators' manual, perhaps not realizing doing so wouldn't automatically make them members of the deep state.John Bolton
Bolton offers the not-news that Trump was profoundly ignorant and proud of it, and that he made decisions on a whim, without ever reading any research. Bolton cites a meeting with British prime minister Teresa May at which Trump expressed surprise that the United Kingdom had nuclear weapons. On the 30th anniversary of the Tiananmen Square massacre, Bolton remembers Trump saying, "That was 15 years ago. Who cares about it?"
Trump believed he could run the executive branch and establish national security policies on instinct, relying on personal relationships with foreign leaders and with made-for-television showmanship always top of mind. John Bolton
Bolton emphasizes that Trump loathed sharing the spotlight. For example, when Trump and Bolton appeared together in Miami, Cuban and Venezuelan immigrants gave Bolton a standing ovation. Bolton reports Trump's reaction to the crowd: "You know that means the end of his job." Bolton blames Trump's organizational chaos for not replacing Obama-era officials or crafting new policies, even two years after the president took office.
Amateurish
Bolton concludes that Trump's negotiating skills are subpar. For example, Trump met Kim Yong Chol, a henchman of North Korean leader Kim Jong Un, and, Bolton says, began offering concessions to him almost immediately. The author characterizes Trump as amateurish in his meetings with Kim Jong Un, during which the president instantly kowtowed to the strongman.
Despite breaching its commitments repeatedly, North Korea always cajoled a gullible America back to the negotiating table to make more concessions.John Bolton
Bolton cites late-night negotiations at the G7 meetings in Canada, during which the unprepared Trump readily conceded important points. Prime Minister May, Bolton discloses, urged Trump to negotiate with Russia's Vladimir Putin from a position of strength. Bolton insists that Trump lied when he said the meeting came about at Putin's request; Bolton remembers Trump as having begged Putin for it. When the two met in Helsinki, the American interpreter told Bolton that Putin did 90% of the talking.
Trump's inconsistent views and decisions on Russia made all our work complicated, and cyber and noncyber issues often bled into each other. John Bolton
Bolton paints the biggest bombshell from Helsinki as Trump contradicting the unanimous conclusion of US officials that Russia had meddled in the 2016 election. Bolton shames Trump for his disastrous comment that he believed Putin over his own intelligence community and describes himself as stunned by that development.
Blunders
Bolton felt disbelief in December 2018, when Trump told Turkish leader Recep Erdogan that the United States had defeated ISIS and that Turkey should take over peacekeeping in Syria. Bolton underscores that Trump's decision meant abandoning the Kurds, staunch US allies.
He opposed endless wars in the Middle East but had no coherent plan for what followed withdrawing US forces and effectively abandoning key regional allies as the withdrawal unfolded. John Bolton
Trump's propensity for changing his mind about US strategy in response to inaccurate journalism made Bolton feel as if he were "inside a pinball machine."
Venezuela
The United States, Bolton laments, narrowly failed to replace the despotic Venezuelan leader, Nicolás Maduro. Bolton was against sending troops to Venezuela, but he endorsed tougher sanctions on Cuba, which supported Venezuela. Trump wanted to meet with Maduro, which Bolton strongly opposed. Bolton alludes to Trump waffling on how vigorously to support the political opposition in Venezuela. Russia denounced foreign interference there as a "Bolshevik-style" coup, Bolton divulges, saying that those words shook Trump.
The President vacillated and wobbled, exacerbating internal administration disagreements rather than resolving them, and repeatedly impeding our efforts to carry out a policy.John Bolton
Bolton relates the hilarious but horrifying story of Trump meeting the wife of the Venezuelan opposition leader and noticing that she wore no wedding ring. This convinced Trump, Bolton maintains, that the leader lacked strength. Bolton mourns that the United States declined to help the opposition take down Maduro.
China
Bolton found Trump's response to Chinese telecommunications company ZTE's decision to ignore sanctions on Iran and North Korea to be another jaw-dropping example of the president's overestimating his limited negotiating abilities. Commerce Secretary Wilbur Ross, the author recounts, had barred ZTE from operating in the United States. Yet Trump, in a conversation with China's Xi Jinping, offered to reverse Ross's order without, Bolton emphasizes, demanding anything in return.
This was policy by personal whim and impulse. John Bolton
Bolton discloses that later, at a G20 meeting in Buenos Aires, Trump asked Xi to release two individuals with dual US–Chinese citizenships who had been detained in China. When Xi declined, Trump dropped the matter.
Maiden Aunt
Regardless of your view of Donald Trump – and getAbstract remains, as ever, politically neutral – you may find it difficult to respect Bolton for his tell-all. Bolton's contempt for Trump is plain, so his reasons for sticking around in what he presents as a discouraging madhouse remain unclear. And rather than call out the dangerous irrationality of Trump's processes, Bolton instead stresses how often Trump functioned in opposition to standard forms of behavior. At times, Bolton sounds like a scandalized maiden aunt scolding someone for using the wrong fork while the house burns down.
Other insider accounts of the Trump administration include Rage by Bob Woodward, Disloyal by Michael Cohen, Landslide by Michael Wolff, and I Alone Can Fix It by Carol D. Leonnig and Philip Rucker.