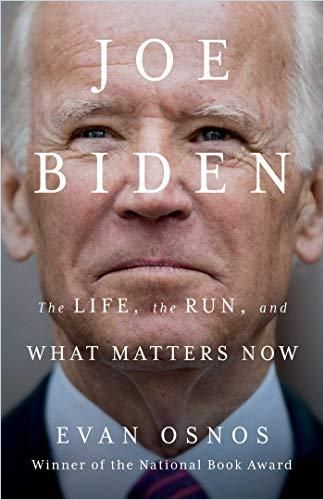 A Sincere, Pugnacious Enigma
National Book Award and Pulitzer Prize winner Evan Osnos examines President Joe Biden's personality and history, both personal and political.
In this concise study of Joe Biden, Evan Osnos, a National Book Award winner – for his Age of Ambition – and a New Yorker staff writer since 2008, delves into the US president's flaws and considerable attributes. The author presents Joseph R. Biden Jr.'s most notable characteristic as being able to take a blow and persevere. He sees Biden as a collage of contradictions: a lifelong politician who's "thin-skinned" and empathetic, gaffe-prone and – a rare enough attribute – thoroughly decent.
"Joe Impedimenta"
Because Joe Biden suffered a severe childhood stutter, Osnos reports, his classmates called him "Joe Impedimenta." Biden told the author of his fear, anger and embarrassment, and said he overcame his stutter in part by striking up conversations after mentally rehearsing what he would say. 
As Biden tells it, the story of overcoming his 'impedimenta' rests mostly on will and perseverance.Evan Osnos
Decades later, Osnos notes, Biden remains ever-aware of who respects him and who rejects him.
Victory and Death
Biden attended the University of Delaware and went to law school at Syracuse University. Osnos identifies Biden as a historic anomaly: the first Democratic presidential nominee in decades who didn't graduate from an Ivy League college.
At 29, Biden ran for the US Senate in 1972, and, as Osnos tells it, upset the incumbent by 3,000 votes. A month after the election, Biden's wife, Neilia Hunter and their baby daughter, Naomi, died in a car wreck. Their young sons, Beau and Hunter, survived. Osnos offers the astonishing tableau of Biden commuting 90 minutes each way by train between Delaware and Washington for years, so he could put his boys to bed each night. That this story reveals aspects of Biden that Osnos does not address – most significantly that a lesser man than Biden would have tried to make political hay out of his devotion. Biden, Osnos explains, never did. 
In 1977, Biden married professor Dr. Jill Jacobs. Their daughter Ashley is a social worker.   
A Classic Centrist
At 45, Biden suffered a brain aneurysm. He awoke on the floor of his hotel room, unable to move his legs. A priest delivered last rites. But, after months in the hospital and months of bedridden recovery, Biden returned to the Senate.
Osnos points out that Biden is not a natural orator. He would often practice speeches by addressing the nearly empty Senate chamber at night. However, Osnos also notes that Biden can be a windbag. President Barack Obama once told Biden he wanted to hear his thoughts, but in short bursts, not long speeches. 
In painting Biden as a classic centrist, Osnos recounts that the president now has rethought some earlier decisions, including support for the Iraq War, the deregulation of Wall Street, the Defense of Marriage Act and the North American Free Trade Agreement. Osnos takes care to concede Biden's regret at the way he questioned Anita Hill at Supreme Court Justice Clarence Thomas's confirmation hearing and at voting for the Iraq War.
In the vice presidency – the most maligned job in Washington – Biden often projected the look of a man who couldn't quite believe his good fortune.Evan Osnos
Osnos captures Biden's occasional tactical blindness: As vice president, he warned Obama against ordering the assault on Osama bin Laden. And, Osnos depicts Biden's positions before the 2016 election as left of Democratic candidate Hillary Clinton's. However, he writes throughout, Biden has shown his capacity to learn and change.
Grief
When the 2016 presidential campaign began, Biden trailed Clinton in the polls. Osnos reveals that she had been stockpiling campaign funds since 2014. Obama signaled he would support Clinton over his vice president as she built support among the Democratic establishment and donors.
That year, Biden's son Beau, 46 – a combat veteran and rising political talent – died of brain cancer. Osnos writes with compassion of Biden's decision then to leave public life. During the two years after Biden left the White House, he earned $15 million for speeches and book deals. After Clinton's defeat, Biden told everyone he could have defeated Donald Trump. Osnos never clarifies whether he agreed with Biden or regarded this as hubris, but, of course, Biden did go on to defeat Trump in 2020.
Unstoppable
Heading into the 2020 campaign, Biden finished fourth in the Iowa caucuses, and fifth in the New Hampshire primary. But, Osnos reports, Biden's campaign took flight when US representative James Clyburn, the highest-ranking Black member of Congress, endorsed him before the South Carolina primary. 
Failure at some point in your life is inevitable, but giving up is unforgivable.Joe Biden
On Super Tuesday, Biden took ten of 14 states, including a crucial win in South Carolina. Osnos asserts that this locked up the Democratic presidential nomination.
Osnos recognizes that Biden often shows a capacity to criticize and then befriend people who offend him. He notes that many of Biden's colleagues describe him as unfailingly gracious. Bernie Sanders quickly endorsed Biden – much more quickly than Sanders endorsed Clinton after she defeated him in 2016. Osnos believes that Biden proved to be – against all odds – a man who inspired the electorate in his own sincere way.
A Bit Flat
This is Osnos's second book, and while he writes with his usual articulate, readable voice, the author relies more on facts than emotions. Given that Osnos has always shown an extraordinary eye for social nuance, particularly in his remarkable book about China, Age of Ambition, this portrait – despite the pain and complexity of Biden's life – falls a bit flat and, at times, feels rushed. Even so, it's certainly among the best current sources for those seeking insight into the familiar but somewhat enigmatic president of the United States.