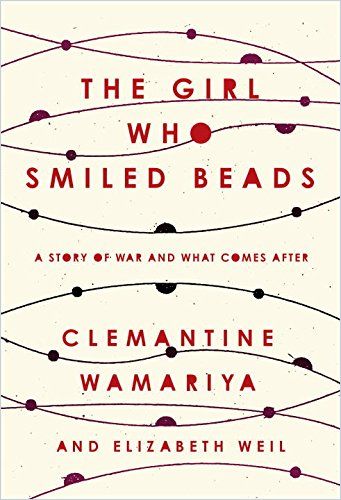 A Refugee's Survival and Triumph
Human rights advocate Clemantine Wamariya details her upbringing amid the horrors of genocide and her slow, painful escape from trauma.
Human rights advocate and public speaker Clemantine Wamariya was an inquisitive child who loved playing with her older brother and pestering her older sister Claire. Then one day, her life changed forever. She and Claire fled as war, murder, betrayal and madness exploded around them.
Writing with award-winning New York Times Magazine journalist Elizabeth Weil, Wamariya tells of her struggles to survive the Rwandan genocide. She offers a deeply personal memoir about human nature amid the pressures of war, poverty and homelessness.
Wamariya grew up in Rwanda in a middle-class household. But one day, when she was six, her parents told her she could no longer play with her best friend or go outside. The "conflict" had engulfed Rwanda.
If a person wades deep enough into memory…a narrative will emerge that makes moral and emotional sense.Clemantine Wamariya and Elizabeth Weil
Clemantine and Claire hid underground as bombs rained outside. The two girls became refugees, traveled alone and eventually reached a Red Cross refugee camp in Burundi. Aid workers gave them a bag they could fill once a month with beans and maize. Insects – including lice and bugs that burrowed into their feet – tormented them.
Refugees
In the camp, they met Rob, a 25-year-old CARE worker from Zaire. He wanted to marry Claire, so the sisters went to his home village. His family was warm and accommodating, and his mother enrolled Clemantine in school.
The war…was everything, everywhere, all at once, and it stood for nothing.Clemantine Wamariya and Elizabeth Weil
When people fleeing the fighting in Zaire overran their village, Rob arranged for Claire and their baby Mariette to travel with Wamariya to another village where his uncle was a pastor. Soon that village lost its electricity, and its water system shut down. Wamariya, Claire and Mariette fled on a boat, which began sinking. People threw their most cherished possessions into the water to stay afloat. 
In time, Wamariya, Claire, Rob and Mariette made their way to Durban, South Africa. When she was there, Wamariya sometimes watched Oprah Winfrey on TV. She loved Winfrey's warmth and style.
Then Claire got pregnant again, and Rob told her that she and Wamariya had to go to Rwanda to find their parents. They could have stayed in South Africa and been safe, Claire was only 17 and, like all Rwandan women, she had grown up believing she should do what her husband told her to do.
War Zone
Wamariya traveled to Zaire with Claire and Mariette, but they couldn't find anything to eat. Zaire was now the Democratic Republic of the Congo. Bombs went off erratically; bodies decomposed on the street. Battles went on for days. Then, with Rob, they moved to a sprawling slum in Lusaka, Zambia.
Claire applied for a microloan from a UN representative who encouraged her to apply to emigrate to the United States. America accepted her application, and the three adults and Mariette flew to Chicago.
Refugees in America
The family moved into an apartment with the help of the church they joined. Wamariya went to private school in the suburbs and lived with a church member, Mrs. Thomas, whom she came to regard as her American mother.
Experience is the whole mess, all that actually happened; a story is the pieces you string together, what you make of it, a guide to your own existence.Clemantine Wamariya and Elizabeth Weil
On weekends, Wamariya helped Claire with cooking, cleaning and caring for the children. She didn't talk to her sister about her more comfortable life with Mrs. Thomas. Claire and Wamariya got their mother a visa and plane fare to Chicago, while their church also brought their father and siblings to America.
On the Oprah Show
In 2006, Wamariya won a writing contest for an essay recounting her experiences. As a result, Oprah Winfrey's staff invited her and her sister Claire to appear on Winfrey's show. Winfrey reunited Wamariya and her sister with their newly arrived family on her show. They hadn't been together since 1994, when the war broke out.
The family lived together, but Claire was the only one with a job. Wamariya studied for college entry exams at Claire's dining table across from her mother who was studying to learn English.
The fantasy of reunion was a lie. No lights, no camera angles, no makeup could restore the time we'd lost and the relationship we could have had. Clemantine Wamariya and Elizabeth Weil
Yale accepted Wamariya's application, but required her to get more writing instruction, so she went to boarding school. She found she couldn't channel her energies productively. She could only broadcast anger and pain. She made braided bead bracelets and decided to give 100 of them away. With each gift, she let go of something painful or destructive that was holding her back.
Beads and Thunder
Winfrey invited Wamariya and Claire to speak at her South African high school for girls. There, Wamariya saw three dolls covered with beads that jogged a hidden memory. Claire reminded her that, as a child, Wamariya always asked her to tell the fable about "the girl who smiled beads." In the story, the thunder agrees to help a woman conceive, and she has a daughter so beautiful that she smiles beads.
For Wamariya, the girl who smiled beads was a strong goddess, a counternarrative to war, rape and homelessness. She explored her memories and studied the work of W.G. Sebald, who wrote about Germany's "mass amnesia" after World War II.
I would be the girl who smiled beads…one who had power and agency over her life, one who did not get caught.Clemantine Wamariya and Elizabeth Weil
President Barack Obama appointed Wamariya to the board of the US National Holocaust Memorial Museum, which she represented in 2014 in Rwanda on the 20th anniversary of the genocidal conflict. Rwanda began a campaign of forgiveness, so neighbors could again be neighbors. Wamariya worried that if she forgave people for doing unforgivable things, others might excuse their actions.
The End of the Beginning
Wamariya moved to San Francisco with her boyfriend Ryan and took her mother on a trip to Europe. But they had been through different traumas and could not understand each other's pain. After the trip, Wamariya set out to find a narrative that worked for her.
A Human Face
Elizabeth Weil is an able, personable journalist and seems to have a profound connection with Wamariya. Their collaboration offers myriad details of Wamariya's personal, psychological, spiritual and practical journey. Wamariya's pain and gratitude illuminate her tale. This deeply felt, articulate and singular saga will captivate anyone interested in the growing global refugee crisis, contemporary African history, US foreign and immigration policy, and the human determination to keep the soul alive in the midst of horror. Wamariya gives refugee statistics an unforgettable human face and meaning.
Elizabeth Weil also wrote No Cheating, No Dying and They All Laughed at Christopher Columbus. With Amy Maniatis, she co-wrote Crib Notes.