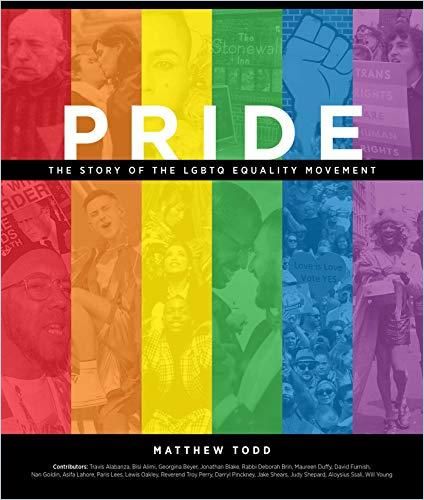 A History of the Gay Rights Struggle
Matthew Todd blends words and pictures in this coffee-table artbook tracing the history of gay rights.
Matthew Todd, author of Straight Jacket and editor-at-large of Attitude magazine, details the accomplishments of the Gay Pride movement today, 50 years after the Stonewall riots. Todd conveys the movement's achievements in a lush photographic retrospective of one of the world's most successful social justice campaigns. He details greater social acceptance for LGBTQ people, their political influence and their right to marry in many countries, as he warns both gay and straight readers not to be complacent. Todd cautions that even as the LGBTQ+ community and its allies feel justifiable pride in their achievements, homophobic, right-wing parties are on the rise worldwide.
Todd carefully curated and annotated page after page of photographs for this book, which also includes personal commentary from photographer Nan Goldin; activist Reverend Troy Perry; Nigerian activist Bisi Alimi; pioneering Muslim drag queen Asifa Lahore; innovative gay rabbi Deborah Brin; transgender rights activist Paris Lees; Judy Shepard, mother of gay hate-crime victim Matthew Shepard; New Zealand's Georgina Beyer, the world's first openly transgender mayor; and many other significant figures in the LGBTQ rights struggle.
Todd attempts an historical overview, which means at times he presents the canonical version of events with only enough detail to bring them to life. At other times, he hurries through certain moments, so he can fully illuminate others. Given that this is a coffee-table art book that intends to inspire, Todd seems to have chosen the correct approach, even though informed readers may miss certain highlights they might have hoped to find.
50 Years 
Todd begins with a crucial truth: Throughout history, gay people could seldom congregate openly. He reports that they either denied their homosexuality or joined a secret, underground world. 
The evolution of gay rights is one of the most successful social justice movements in history. We have gone from outlaws to in-laws within less than 50 years.Matthew Todd
Todd runs down a list of firsts: Virginia Woolf's 1928 Orlando stands out as an early queer novel. In 1943, Jean Genet's Our Lady of the Flowers described the homosexual underworld in Paris. Todd cites Tennessee Williams and Patricia Highsmith sublimating their homosexuality in their work, and African-American James Baldwin writing novels with bisexual or gay main characters. In the late 1960s, Todd reports, leaders of the burgeoning gay rights movement wondered which change agents they could use effectively. Attention, power and change eventually stemmed both from confrontation they did not provoke and parades they staged with pride.
Stonewall Riots
Todd shows the influx of gay men congregating in cities like New York in the 1960s. He depicts cheap bars like the Stonewall Inn as safe havens for a clientele of discreet gay or bisexual men, flamboyantly gay men, lesbians, drag queens, trans people and people of color.
The mafia ran the Stonewall Inn, Todd reveals, and it had bribed police to warn it before any raid. But on June 27, 1969, the police gave no warning. As guests resisted rough treatment by the police, tensions grew. Todd describes multiple police provocations before the crowd erupted into violence. The riot continued until the early morning, and, Todd reminds readers, 2,000 people rioted the next night. 
But on June 28, 1970, a different milestone emerges from these pages, as Todd illuminates the first Gay Pride parade in New York City.
AIDS 
Todd notes that AIDS began to surface in 1981 with reports of a rare cancer, Kaposi's sarcoma, linked to deaths of homosexual men and intravenous drug users. By 1982, the Centers for Disease Control called AIDS an epidemic. Rupert Murdoch's Australian newspaper, Todd laments, called it the "gay plague." 
The Reagan and Bush Sr. administrations turned a blind eye to HIV and AIDS because it was 'a gay disease' and nobody cared, and it went on to become the biggest disease affecting the world today. Seventy million infections, 37 million deaths.Matthew Todd
Todd reveals that in 1994, AIDS was the leading cause of death among 25- to 44-year-old Americans. He discusses the emergence, in 1997, of the combination drug Combivir, which stops the virus from replicating. Today, Todd notes, at-risk people can take the preventive pre-exposure prophylaxis (PrEP), though, he cautions, lack of health insurance limits access to it in the United States.
Political Power
Todd follows the achievements of San Francisco gay rights activist Harvey Milk, who gained a seat on the city's Board of Supervisors in 1977, becoming the first openly gay, non-incumbent elected official in the United States. The author captures the tragedy of a disgruntled colleague assassinating Milk on November 27, 1978. 
Todd covers playwright Larry Kramer's activism in founding ACT UP to organize protests in the United States. It succeeded in pressuring the Food and Drug Administration to fast-track AIDS drugs and finally caused President Ronald Reagan to form a commission to study AIDS in 1987.
Todd reports that today openly LGBTQ+ politicians win seats at every level of government, though his book predates President Joe Biden's appointment of gay Secretary of Transportation Pete Buttigieg.
International and Inclusive
Todd explains that in June 2015, the US Supreme Court's decision in Obergefell v. Hodges made gay marriage legal nationwide in the United States. He estimates that 45% of US Christian churches accept gay members, and notes that the Jewish faith has become more inclusive. Outside the United States, many nations, including Turkey,and many countries in Africa, remain intolerant of LGBTQ+ lifestyles.
The Church is against so many of the efforts used to prevent the HIV virus from spreading – against condoms, contraception – and what do they put in place? Absolutely nothing.Matthew Todd
The author celebrates that many multinational companies now support robust LGBTQ+ diversity programs, but he warns that despite this progress, more work remains ahead. 
Rare Hybrid
Pride is a rare hybrid – an artful coffee-table book of elegant design with worthy reportage woven among the archetypal and evocative photographs. So, any review or coverage of Pride that cannot include some of its photographs – like this one, for example – also cannot convey the full power of Todd's well-chosen images even while praising the worthwhile historic reporting that informs them. Of necessity, this review focuses on Todd's words. Intrigued readers will gain a fuller understanding by perusing Pride in person.
Other worthwhile books on the history of the struggle for gay rights include We Are Everywhere by Matthew Reimer and Lillian Faderman's comprehensive overview, The Gay Revolution.