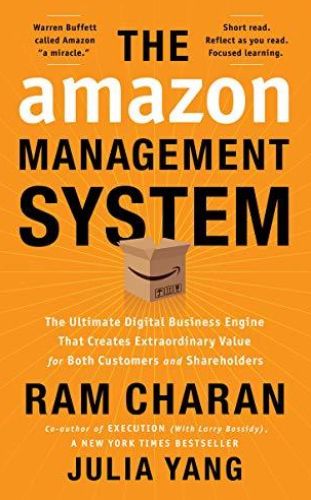 What Makes Amazon Great
Management consultant Ram Charan and professor Julia Yang break down Amazon's winning ways in this fast-reading, on-point guide.
In this illuminating analysis of the Amazon Management System (AMS), authors Ram Charan and Julia Yang unveil the company's secrets of success. They note that, as of 2018, Amazon accounted for 45 cents of every dollar of United States' online sales. Amazon Web Services is the top global cloud services operator. Fulfillment by Amazon (FBA) enables the operations of the millions of Amazon online marketing partners. Charan and Yang especially note Amazon's groundbreaking developments, including Alexa – a sophisticated AI assistant; Echo – smart speakers; and Amazon Aurora – a data engine.
Charan served on the faculties of Harvard Business School and Northwestern University. Yang, a faculty member of the joint MIT-Tsinghua MBA program, also serves on the board of the philanthropic Narada Foundation. Together, they've crafted a fascinating package about how Amazon runs.
Insiders gave the book kudos. Johnny C. Taylor Jr., president and CEO of the Society for Human Resource Management (SHRM), said the authors, "distill the maximum brilliance from a very complex company into the minimum number of pages, leaving the reader smarter and better prepared." Michael J. Graff, chairman, CEO and president of American Air Liquide, said, "Whether it's data, machine learning, cash flow, hiring or customer obsession, Amazon is the leader to learn from and this book is the guide."
Guiding Light
Charan and Yang argue that many leaders manage organizations using command-and-control protocols and procedures that trace back to church and military traditions. Offering familiar, dated conclusions, the authors say such top-down, hierarchical, corporate management systems function poorly in an era of transformative big data.
They describe Jeff Bezos, Amazon's founder and CEO, as the guiding spirit behind the Amazon Management System (AMS). And, they admire his leadership in combining a sophisticated digital infrastructure with the world's most extensive system for distributing physical goods. 
Our pricing objective is to earn customer trust, not to optimize short-term profit dollars. Jeff Bezos
The authors cite the way that Amazon transformed its third-party sellers from competitors to partners within its ecosystem. Between 2016 and 2019, they note, Amazon's market value approached close to $1 trillion dollars.
Interviews
Charan and Yang explain that Amazon's philosophy emphasizes customer satisfaction and well-being. They report that its recruitment and development processes feature exacting standards, a long-range view, and meticulous planning, organization and care. Charan and Yang reveal that Amazon assigns a specially trained "bar raiser" to sit in on applicant interviews to make sure Amazon hires exceptional candidates.
Data Organization
The authors explore Amazon's efficient approach to data organization and management. In this compelling section, Charan and Yang reveal how Amazon makes detailed data available immediately. Amazon's sophisticated AI, the authors explain, allows its analysts to access, track and extract meaning from all of its data, detect anomalies, and develop informed insights and recommendations quickly and efficiently.
Data is the new equity in the digital age.Ram Charan and Julia Yang
Charan and Yang underscore that Amazon's leaders lean on confirmable facts, metrics and reliable data, not anecdotal evidence, and they suggest that Amazon's data-management system liberates its executives from burdensome bureaucracies.
Great new ideas, Charan and Yang posit, are the firm's most valued currency. The authors disclose Amazon's "two-pizza team"(2PT) approach. The ideal Amazon project team, Charan and Yang say, consists of six to 10 employees – a small enough group to make a meal out of two pizzas.
The authors touch on a signature Bezos idea: that customers always expect more, so companies must constantly upgrade to delight clients and improve their experiences. Charan and Yang rave about sophisticated tools that routinize Amazon's decision-making. Executives seek a range of opinions from stakeholders, which, the authors detail, leads to smarter decisions.
Digital Competencies
Charan and Yang describe Amazon's winning formula as a digital ecosystem with rapidly evolving infrastructure. They distill Amazon's principles down to a compulsion to make customers happy, an obsession with generating cash, and an addiction to innovation, long-range thinking and planning.
The Amazon Management System…has been continuously and relentlessly empowering Amazon for more growth and more exploration into the unlimited sky of the digital age.Ram Charan and Julia Yang
In the digital age, Charan and Yang stress, nothing counts more than cash earnings per share. The Amazon Way, they report, calls for thinking big, but spending wisely. 
Knowledgeable Hagiography
This is an articulate, well-researched, knowing and helpful portrait, though it verges on hagiography. The authors focus on what Amazon does well or best, and they spend little time on its various labor issues or treatment of warehouse workers. Charan is a renowned management consultant and author and an equally renowned explainer-of-successful-businesses. His skills are front and center here. In this condensed work, Charan and Yang explore Amazon's greatest hits – the most visible and condensable of its many virtues. They wheelspin slightly as they – needlessly – compare Amazon's state-of-the-art management with old-school command and control. But their tone is always upbeat and they will satisfy any readers seeking a fast overview of Amazon's tactics to mine for their own companies.
Ram Charan also authored or co-authored What the CEO Wants You to Know, Boards that Lead, Execution and Talent Wins. Other relevant works on Amazon include The Bezos Letters by Steve Anderson and Think Like Amazon by John Rossman.