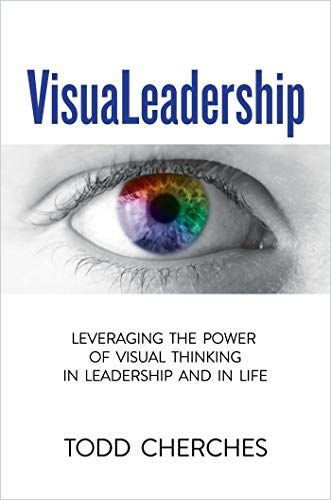 See Your Thoughts
Todd Cherches explains how leaders can make the most of the power of metaphors and visual thinking.
Leaders can draw attention to their ideas, boost understanding and make their messages more memorable by harnessing the power of graphics, metaphors and word pictures. As Todd Cherches – CEO of BigBlueGumball – explains, these visual tools can help leaders make decisions, take action and share their concepts. Cherches offers concrete, applicable guidance and a range of poetic visual devices to help you use the power of imagery to strengthen your communications and become a more effective leader.
Images
Thinking and communicating visually means expressing concepts in images. Visuals command people's attention and support greater understanding and retention.
VisuaLeadership is…the art and science of applying visual thinking and visual communication tools, tips and techniques to manage and lead yourself and others.Todd Cherches
As visuals, such as charts and emojis, become increasingly prevalent communication tools in all fields and at all corporate levels, leaders should exploit them to inspire their followers and build rapport with their various audiences.
Image-Centered Communication
Visual thinking means working with mental images to develop a concept. Visual communication means sharing those images – and the message of the concept.
Leadership calls for inspiring and maintaining your employees' "passion and purpose." And this, Cherches says, demands communication and vision – the ability to see what might be. The techniques you can use in visual leadership include conveying ideas with pictures and graphic representations, sending messages by telling stories, using metaphors to clarify concepts and showing images to compare alternatives.
Improving Leadership Skills
A visual model is a picture, image or object that represents something else. Models help leaders simplify and share concepts using lists, charts and diagrams.
For instance, to make a decision, build a list of the pros and cons of your alternatives. To evaluate a leader, use a visual scale for rating his or her "confidence, assertiveness and presence."
To show the four dimensions of knowledge acquisition – emotional, intellectual, developmental and behavioral – create a circle diagram to explain each concept and how each one relates to and nourishes the others.
Very simply, visuals capture people's attention, enhance understanding and increase retention in a way that words, alone, simply cannot and do not.Todd Cherches
To become a more effective leader, visualize a three-stage rocket. In Stage 1, ask what change your organization intends to achieve. In Stage 2, ask how it will achieve that change. And in Stage 3, ask how that change will improve the world.
Visual Metaphors
A metaphor expresses in language or images how one concept represents or illuminates another. Visual images clarify metaphors, fuel audience attention and nurture retention.
For example, the enduring metaphor of "the elephant in the room" reminds leaders to recognize, call out and deal with tough realities – rather than pretending they don't exist.
Free samples of ice cream evoke the value of providing a taste of what you have to offer when selling a product or applying for a job. Making your bed first thing in the morning is a metaphor for the value of doing things promptly and not procrastinating. Checkers and chess serve as metaphors for the difference between managing and leading. Managing – checkers – is rote, tactical and task-driven; leadership – chess – is visionary and empowers people in their roles according to their individual gifts and traits.
The metaphor of walking a tightrope offers valuable lessons for navigating life as a leader: accepting coaching, keeping an eye on your objectives, celebrating a successful conclusion, maintaining confidence and always watching your step.
The metaphor of a weather report can be a vivid reminder to check your attitude when leading others: Are you feeling sunny, cloudy or stormy? The weather you communicate affects your interactions and the way others perceive you as a leader.
Illustrative Stories
Use a visual story to describe a problem, action, result, lesson learned and the application of that lesson.
A good metaphor serves to make the unfamiliar familiar, the intangible tangible, the abstract concrete, the complex simple, the confusing clear, the abstract complete.Todd Cherches
For example, bringing a snack for the other people in a meeting exemplifies the value of "servant leadership." Chatting with an employee illustrates the importance of connecting with followers. And a story about letting someone else have the best office can show how humility enables others to shine.
To underscore the value of a leader's attentiveness, generosity and willingness to take a risk, you could tell a story, for example, about drumming up the courage to speak to your CEO during a chance encounter, only to find the CEO receptive and pleasant.
To demonstrate how to respond thoughtfully to questions in interviews or meetings, illustrate how to tell a story in the most effective sequence: Problem, action, result, learning and application.
Shakespeare's tale of the "seven ages" of a person's life offers a visual framework for seven career stages: exploration, experimentation, self-actualization, expertise, mastery and wisdom.
On the Road
The world is changing and leaders must adapt. They must create calm in the face of volatility, certainty in the face of uncertainty, simplicity in the face of complexity and clarity in the face of ambiguity.
Consider the metaphor of a road trip: Leaders must consider where they've been, where they're going, who they're with, who's in the driver's seat, and what obstacles and weather await ahead. And leaders must occasionally "pull over" – pause to reflect on the past, look within and connect with others.
Seeing Is Believing
Cherches provides a sound, basic primer on using visual language – an important, relatively new leadership trend. Some of his examples are silly, some are potent and profound. And, who knows, maybe his silly ones will prove the most memorable for you. An able communicator, Cherches writes with the clarity he wants to help leaders attain. He structures his book so you needn't read its sections in any particular order. If you begin with the chapter that most intrigues you, you can't go wrong. This is a vital, timely tool for all leaders.
Books on harnessing visuals for leadership include Visual Leaders: New Tools for Visioning, Management and Organization Change by David Sibbet; The Back of the Napkin: Solving Problems and Selling Ideas with Pictures by Dan Roam; and The Visual Display of Quantitative Information by Edward R. Tufte.